UK inflation slides to 8.7% - what does it mean for your money?
Inflation has dropped below 10% for the first time in months, but with food prices at a 45-year high, is this good news and what does it mean for your money?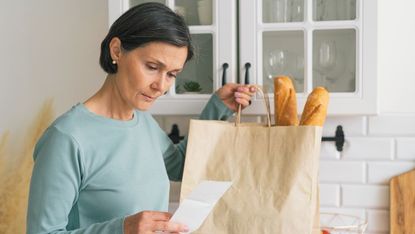 (Image credit: © Getty images)
The UK inflation rate has fallen below 10% for the first time in eight months, but still remains well above the Bank of England's target of 2%.
In the 12 months to April, prices rose by a rate of 8.7%, according to figures from Office for National Statistics (ONS), down from 10.1% in March.
The slide is widely attributed to the drop in wholesale gas prices, but with food inflation now at around 20%, most households will continue to feel the pinch on their budgets.
Subscribe to MoneyWeek
Subscribe to MoneyWeek today and get your first six magazine issues absolutely FREE
Get 6 issues free
Sign up to Money Morning
Don't miss the latest investment and personal finances news, market analysis, plus money-saving tips with our free twice-daily newsletter
Don't miss the latest investment and personal finances news, market analysis, plus money-saving tips with our free twice-daily newsletter
We look at what the fall in inflation means for you and your money.
Why has inflation fallen?
The fall in inflation is largely due to the energy market stabilising, with gas and electricity prices set to drop from July.
The ONS compares prices from April this year with prices from a year before - a significant period as it was the first time energy prices rocketed on the back of the war in Ukraine. The difference between what is being paid now compared to what was being paid a year ago is smaller, meaning the overall inflation rate is less.
Monthly gas prices fell by 1% between March and April this year, compared with a rise of 66.8% between the same two months a year ago, ONS analysis shows. This was the first time since October 2020 monthly gas prices fell.
Electricity too provided a downward contribution with prices falling by 1.1% between March and April this year, compared with a rise of 40.5% a year prior.
Overall, electricity and gas prices contributed 1.42% to the fall in annual inflation in April.
However, the ONS said food and non-alcoholic beverage prices continued to rise in April and contributed to high annual inflation - though the annual inflation rate of food and non-alcoholic beverages slightly eased, from 19.2% in the year to March 2023, to 19.1% in the year to April 2023.
"The price of some staples has fallen with things like cereal, bread and milk down, but the cost of some vegetables including potatoes was up and the time lag between wholesale costs falling and that filtering through to supermarket shelves means shoppers are unlikely to be dancing down the aisles," says Danni Hewson, head of financial analysis at AJ Bell.
Why is the rate of inflation still so high?
Despite the headline figures indicating a fall in inflation, experts say the underlying numbers do not paint a favourable picture.
Kalpana Fitzpatrick, senior digital editor of MoneyWeek, adds: "We should also remember, this isn't a story about prices falling, it simply means they are not rising as fast. We are certainly not out of the woods when it comes to the cost of living; the weekly cost of groceries and extortionate prices on some products is still denting those budgets."
Increases in the cost of second-hand cars and cigarettes have also kept inflation elevated.
As such, consumers' wallets are not under any less pressure than they were last month, says Sarah Coles, head of personal finance at Hargreaves Lansdown
"With one or two exceptions – including petrol – prices are still rising horribly – and inflation is actually up 1.2% from March. The fall in the annual CPI figure isn't a sign of widespread price cuts: it comes down to how it's calculated."
The government acknowledges the fall in headline rate is not representative of a change in fortunes. Chancellor Jeremy Hunt told the BBC: "The fact that they have come down markedly – the headline rate - of course is welcome news, but there are things underneath those numbers which show that this battle is far from over. We've got a long way to go."
What does high inflation mean for interest rates?
Today's findings are significant as they will likely shape whether the Bank of England (BoE) initiates another rate rise when it meets next month. Earlier this month, the central bank upped the base rate to 4.5%.
The BoE is due to announce its next decision on rates on 22 June, but already, there is speculation the Bank of England might go as high as a 5.5% base rate to get a grip on inflation.
"The Bank of England knew this was coming, and why, so it's not going to get over-excited at the prospect of falling inflation," says Hargreaves Lansdown's Coles.
At the start of the year, prime minister Rishi Sunak pledged to halve inflation by the end of 2023
What does high and falling inflation mean for you?
For mortgage holders
A lower inflation rate could ease affordability concerns for first-time buyers as their cash could stretch further, BestInvest's Haine says, but the risk of interest rates rising to 5% or more this year would be damaging to those on variable rates or those looking to take out a mortgage.
Already, mortgage holders have had to absorb 12 consecutive rate hikes since December 2021.
"When you consider the full effect of the rate rises to date have not been fully realised, as some homeowners are protected by five and 10-year fixed-rate products taken out before monetary tightening became the norm, the reality of significantly higher repayments will inevitably take its toll," she says,
According to think tank Resolution Foundation, around half of the 7.5 million mortgaged households facing revised interest rates between the final quarter of 2021 and the end of 2026 are yet to see a change - meaning costly rises are on the horizon for many.
For savers and investors
Softening inflation is positive news as it means the value of someone's savings will be eroded less quickly, but Haine says the headline rate is still above the best savings deals, meaning the return "will still be negative".
But the swing means savers can now "look forward to the moment when their money actually starts to gain in value in real terms," she adds.
See our article on the best savings accounts account to see what's available.
For pension savers
Those nearing retirement should be focused on beating inflation over the long term and reducing income tax liabilities.
"The raft of changes in the Spring Budget, which included scrapping the Lifetime Allowance and upping the Annual Allowance by 50% to £60,000, has given savers a window to boost contributions to workplace and personal pensions - a beneficial strategy when inflation and the tax burden are so high," Haine says.
Tom is a journalist and writer with an interest in sustainability, economic policy and pensions, looking into how personal finances can be used to make a positive impact.

He graduated from Goldsmiths, University of London, with a BA in journalism before moving to a financial content agency.
His work has appeared in titles Investment Week and Money Marketing, as well as social media copy for Reuters and Bloomberg in addition to corporate content for financial giants including Mercer, State Street Global Advisors and the PLSA. He has also written for the Financial Times Group.
When not working out of the Future's Cardiff office, Tom can be found exploring the hills and coasts of South Wales but is sometimes east of the border supporting Bristol Rovers.