Share tips of the week – 1 December
MoneyWeek's comprehensive guide to the best of this week's share tips from the rest of the UK's financial pages.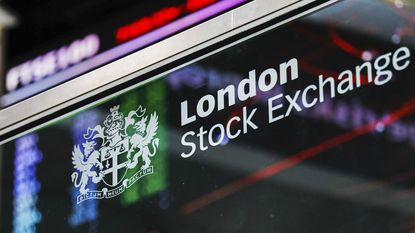 (Image credit: © Luke MacGregor/Bloomberg via Getty Images)
We've pulled together some of the best share tips online and in the papers over the past week, from some of the top share tipsters around.

These share tips can be a great starting point for further research if you're looking for new investment ideas, and they're not just limited to the UK. We also look at publications across the pond for investors who want to diversify their holdings internationally.
Here are our top share tips of the week. This list is updated weekly on a Friday.
Share tips of the week
Five to buy
1. Ashtead
Shares
Shares in this industrial and construction equipment rental business have wobbled after revenue disappointed in North America, its key market. A relatively quiet hurricane season and the Hollywood strikes have weighed on demand for Ashtead's kit. But the market has overreacted to this transient disappointment, with the shares plunging to a one-year low. That creates an opportunity to buy into a "quality compounder" benefiting from the state's infrastructure spending splurge and boasting an "exceptional" record of dividend growth. 4,715p
Subscribe to MoneyWeek
Subscribe to MoneyWeek today and get your first six magazine issues absolutely FREE
Get 6 issues free
Sign up to Money Morning
Don't miss the latest investment and personal finances news, market analysis, plus money-saving tips with our free twice-daily newsletter
Don't miss the latest investment and personal finances news, market analysis, plus money-saving tips with our free twice-daily newsletter
2. AstraZeneca
The Telegraph
It is sometimes said that "elephants don't gallop" – big companies struggle to deliver the explosive growth that smaller ones can achieve. Yet this pharmaceutical giant has broken into a gallop, with earnings per share rising at an annualised 18% or so over the past four years. Better performance is helping to fund rising research and development (R&D) spending, with "more than 120 phase-two and phase-three projects in its pipeline". Exposure to emerging markets and ageing demographic trends make the shares worth tucking away for the long term, even at this "heady" rating. 10,192p
3. QinetiQ Group
Interactive Investor
Global defence spending is rising, prompting British shareholders to turn first to defence giant BAE Systems. This mid-cap defence technology play offers investors a way to diversify their defence bets. The firm is more UK-focused than BAE, with some revenue also stemming from the US and Australia, two countries that are spending heavily on defence. Small and mid-cap defence firms do have a tendency to serve up unwelcome surprises, but on 11.7 times forward earnings the share price leaves more room for error than BAE's and looks "attractive". 319p
4. Tesco
The Sunday Times
Tesco has shown impressive cost discipline in the face of inflation, even managing to cut prices on some essentials to ward off the discounters. With price pressures now cooling, it finds itself in a "retail sweet spot". The balance sheet is in better shape than those of key rivals, raising the possibility of share buybacks. On 11 times profit, the valuation is at a near-decade low. Buy Tesco while it is on sale. 284p
5. Wincanton
The Mail on Sunday
This logistics firm runs distribution centres for major UK retailers and manufacturers. Competition for contracts is fierce, while a "yawning pension deficit" hasn't helped. But a deal with pension fund trustees has unlocked millions of pounds to be reinvested back into the business via better systems and more automation. Half of UK logistics still happen in-house, so there is scope for outsourcers to grab more market share. After tumbling from pandemic-era highs, the shares look "cheap". 290p
One to sell
1. Liontrust Asset Management
Investors' Chronicle
It has been a dismal year for this asset manager, including a controversial and ultimately failed takeover attempt of Swiss funds group GAM. Liontrust's two areas of focus – environmental, social and governance (ESG), and UK equities – are out of favour as investors and institutions enjoy rising yields on cash instead. Continuous net outflows saw assets under management fall by 12% to £27.7bn in the six months to 30 September. On eight times forward earnings the shares are undoubtedly cheap, but the lack of a clear strategy to stem the outflows mean that they are "cheap for a reason". Sell. 576p
The rest...
Cranswick
The Mail on Sunday
Premium pork and chicken business Cranswick expects to deliver "60 million pigs in blankets" to supermarkets this Christmas. Recent trading has been robust, with double-digit growth in profits and dividends for the six months to 30 September despite cost-of-living pressures. There should be more growth to come as the pressure on household budgets gradually eases. Existing investors should hold, while newcomers may consider taking a bite (3,900p).

Tracsis
Investors' Chronicle
Transport software group Tracsis is helping the North American rail industry to become more efficient. While passenger trains are comparatively rare on the continent, the US and Canada do boast a large network of freight lines. The shares trade on a fairly rich 18.2 times forward earnings, but that appears justified for a technology business that is responding to the pressing need to modernise the railways. Buy (730p).

Paycom Software
Shares
Shares in US payroll business Paycom Software have slumped after it admitted that its Beti payroll automation product may be cannibalising other revenue. But this remains an innovative growth business with excellent margins. A highrisk, high-reward buy ($182).

WHSmith's
The Telegraph
The post-pandemic travel boom is driving strong financial performance at WHSmith's airport and railway concessions. But on 16.4 times earnings the rating is already "relatively rich". Hold (1,316p).
Premier Foods
The Times
On a forward earnings multiple of ten, Premier Foods looks a clear "candidate" to attract a takeover bid from firms going bargain-hunting in London. The Mr Kipling cakes maker has maintained margins in the face of inflation and is now heading into the profitable festive season. Buy (129p).
---
This article was first published in MoneyWeek's magazine. Enjoy exclusive early access to news, opinion and analysis from our team of financial experts with a MoneyWeek subscription.
Kalpana is an award-winning journalist with extensive experience in financial journalism. She is also the author of Invest Now: The Simple Guide to Boosting Your Finances (Heligo) and children's money book Get to Know Money (DK Books).
Her work includes writing for a number of media outlets, from national papers, magazines to books.
She has written for national papers and well-known women's lifestyle and luxury titles. She was finance editor for Cosmopolitan, Good Housekeeping, Red and Prima.
She started her career at the Financial Times group, covering pensions and investments.
As a money expert, Kalpana is a regular guest on TV and radio – appearances include BBC One's Morning Live, ITV's Eat Well, Save Well, Sky News and more. She was also the resident money expert for the BBC Money 101 podcast .
Kalpana writes a monthly money column for Ideal Home and a weekly one for Woman magazine, alongside a monthly 'Ask Kalpana' column for Woman magazine.
Kalpana also often speaks at events. She is passionate about helping people be better with their money; her particular passion is to educate more people about getting started with investing the right way and promoting financial education.
With contributions from