When will interest rates fall?
The Bank of England has twice held interest rates at 5.25%, and now talk is turning to when they will finally start to fall. We have all the latest analysis.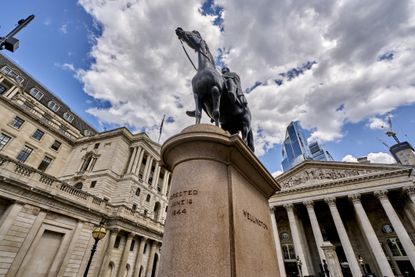 (Image credit: Getty Images)
The Bank of England's Monetary Policy Committee (MPC) has frozen the base rate at 5.25% at the last two meetings, ending its run of 14 consecutive hikes that began in December 2021.
Falling inflation has taken the pressure off the MPC - the latest data shows a sharp drop from 6.7% to 4.6%, meaning inflation is now at its lowest level in two years.
It is prompting experts to start talking about when in 2024 interest rates will finally start to be cut.
Subscribe to MoneyWeek
Subscribe to MoneyWeek today and get your first six magazine issues absolutely FREE
Get 6 issues free
Sign up to Money Morning
Don't miss the latest investment and personal finances news, market analysis, plus money-saving tips with our free twice-daily newsletter
Don't miss the latest investment and personal finances news, market analysis, plus money-saving tips with our free twice-daily newsletter
We look at the outlook for interest rates, whether they have peaked, when they may be lowered, and what changes to interest rates mean for your finances.
What does inflation mean for interest rates?
The BoE has hiked the base rate for over a year and a half as it tried to battle inflation. This led to increased mortgage rates and prompted concerns of a recession.
While CPI remains above the Bank's 2% target, inflation is now slowing, suggesting monetary tightening is working.
In the 12 months to October, inflation fell sharply to 4.6%, from 6.7% the month before.
It means markets are expecting interest rates to be frozen again at next month's MPC meeting, and pricing in an interest rate cut during the first half of 2024.
"Prime minister Rishi Sunak's goal of halving inflation this year has been achieved ahead of schedule," comments Victoria Scholar, head of investment at Interactive Investor.
"The Bank of England will be encouraged by the lower-than-expected inflation readings both at the headline and core levels with the central bank increasingly likely to keep rates on hold for the third consecutive time at its next decision meeting."
WHEN WILL INTEREST RATES FALL?
The consensus seems to be that, bar any economic shocks, we are now at the peak of the interest rate cycle, and we're unlikely to see rates move higher.
Danni Hewson, head of financial analysis at the investment platform AJ Bell, comments: "Market expectation that we have reached peak interest rates has solidified [due to the latest inflation data] and only 3% think the Bank of England will hike rates when it meets next month.
"40% expect rates will start to fall in May next year, getting as low as 4.25% by the end of the year, and that expectation has already begun to filter through to lenders."
Indeed, major mortgage lenders have been cutting their rates this week in anticipation of this.
Daniel Casali, chief investment strategist at wealth management firm Evelyn Partners, adds: "The CPI figures support the narrative that we have reached the end of the Bank of England's rate hike cycle with the base rate at 5.25%.
"There is conflicting opinion within the MPC as to when rate cuts will occur, with the BoE chief economist Huw Pill hinting at rate cuts sooner than expected. However, Governor Andrew Bailey has downplayed these comments and reiterated the need to reduce inflation to the target level of 2%.
"The futures' market expects base rate cuts around the second quarter of 2024."
However, some experts think interest rates won't start to fall until later next year.
Paul Dales, chief UK economist at the consultancy Capital Economics, says: "Our forecast is that the downward trends in CPI and core inflation will stall over the next few months before starting to edge lower again in February. But even then, we think the restrictions on labour supply and the stickiness of inflation expectations will mean that inflation fades slowly rather than suddenly.
"That explains why we think the Bank won't feel comfortable cutting interest rates until late in 2024 rather than in mid-2024 as priced into financial markets."
When is the next interest rate review?
The MPC meets eight times a year to discuss whether it should raise or cut interest rates, or keep them the same.
It last met on 2 November, when it decided to maintain interest rates at 5.25%.
There is one more interest rate announcement to come this year, on 14 December.
What will an interest rate fall mean for my mortgage?
Homeowners have been forced to take on big increases in monthly mortgage costs as their fixed deals end.
Mortgage rates remain high, due to the turmoil a year ago following the disastrous mini-Budget, and due to 14 consecutive base rate increases.
But lenders have been trimming rates over the past few months - and those mortgage cuts have accelerated since the Bank froze the base rate twice in a row, and in light of the sharp drop in inflation.
At the start of October, the average two-year fixed mortgage deal was 6.34%, while the average five-year fix was 5.89%, according to Moneyfacts.
Today, the average rates have fallen to 6.19% and 5.79%, respectively.
What will it mean for my savings?
Savings rates have been rising rapidly, but are now starting to plateau, and in some cases, fall. MoneyWeek research reveals there have been no rate rises on one-year fixed savings bonds since 9 October, and the top rates fell below 6% on 10 November.
While the best savings rates now beat inflation (October's CPI reading was 4.6%), they will probably only go in one direction now that a base rate cut is forecast within the next six months.
"Savers should move fast, as this may be the peak for saving rates. As the economic outlook changes, the shelf life on the best deals is expiring fast, so those that still want bumper returns on cash should shop around now before the top rates disappear completely," says Alice Haine, personal finance analyst at the investment platform Bestinvest.
Shopping around for the best rate is vital: don't assume your provider has been raising your rate every time the Bank of England has hiked rates. You'll need to proactively look for a top savings rate and switch your account to take advantage.
Check out our round-up of the best easy-access rates, one-year savings accounts, regular saver accounts and cash ISAs.
Ruth is passionate about helping people feel more confident about their finances. She was previously editor of Times Money Mentor, and prior to that was deputy Money editor at The Sunday Times.
A multi-award winning journalist, Ruth started her career on a pensions magazine at the FT Group, and has also worked at Money Observer and Money Advice Service.
Outside of work, she is a mum to two young children, a magistrate and an NHS volunteer.