UK inflation remains at 8.7% ‒ what it means for your money
Inflation was unmoved at 8.7% in the 12 months to May. What does this 'sticky' rate of inflation mean for your money?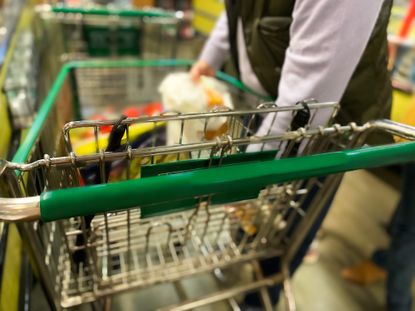 (Image credit: Getty Images)
The consumer prices index (CPI) measure of inflation was 8.7% for the 12 months to May 2023, the Office for National Statistics (ONS) has revealed, defying expectations for a fall.
While this is lower than the 10.1% registered in the 12 months to March, it's still high and is the second straight month of inflation at this level.
What's more, core CPI ‒ which excludes energy, food, alcohol and tobacco ‒ rose by 7.1% over the year, up from 6.8% in April, and so hitting the highest level since March 1992.
Subscribe to MoneyWeek
Subscribe to MoneyWeek today and get your first six magazine issues absolutely FREE
Get 6 issues free
Sign up to Money Morning
Don't miss the latest investment and personal finances news, market analysis, plus money-saving tips with our free twice-daily newsletter
Don't miss the latest investment and personal finances news, market analysis, plus money-saving tips with our free twice-daily newsletter
This has come as something of a surprise to economists, who had generally expected inflation to continue its slow downward trend and will likely have further implications for the trajectory of the Bank of England's (BoE) base rate.
Here's what this means for your money.
Why has inflation not changed?
The rate of inflation for recreational goods and services was a key driver of the headline rate in the month. According to the ONS, the inflation rate here hit 6.8% ‒ the highest recorded since August 1991 - up from 6.4% in April.
The ONS said this was particularly down to higher prices on tickets for live music events, computer games and package holidays.
However, this was somewhat offset by a slowing in the rate of inflation seen for food and drink. According to the ONS food prices rose 18.4% in the month, from the 19.1% and 19.2% registered in the last two inflation reports.
On a monthly basis, food prices rose by 0.9% between April and May, compared with a 1.5% increase between the same months a year ago.
The ONS also noted changes in transport costs. The overall rate of inflation on transport eased from 1.6% in April to 1.3% in May. A large drop in motor fuel prices was the key driver here. In the year to May 2023, they dropped by 13.1%, compared with a decline of 8.9% in April.
It pointed out that average petrol and diesel prices in May 2023 were 144.4 and 154.6 pence per litre respectively, down from 165.9 and 179.7 a year ago.
However, there was a mammoth 20% increase in air fares seen between April and May this year, compared with a 2.8% rise over the same period a year ago.
Why is the rate of inflation still so high?
While inflation has steadily dropped from its peak in October 2022, when it stood at 11.1%, the fall has been slower than many expected. That is particularly true when you consider the BoE's attempts to bring down inflation by hiking its key interest rate 12 times in a row to 4.5% in an attempt to encourage inflation down towards its 2% target.
Inflation may be "more entrenched than anticipated," argued Rob Morgan, chief investment analyst at Charles Stanley, who noted that even with food and energy price inflation falling, it was not having much of an impact on the overall rate.
Alice Haine, personal finance analyst at BestInvest, pointed to the "alarmingly high" food bills households are having to pay, noting that the easing of food inflation "will be little comfort for consumers who are still seeing the price of their supermarket shop jump week by week".
However, she noted that food and manufacturing production costs in the UK dropped in May for the first time in seven years, which will at least provide some hope that food price inflation has now peaked.
The sustained rate of inflation will also likely influence the Bank of England as it meets to discuss wether to hike interest rates.
What does the 'sticky' rate of inflation mean for you?
For mortgage holders
Mortgage borrowers have already been on the sharp end of the impacts of inflation, with mortgage lenders pulling and repricing their rates significantly in recent weeks precisely because of expectations of future base rate rises.
Just this week the average rate on a two-year fixed rate mortgage passed 6% for the first time since last year.
That inflation is remaining so stubborn may spell further problems for mortgage borrowers.
Haine said: "With the full force of the mortgage rate rises only hitting first-time buyers or those whose fixed-rate deals have expired in the past 12 months, the crunch point will come as more people emerge from two- three- and five-year fixed rate deals over the next few months and years."
For savers and investors
Softening inflation is good news for savers and investors, as it means the value of their savings is being eroded less quickly. However, with the rate still so high, it's all but impossible to find a positive real return (after inflation).
See our articles on the best savings accounts account to see what's available:
For pension savers
The focus for those nearing retirement should be beating inflation over the long term and reducing income tax liabilities.
Haine adds: "With the Lifetime Allowance now scrapped – at least while the Conservatives are still in power - and the Annual Allowance raised by 50% to £60,000, savers have a window of opportunity to boost contributions to their workplace and personal pensions."
John Fitzsimons has been writing about finance since 2007, and is a former editor of Mortgage Solutions and loveMONEY. Since going freelance in 2016 he has written for publications including The Sunday Times, The Mirror, The Sun, The Daily Mail and Forbes, and is committed to helping readers make more informed decisions about their money.