What is inflation and how will it affect you?
Inflation has remained stubbornly high, with a predicted fall not materialising. What is inflation and what does high inflation mean for you and your finances?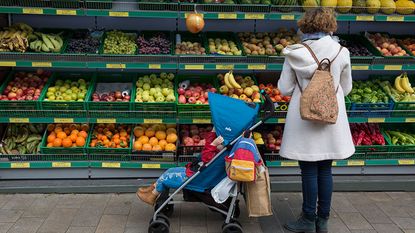 (Image credit: © Richard Baker / In Pictures via Getty Images)
Stubborn inflation has kept household bills high for most of this year but there are finally some signs of relief when it comes to price rises.
Falling energy prices and slower growth in food costs helped the rate of inflation slow to 6.8% in July, compared with 7.9% in June.
That is a 17-month low and a long way from the inflation rate of 10% that was hitting households at the start of 2023.
Subscribe to MoneyWeek
Subscribe to MoneyWeek today and get your first six magazine issues absolutely FREE
Get 6 issues free
Sign up to Money Morning
Don't miss the latest investment and personal finances news, market analysis, plus money-saving tips with our free twice-daily newsletter
Don't miss the latest investment and personal finances news, market analysis, plus money-saving tips with our free twice-daily newsletter
However, core inflation - which strips out the more volatile energy, food, alcohol and tobacco - remained at 6.9% in July, which is likely to be of concern to the Bank of England.
Additionally, recent high wage growth means many analysts still expect the Bank of England to continue hiking interest rates to tackle inflation as part of efforts to get it closer to its 2% target.
"Wage increases and price pressures have forced up service costs and that's weaving its own nasty spell on core inflation," says Danni Hewson, head of financial analysis at AJ Bell.
"And it's the core figure that will keep pressure on the Bank of England to keep raising interest rates until the sticky tendrils have been eradicated like weeds denied water.
"The figure does buy the government a bit of breathing space and it seems Rishi Sunak's five percent target is now achievable.
"But there remains a question for many families facing the prospect of spiralling mortgage costs – is the new pain worse than that which is being cured?"
On the back of rising rates, mortgage lenders have been upping rates with the average two-year fixed rate mortgage and the average five-year fixed rate mortgage now above 6%, leading to some customers facing additional costs of more than £7,000 per year.
Consumer inflation has been eating away at wages and purchasing power. According to Kantar shoppers are facing an increase of £800 to their annual grocery bills despite a fall from record highs earlier in the year.
Energy bills, council tax bills, and petrol prices have also increased and are still higher than last year and pre-pandemic despite price growth slowing. In fact, you'd be hard-pressed to find something that isn't costing more this year than it was last year.
If all these figures seem confusing, you're not alone. The headline inflation figure is just a number – inflation affects different people in different ways.
So, how is inflation calculated? Will it continue to go up? And, most importantly, how does it affect you?
Will inflation fall?
Despite inflation now slowing, it hasn't dropped as fast as many economists and forecasters believed it would.
The Bank of England has even revised its own expectations.
It previously expected to reach its 2% inflation target by the third quarter of 2024 but has revised that to early 2025.
Others are slightly more pessimistic.
The International Monetary Fund (IMF) predicts inflation won't return to the 2% target until mid-2025, however, it did bring its forecasted date forward by six months from its April prediction.
But in the shorter term, consumers are still facing challenges. "While things are moving in the right direction, the stickiness witnessed in the core measure of inflation, which strips out the volatile priced components such as energy, will remain a clear cause of concern for the Bank of England's Monetary Policy committee," says Matthew Ryan, head of market strategy at Ebury.
"In light of elevated underlying price pressures and record high wage growth, we expect the Bank of England to continue raising its base rate at upcoming meetings"
He is predicting another 25 basis point hike in September, with the possibility that rates top out at 6% to curb inflation.
This may slow price growth but it also means higher borrowing costs for households.
"We were warned that the medicine required to cure our inflationary ailment would taste foul, but the reality is proving more unpalatable than many had expected," Hewson adds.
How is inflation calculated?
In the UK, the Office for National Statistics (ONS) keeps track of the prices of a range of items in a "basket" of goods and services made up of over 700 things people regularly purchase.
The overall price of that basket is known as the Consumer Prices Index, or CPI. To calculate inflation CPI is compared to what it was a year ago, and the change in the price equals the change in the rate of inflation.
Other measures of inflation, such as the Retail Price Index (RPI) and Consumer Prices Index including owner occupiers' housing costs (CPIH) use the same method but different inputs. That's why they tend to have a different reading than CPI.
However, CPI is the most commonly used and widely accepted metric.
Will inflation continue to rise?
The Office for Budget Responsibility (OBR) estimates inflation will fall to 2.9% by the end of 2023.
The cost of energy has already begun to fall. In his Spring Budget, Jeremy Hunt announced he was extending the Energy Price Guarantee until July, meaning households' energy bills will stay at £2,500 until then instead of jumping to £3,000 from April.
The new energy price cap, set by Ofgem, has seen average energy bills fall to £2,074 in July, thanks in part to falling wholesale prices.
As predicted by Myron Jobson, senior personal finance analyst at interactive investor, this is a factor that has at least kickstarted a fall in inflation in some parts of the economy,
"Businesses will also benefit from a reduced cost burden from lower gas and electricity prices which should eventually feed into lower core inflation. But prices remain far higher than Britons want and need them to be to maintain financial resilience, and strong wage growth is likely to keep inflation elevated high throughout this year.
"Put simply, while glimpses of the light at the end of the tunnel can be seen, the road back to normal remains a long, winding, and uncertain one," he says.
How does inflation affect you?
Rising prices will affect your budget, and potentially reduce the number of things you can afford.
Furthermore, rising interest rates will also mean mortgage repayments will be more expensive if you are on a tracker, standard variable rate or are looking for a new deal
However, rate rises do mean good news for savers, who might want to think about storing their cash in a savings account with a fixed rate while they have the chance.
We have compiled a list of the best savings accounts available right now. They're currently sitting at up to 7%, which is far higher than they have been in recent years.
With contributions by Tom Higgins
Nic studied for a BA in journalism at Cardiff University, and has an MA in magazine journalism from City University. She joined MoneyWeek in 2019.