Would a food price cap actually work?
The government is discussing plans to cap the prices of essentials. But could this intervention do more harm than good?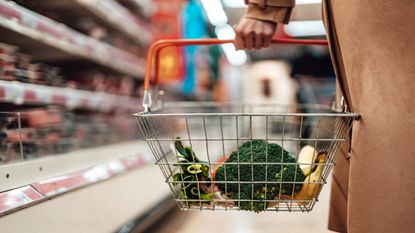 (Image credit: © Getty Images)
The rate of inflation dropped below 10% for the first time in months in April, falling to 8.7% from 10.1% the previous month.
Still, it remains over four times the Bank of England's (BoE) target of 2% – and food inflation is at around 20%, its second-highest rate in 45 years.
The BoE has been hiking interest rates consistently over the past year to try and bring inflation under control and now the government is reportedly considering another measure to help curb rising prices – a cap on the price of basic food items.
Subscribe to MoneyWeek
Subscribe to MoneyWeek today and get your first six magazine issues absolutely FREE
Get 6 issues free
Sign up to Money Morning
Don't miss the latest investment and personal finances news, market analysis, plus money-saving tips with our free twice-daily newsletter
Don't miss the latest investment and personal finances news, market analysis, plus money-saving tips with our free twice-daily newsletter
The Telegraph first reported the government's plans to freeze basic food prices last week. While the report initially said the government would only try to arrange a voluntary agreement with major grocers, the proposal was immediately attacked from all sides.
The price of essentials, including sugar, cheese and eggs, is up 47% in the past year, according to the British Retail Consortium (BRC), leading to accusations of greedflation among major retailers.
But it's questionable if price controls would actually help bring down inflation. We look into how price caps have worked in the past, and if they're working in countries that have already implemented them to try and control inflation.
How would the price cap work?
Food price caps aren't a new concept in the UK. In an attempt to control inflation in the 1970s, Edward Heath's government introduced food price controls through the Counter Inflation Act of 1973.
The act established a Price Commission and a Pay Board, which controlled prices, pay, dividends and rents. The price caps on food applied to milk, butter, cheese, flour and "food of any other description specified by an order made by the secretary of state".
The legislation was a resounding failure. UK inflation, which had remained below 10% for more than three decades in the run-up to 1973, hit 16% in 1974 and peaked at 24% in 1975. It didn't fall back below 10% until 1982.
Unlike the 1970s cap, this one would be voluntary, and retailers would be able to decide what products they want to cap prices on, suggesting it's unlikely to have much impact overall.
Hungary and Croatia have already implemented price caps. The French government recently struck a deal with its major retailers to bring the price of staples to the "lowest possible level". Finance minister Bruno Le Maire said the April to June quarter would be "anti-inflationary", and that retailers would be able to renegotiate prices by the end of June.
Whether this turns out to as anti-inflationary as the French government hopes it to be remains to be seen. According to Bloomberg, the cap has helped push down some food prices by as much as 13%, but with the prices of some foods such as carrots up more than 40% year-on-year, prices still have some way to go.
What consequences could a price cap have?
The backlash against the UK government's price cap proposals started soon after the Telegraph reported the story.
Waitrose, Tesco, Sainsbury's and Morrisons backed a statement by The British Retail Consortium (BRC) which said a cap would not make a difference to prices.
"There is no evidence that double-digit food inflation is the result of price gouging," says Neil Shearing, group chief economist at Capital Economics.
"Instead, the surge in food inflation reflects an increase in global agricultural prices over the past 18 months, caused by poor harvests and disruptions to wheat supply from Ukraine, combined with an increase in energy prices that has driven up the cost of food production."
Retailers and the BRC have agreed, pointing out the government should concern itself more with addressing these root causes instead of a gimmicky price cap.
Unlike the 1970s cap, this one would be voluntary, and retailers would be able to decide what products they want to cap prices on.
Despite it being voluntary, retailers may still feel forced to participate. This might result in much higher prices of other non-essential items to make up for any lost profit - an approach already used by retailers to keep the cost of basic staples low.
It could also lead to food shortages. "By discouraging new supply and encouraging additional demand, the imposition of price controls will only make the current food inflation shock worse," adds Shearing.
According to the Telegraph, one Cabinet member pointed out suppliers could choose to sell abroad, leaving shelves bare in the UK.
The cap also seems gimmicky – a way for the government to show it cares about helping consumers, without actually addressing the underlying causes for rising prices, such as rising prices for energy and transport, labour shortages and onerous regulations in the food production industry.
Food inflation will likely come down regardless of government intervention, and if anything this may do more harm than good.
Perhaps a better solution would be to aid those most in need "through fiscal transfers", says Shearing.
Nic studied for a BA in journalism at Cardiff University, and has an MA in magazine journalism from City University. She joined MoneyWeek in 2019.