Grocery price inflation falls from March peak
Despite falling this month, food costs are still incredibly high thanks to grocery price inflation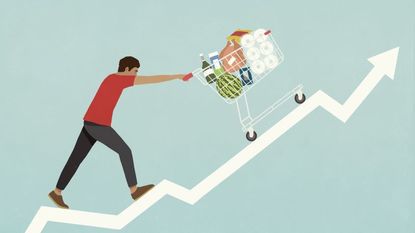 (Image credit: © Getty images)
Grocery price inflation has seen the biggest drop since its peak in March but remains "incredibly high", figures show.
Supermarket promotions helped the figure fall to 14.9% in the four weeks to July 9, down from 16.5% over the previous month, according to analysts Kantar.
It is the fourth month in a row that inflation has fallen from its peak of 17.5% in March.
Subscribe to MoneyWeek
Subscribe to MoneyWeek today and get your first six magazine issues absolutely FREE
Get 6 issues free
Sign up to Money Morning
Don't miss the latest investment and personal finances news, market analysis, plus money-saving tips with our free twice-daily newsletter
Don't miss the latest investment and personal finances news, market analysis, plus money-saving tips with our free twice-daily newsletter
The latest drop comes as supermarkets ramp up promotions, with spending on them up for the first time in two years, accounting for 25.2% of the market.
However, food inflation is still far outstripping the overall inflation rate, despite UK inflation falling sharply into single digits at 8.7%, for the first time since August 2022.
Fraser McKevitt, head of retail and consumer insight at Kantar, said: "This will be good news for many households although, of course, the rate is still incredibly high.
"One of the biggest shifts we've seen in this area is retailers ramping up loyalty card deals like Tesco's Clubcard Prices and Sainsbury's Nectar Prices.
"This could signal a change in focus by the grocers who had been concentrating their efforts on everyday low pricing, particularly by offering more value own-label lines.
"The boost to promotional spending has contributed to bringing inflation down but this isn't all that's driving the change. Prices were rising quickly last summer so this latest slowdown is partially down to current figures being compared with those higher rates one year ago."
Households would have spent £683 more on their annual grocery bill to buy the same items as they did a year previously under the current level of inflation but have adapted their habits to limit the increase.
McKevitt said: "It's clear that shoppers have dramatically changed their behaviour to combat inflation, whether by trading down to cheaper products or visiting different grocers.
"The average annual increase to household spending over the past 12 months has actually been £330 – well below the hypothetical £683."
With food prices still high - there has also been talk of a voluntary 'price cap' where supermarkets could introduce a cap on the cost of some basic food items like bread and milk, however, the government has been quick to say that this is merely at the 'drawing board stage'.
What is driving food inflation?
Data from the British Retail Consortium showed the price of fresh food is also rising due to "poor harvests in Europe and North Africa".
Research from the BBC and Office for National Statistics (ONS) show prices for some basic foods like sugar, cheddar cheese, eggs, milk and potatoes are rising by up to 47%.
It found the price of granulated sugar (1kg) had risen by 47% over the past year, cheddar cheese (400g) by 39%, eggs (12 pack) by 37%, a two-pint container of milk by 33% and a 1kg pack of potatoes were up 28%.
"The consensus among various studies that track shop prices is food inflation is running hot, and continues to be one of the most painful and visible aspects of inflation for many households," said Myron Jobson, senior personal finance analyst at interactive investor.
"There is no escaping food inflation as part of what's fuelling it is price jumps in everyday larder products, such as milk, pasta, bread and eggs."
On top of rising grocery bills, households are having to deal with a host of other issues at the moment, including higher mortgage payments and rents for tenants. On top of these factors, council tax bills went up in April and energy bills are still high, although prices will drop in July after the energy regulator Ofgem announced a reduction in the energy price cap.
Which supermarket is the cheapest?
Data from Which? found that Aldi was the cheapest supermarket in June 2023, with a shopping basket of 42 items costing £75.25 on average at Aldi, while Lidl was just behind with a difference of £1.93 (£77.18).
Waitrose was the most expensive this month, with a basket of goods totalling £91.80, that is 22% more than Aldi – a difference of £16.55.
Which? also ran the numbers on a larger shop – a trolley containing 134 items including Andrex toilet paper and Cathedral City cheese. The discount supermarkets were not included as they tend not to sell the full range of branded items included in the analysis.
Asda was yet again the cheapest for this larger trolley of groceries, a title it has held since January 2020.
In June 2023, it cost £333.16 on average for this shop, beating the next cheapest, Morrisons (£343.41), by £10.25.
Waitrose was an eye-watering £36.73 more expensive than Asda, coming in at £369.89, on average, for the trolley of comparable goods – 11% more.
The discount retailers have been gaining market share in the wake of the cost of living crisis.
According to Kantar, Aldi was again the fastest-growing grocer, with sales up by 24.0%. It now holds 10.2% of the market, up from 9.1% a year ago. Lidl increased its market share, up by 0.7 percentage points to 7.7%, with sales increasing by 22.3%.
How to save at the supermarket
If you are buying a regular basket or trolley of goods, it is worth comparing costs as the savings throughout the month can be significant.
One useful tool to consider is the trolley app - which allows you to compare prices across all major supermarkets.
Getting a free loyalty card from the supermarket you shop at most regularly can also save money, especially with the introduction of both Nectar Prices at Sainsbury's and Clubcard Prices at Tesco, where some items like coffee and washing liquid capsules can be reduced by 50% for loyalty card holders.
Using cashback credit cards can also cut the cost of supermarket spending – with cards like the Asda Money credit card you can earn 1% on spending in store and online and other supermarkets also have cards where you can earn points as you spend.
"Food prices remain uncomfortably high for many, especially for those on a low-income who spend a greater share of their money on food," says Jobson. "With many of us opting against receiving receipts at self-checkouts, it is difficult to keep track of price rises – and supermarkets aren't likely to shout about upping prices. As such, it remains important to actively review your budget and make necessary changes to maintain financial resilience."

Join us at the MoneyWeek Summit on 29.09.2023 at etc.venues St Paul's, London.
Tickets are on sale at www.moneyweeksummit.com
MoneyWeek subscribers receive a 25% discount.
Tom is a journalist and writer with an interest in sustainability, economic policy and pensions, looking into how personal finances can be used to make a positive impact.

He graduated from Goldsmiths, University of London, with a BA in journalism before moving to a financial content agency.
His work has appeared in titles Investment Week and Money Marketing, as well as social media copy for Reuters and Bloomberg in addition to corporate content for financial giants including Mercer, State Street Global Advisors and the PLSA. He has also written for the Financial Times Group.
When not working out of the Future's Cardiff office, Tom can be found exploring the hills and coasts of South Wales but is sometimes east of the border supporting Bristol Rovers.
With contributions from