October NS&I Premium Bonds winners - check now to see what you won
NS&I Premium Bonds holders can check now to see if they have won a prize this month. We explain how to check your premium bonds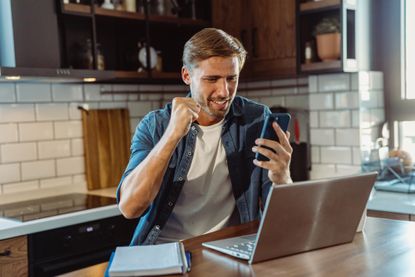 (Image credit: Getty Images)
If you hold NS&I Premium Bonds, then you can check from now to see if you bagged a prize in the October prize draw.
While you may not have hit the million pound jackpot, with more prizes now up for grabs from the treasury-backed bank, you may well have scooped something in this draw.
NS&I increased the Premium Bonds prize fund rate from 4% to 4.65% in August - the highest level since March 1999, meaning the odds of winning a Premium Bond prize draw are now higher with an additional £66 million added to the prize pot. The odds of winning have improved from 22,000 to 21,000 to 1.
Subscribe to MoneyWeek
Subscribe to MoneyWeek today and get your first six magazine issues absolutely FREE
Get 6 issues free
Sign up to Money Morning
Don't miss the latest investment and personal finances news, market analysis, plus money-saving tips with our free twice-daily newsletter
Don't miss the latest investment and personal finances news, market analysis, plus money-saving tips with our free twice-daily newsletter
While two lucky bondholders may get a visit from Agent Million if they hit the jackpot there are thousands of other prizes. Prizes start from £25 - with over a million of these drawn in the October NS&I Premium Bond Prize draw. NS&I is also dishing out over 2.3 million £100 and £50 prizes.
Here's how to check your Premium Bonds for the October draw.
Did you win in October's NS&I Premium Bonds draw?
You can check from today (3 october) to see if you won a prize in the October prize draw.
You can check your Premium Bonds using the NS&I prize checker app or the prize checker page online.
You'll need your bond number at hand. You can check if you have won anything going back as far as 6 months.
You can also set up your Amazon Alexa smart speaker to let you know. Just activate the prize checker skill on the Alexa app and enter your NS&I number. After that, Alexa will keep you up to date.
A total of 5,786,217 prizes worth £470,853,175 will be paid out in premium bond prizes this October. There were 121,510,495,306 Bond numbers eligible for the draw.
Here are the details of the prize draw for NS&I Premium Bond prize draw for October:
Swipe to scroll horizontally
| Value of prize | Number of prizes |
| --- | --- |
| £1,000,000 | 2 |
| £100,000 | 90 |
| £50,000 | 181 |
| £25,000 | 360 |
| £10,000 | 902 |
| £5,000 | 1,803 |
| £1,000 | 18,834 |
| £500 | 56,502 |
| £100 | 2,339,946 |
| £50 | 2,339,946 |
| £25 | 1,027,651 |
| Total value of prizes: £470,853,175 | Total 5,786,217 |
How will my Premium Bond prize be paid to me?
If you have won, then your prize is usually paid into your bank account, or you can choose to reinvest it into Premium Bonds. You can set up automatic payments on the NS&I website.
Reinvesting means not only do you have a higher chance of winning in the next draw, but it also means you do not risk having an unclaimed prizes sitting around.
How to check for unclaimed Premium Bond prizes?
Every year, millions of Premium Bond prizes go unclaimed. If you have not checked for some time, then there are few ways of finding out whether you have any cash waiting to be claimed.
If you're registered for online or phone services, you can call NS&I for free on 08085 007 007.
If you aren't registered, you can write to NS&I and ask if you have any unclaimed prizes.
To help the process, include the following information:
Premium Bonds holder's number
Your current name
Any previous names
Your current address
Any previous addresses where Bonds may have been registered
Your signature
Send your letter to: NS&I, Sunderland, SR43 2SB.
Any prizes will then be sent to your home address - they cannot be sent directly to your bank account.
Kalpana is an award-winning journalist with extensive experience in financial journalism. She is also the author of Invest Now: The Simple Guide to Boosting Your Finances (Heligo) and children's money book Get to Know Money (DK Books).
Her work includes writing for a number of media outlets, from national papers, magazines to books.
She has written for national papers and well-known women's lifestyle and luxury titles. She was finance editor for Cosmopolitan, Good Housekeeping, Red and Prima.
She started her career at the Financial Times group, covering pensions and investments.
As a money expert, Kalpana is a regular guest on TV and radio – appearances include BBC One's Morning Live, ITV's Eat Well, Save Well, Sky News and more. She was also the resident money expert for the BBC Money 101 podcast .
Kalpana writes a monthly money column for Ideal Home and a weekly one for Woman magazine, alongside a monthly 'Ask Kalpana' column for Woman magazine.
Kalpana also often speaks at events. She is passionate about helping people be better with their money; her particular passion is to educate more people about getting started with investing the right way and promoting financial education.