How do Premium Bonds work?
How do Premium Bonds work, given they operate differently from other savings products, and should you add them to your portfolio?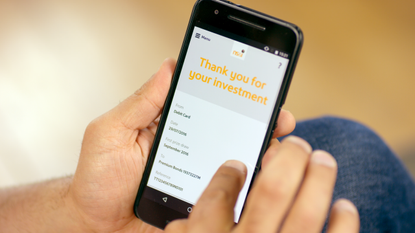 (Image credit: NS&I)
They're one of the country's favourite savings products, but how do Premium Bonds work? With more than £120 billion invested in them, Premium Bonds are a core part of countless personal portfolios and saving strategies.
The product from National Savings & Investments (NS&I) was introduced in 1957 as a way of helping people start a good savings habit.
Fast-forward 66 years and NS&I has paid out £25.7 billion in prizes, and created over 500 Premium Bond £1 million jackpot winners.
Subscribe to MoneyWeek
Subscribe to MoneyWeek today and get your first six magazine issues absolutely FREE
Get 6 issues free
Sign up to Money Morning
Don't miss the latest investment and personal finances news, market analysis, plus money-saving tips with our free twice-daily newsletter
Don't miss the latest investment and personal finances news, market analysis, plus money-saving tips with our free twice-daily newsletter
One bondholder has won a total of £1,019,850 across 288 prizes - the luckiest of all the 21 million Premium Bond holders.
Here's everything you need to know about how Premium Bonds work.
How do Premium Bonds work?
NS&I Premium Bonds are a type of savings product backed by the UK government. The unique appeal of the product is the opportunity to save money while participating in a monthly prize draw, with prizes of up to £1 million.
You may be curious to know how Premium Bonds work, given that it is a prize-based way of generating a return. Unlike traditional savings accounts, where interest is earned on the deposited amount, Premium Bonds do not offer any interest. Instead, the money invested is entered into a monthly prize draw, where bondholders can win tax-free cash prizes. Each bond, and its unique number, represents a chance to win a prize, so the more bonds you hold, the more chance you have of winning.
The prize amounts vary, with two millionaire-making prizes awarded each month, as well as smaller prizes ranging from £25 to £100,000.
One of the appealing aspects of Premium Bonds is the security they offer. As the UK government backs them, the investment is considered risk-free and the amount invested is always secure. Additionally, the prizes won are also tax-free, further enhancing the potential returns for bondholders.
How much can I invest?
The maximum you can save in Premium Bonds is £50,000. The minimum is £25.
You can buy bonds online, over the phone or by post.
It's possible to buy Premium Bonds for a child. Until the child's 16th birthday, the parent or guardian named on the application looks after the bonds, regardless of who bought them.
How much can I earn?
There are no guaranteed returns or regular income with Premium Bonds. Instead, there's the chance to win a prize (or prizes) each month.
You may have heard of the prize fund rate. This is a benchmark used by NS&I to set how many of each prize should be given away every month. It is currently 3.7% - the highest in 15 years. But this is an average rate for someone with average luck. Some people will earn more, especially if they scoop a big prize, while others will win nothing. It's important not to get this figure confused with a conventional interest rate that you would see on a savings account.
As well as the prize fund rate, NS&I also publishes the odds of winning. The odds are currently 24,000 to 1 (for every £1 bond).
As interest rates rise and NS&I tries to compete with banks and building societies for savers' month, the prize fund rate will go up again in August, to 4%, and the odds will increase to 22,000 to 1.
Are Premium Bonds right for me?
Premium Bonds operate differently from other savings products, in that there is no guaranteed interest, with prizes being the means of generating a return. But while this approach may seem a bit strange, Premium Bonds can act as a useful diversifier within a wider portfolio.
Every penny spent on Premium Bonds is backed by the government - even above the £85,000 Financial Services Compensation Scheme (FSCS) limit. For this reason, many investors opt to put considerable amounts in NS&I products (and more bonds mean more chances for prizes).
The tax-free status of the prizes is also appealing for any savers worried about busting their personal savings allowance and having to pay tax on their returns, especially higher-rate and additional-rate taxpayers with large amounts of cash savings.
If you're someone who likes the idea of being in with a chance to win £1 million or a prize like £100,000 or £50,000, and is happy with the knowledge that they may not win any prizes at all (and therefore their savings will be eroded by inflation), then Premium Bonds could be right for you.
But if you're someone who wants a set amount of interest, and doesn't like uncertainty, then it's probably best to avoid them.
How are the prizes drawn?
Much like how lottery balls are drawn from a machine, NS&I has its own computerised random number generator, ERNIE. This Electronic Random Number Indicator Equipment has generated the numbers used in draws since 1957. ERNIE is currently on its fifth iteration and is more high-tech than ever.
ERNIE 5 is powered by quantum technology, which uses light to run the sums far quicker than a conventional computer. It takes 12 minutes for ERNIE to generate the random numbers for a prize draw.
How do I find out if I'm a winner?
Once ERNIE has done its magic, the winners are notified through a variety of channels. The announcement usually comes on the first working day of the month.
Two of the easiest ways to check for Premium Bond prizes are the online NS&I prize checker and the official prize checker app, available on either Android or iOS.
To track down any potential winnings, you will need your Premium Bonds holder's number to use the website and your NS&I number or holder's number to check via the prize checker app. It's worth making sure you keep a copy of these numbers somewhere safe (and secure). It could be the key to tracking down unclaimed prizes in the future.
Beyond the website and app, you can also use your Alexa-enabled device to check if you've won. Alexa will be able to tell you whether you have won a prize and how much it's worth and can also remind you about upcoming draws, so you never miss out on any Premium Bond excitement.
To get it set up, you'll need to activate the NS&I Premium Bonds prize checker on your Alexa app and enter your NS&I number.
You can either get your prizes paid into your bank account, reinvested into more bonds or via a cheque in the post.
It's a good idea to check if you have any long-lost Premium Bond prizes, as there are currently millions of unclaimed prizes. You can find out how to track down an unclaimed prize on the NS&I website.
Who is Agent Million?
There's one other way you could be notified of a prize - a knock on the door from Agent Million. The elusive millionaire-maker is actually one of a number of NS&I employees whose job is to track down the lucky winners who have scooped a £1 million prize.
Winning that kind of money can be life-changing, and Agent Million is there to ensure the winner has all the information they need to manage their newfound wealth carefully in the days and weeks after the win.
Tom is a journalist and writer with an interest in sustainability, economic policy and pensions, looking into how personal finances can be used to make a positive impact.

He graduated from Goldsmiths, University of London, with a BA in journalism before moving to a financial content agency.
His work has appeared in titles Investment Week and Money Marketing, as well as social media copy for Reuters and Bloomberg in addition to corporate content for financial giants including Mercer, State Street Global Advisors and the PLSA. He has also written for the Financial Times Group.
When not working out of the Future's Cardiff office, Tom can be found exploring the hills and coasts of South Wales but is sometimes east of the border supporting Bristol Rovers.