Premium Bonds: how do prize winners get notified, and who is Agent Million?
Two lucky Premium Bond customers become millionaires every month, and millions of others receive prizes worth thousands of pounds. But how do they get notified, how do the winnings get paid, and who exactly is Agent Million?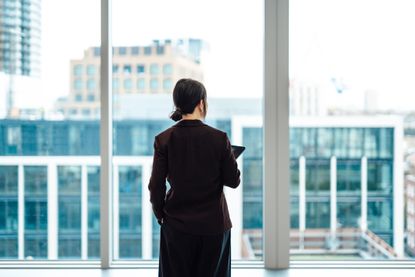 (Image credit: Getty images)
If you've been lucky enough to win a prize with your Premium Bonds, you may recall receiving an email saying "you've just won!"
You then need to look at NS&I's prize checker app or log into your online account to find out exactly how much you've won.
Chances are it's a £25 prize (there are 1.7 million of those prizes in every monthly draw) or a £50 prize (there are 1.8 million of them), but it could also be as much as £100,000 (there are 77 up for grabs).
Subscribe to MoneyWeek
Subscribe to MoneyWeek today and get your first six magazine issues absolutely FREE
Get 6 issues free
Sign up to Money Morning
Don't miss the latest investment and personal finances news, market analysis, plus money-saving tips with our free twice-daily newsletter
Don't miss the latest investment and personal finances news, market analysis, plus money-saving tips with our free twice-daily newsletter
The latest prize draw in August saw the prize fund rate increase to 4%, and the odds improve from 24,000 to 1 to 22,000 to 1, meaning each £1 bond now has its best chance of winning a prize in almost 15 years. A total prize fund of more than £400 million is paid out to winners across the country each month.
The draw also contains two £1 million jackpots, with the lucky bondholders who scoop these prizes notified in a different - and very secretive - way.
We spoke to NS&I, which runs Premium Bonds - the UK's most popular savings product - to lift the lid on how winners of different-sized prizes get notified, what their options are, and who or what is Agent Million.
Do all winners get the same email saying 'you've just won!' regardless of whether it's £25 or £100,000?
NS&I replies: Customers that are signed up to be notified of any prize wins via email are notified in this way regardless of the amount. Any email that Premium Bond customers receive notifying them of a win does not include the value of the prize. The email notification encourages them to check how much they have won via the prize checker app, online prize checker or on an Alexa-enabled device.
Depending upon how Premium Bond customers check whether they have won, when it is a high-value prize (£10,000 and above), they are told they do not need to do anything and that we will be in touch.
What happens with customers who have won a high-value NS&I prize?
NS&I replies: Customers winning prizes worth between £10,000 and £100,000 are sent a prize claim form via the post. This asks them how they would like their prize paid. For example, they can choose to have their prize paid directly into their bank account or automatically reinvested into more Premium Bonds.
How do winners get told if they win the £1 million jackpot?
NS&I replies: These customers receive a visit from "Agent Million". This person is an NS&I employee who travels the country to give our lucky jackpot winners the good news. We actually have five Agents Million.
In total, since 1994, there have been around 20 Agents Million.
Who are the Agents Million?
NS&I replies: We keep their identities secret - this is important for the privacy of both our Agents Million and our winners. Winning £1 million is life-changing, so when Agent Million informs the winners, secrecy ensures that their win remains news for them and not others, ensuring that sharing this news is a choice for them.
Our Agents Million are based in Lytham St Annes (in Lancashire), the home of Premium Bonds, so they do have to travel, as well as spend the odd night away from home. Although they are sworn to secrecy about the role they perform as Agent Million, they may tell certain family members or loved ones about it for practical reasons. However, they must keep their role secret from friends and colleagues that do not need to know.
Do they always visit the winners in person?
NS&I replies: Our Agents Million always visit £1 million Premium Bonds jackpot winners in person.
Throughout the Covid-19 pandemic, Agent Million was unable to visit jackpot winners in person for the safety of all involved, but has been back on the road since the May 2022 prize draw.
What happens if the winner is on holiday?
NS&I replies: If a £1 million winner was on holiday when Agent Million visited, they would make contact with the winner via an alternative method.
How do you work out which Agent Million contacts the winners each month?
NS&I replies: All of our Agents Million perform other roles within NS&I, so which ones are visiting jackpot winners depends upon their availability. There are of course two £1 million winners each month, so two Agents Million are in action for each prize draw.
Having five Agents Million ensures that, each month, an experienced colleague is always on hand to guide our two jackpot winners through a life-changing time.
Does the jackpot winner have to prove their identity?
NS&I replies: For the security of both Agent Million and our jackpot winners, we cannot provide any further information on the process that Agent Million goes through with winners. However, we would of course ensure that we are paying the prize money to the correct person.
What options does the £1 million winner have in terms of how the money is paid to them?
NS&I replies: The £1 million Premium Bond jackpot winners can choose to have their prize paid into an NS&I Direct Saver or an account of their choice.
All funds held with us are secure as we are backed by HM Treasury, so if customers choose our Direct Saver account while deciding what to do with their winnings, they have this added peace of mind.
Do you help winners who want to have financial advice?
NS&I replies: Since April 2022, we have offered £1 million Premium Bond jackpot winners the option to seek financial advice from any certified financial planner or chartered financial planner in the UK. This means that over 8,000 advisers have the chance to help winners of the Premium Bond jackpot. Previously financial advisers came through one firm.
Aside from this, our prize draw team at NS&I keeps in touch with jackpot winners and always recommends they take up our offer to provide professional financial advice.
Finally, what's the average Premium Bond holding for a jackpot winner?
NS&I replies: The average holding for a Premium Bond £1 million jackpot winner as at June 2023 was £23,690.
As of June 2023, there have been 508 Premium Bond millionaires.
In terms of winners that had smaller Premium Bond holdings, someone from the London borough of Newham won £1 million in July 2004 with a Premium Bond holding worth £17. The winning bond was purchased in February 1959, meaning they waited more than 45 years for the win.
A dozen winners have scooped the £1 million jackpot with holdings worth £1,000 or less.
To see if you've won a prize with your Premium Bonds, pop your details into the Prize Checker.
Ruth is passionate about helping people feel more confident about their finances. She was previously editor of Times Money Mentor, and prior to that was deputy Money editor at The Sunday Times.
A multi-award winning journalist, Ruth started her career on a pensions magazine at the FT Group, and has also worked at Money Observer and Money Advice Service.
Outside of work, she is a mum to two young children, a magistrate and an NHS volunteer.