Rent prices continue to rise but demand slows as cost of living pressures bite
The latest data from Zoopla shows rental growth is expected to slow to 5% as demand decreases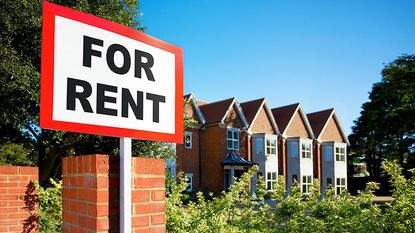 (Image credit: © Getty Images)
The property market's outlook for 2023 might remain uncertain, but rental inflation remains high, data from Zoopla has shown.
Though rental inflation has slowed to 11.1% from a high of 12.3% mid-2022, rents are predicted to continue rising this year, albeit at a slower rate than before as "demand moderates and affordability pressures start to bite harder on renters", said Richard Donnell, executive director at Zoopla.
Furthermore rents have risen 20% in three years, adding an extra £2,200 a year onto tenants' housing bills.
Subscribe to MoneyWeek
Subscribe to MoneyWeek today and get your first six magazine issues absolutely FREE
Get 6 issues free
Sign up to Money Morning
Don't miss the latest investment and personal finances news, market analysis, plus money-saving tips with our free twice-daily newsletter
Don't miss the latest investment and personal finances news, market analysis, plus money-saving tips with our free twice-daily newsletter
Rental inflation is predicted to slow to between 4 and 5% by the end of the year, but the supply vs demand imbalance that has fueled the red hot rental market does not seem to be going anywhere.
Indeed, a third fewer homes are available for rent than normal and demand remains 10% higher than this time last year.
"Rents will continue to rise ahead of incomes unless we see a sustained increase in rental supply or a material weakening in demand, both of which appears unlikely at this stage," Zoopla said.
Some analysts are predicting house prices could fall 30% this year, but the latest figures from online estate agent Rightmove showed prices in the rental market
The figures might make buy-to-let investors wonder if now is a good time to invest in property. If you are thinking about purchasing a home to let out, it's worth looking into the best areas for buy-to-let in the UK.
We look at why rents are increasing and whether now could be a good time to buy a house. You may also be interested in our article on buying vs renting.
Why are rents increasing?
A strong jobs market has been the main driver of the increase in rental demand. A jump in student numbers has also contributed.
There is a reported supply/demand imbalance in purpose-built student accommodation in university towns, meaning student demand will "spill over into the wider rental market", which explains why rental inflation remains high across bigger cities.
Additionally the supply of rented housing has remained largely unchanged since 2016.
In 2021 there were 5.5 million private rented homes in Great Britain, only slightly higher than the 5.4 million available in 2016 despite the number doubling between 2002 and 2015.
Where next for rental prices?
Low supply will continue to exacerbate rental growth. But if rents get too high, there is a risk they may over-shoot sustainable levels.
Inner London is the area most at risk of overshooting rents. If rents increase so much that existing tennants cannot afford them, then the rental level "would need to reset lower" which would lead to a "sharp slowdown in growth rates", the report said.
But rents as a percentage of earnings are at or close to a ten-year high in all regions, except for London.
One bright spot is new build completions, which will add supply. Additionally home-owners who are waiting to sell until market conditions improve might decide to rent their homes out, which could also add supply to the market.
"There is no sign of the rental market slowing down due to the continuing imbalance between supply and demand," says James Redington, sales & lettings director at Douglas & Gordon.
"We've seen the highest rent increases we've seen for decades, and we don't expect this to slow down in the short term."
Estate agent Rightmove is also forecasting the pace of annual growth will ease to around 5% by the end of the year nationally, but that's still significantly over the average of 2% that the sector averaged saw pre-pandemic.
What does this mean for landlords?
Landlords face a tricky landscape given the effect the rising cost of living is having on tenant's budgets.
Additionally landlords are facing higher upfront costs when it comes to buying a home.
In London the equity needed to invest in a property has increased from £129,000 in the first quarter of 2022 to £257,000 in the same period in 2023.
Given that properties in London have the worst rental yield, the investment might not make sense.
Landlords who decide to invest in a buy-to-let property in London will require a higher loan-to-value mortgage. Due to higher interest rates, the repayments would be far higher than they have been previously.
"While Zoopla's latest data shows that rental growth remains robust, storm clouds are on the horizon for buy to let investors," said Phil Tennant, COO of instant buying firm Upstix. "With higher interest rates eating into profits, even as average rents continue to increase, the sector is looking markedly less attractive as we move further away from historically low rates.
"The real danger lies just around the corner in 2025, when all residential lettings need to meet a minimum EPC rating of C. For many small landlords, finding the cash to upgrade their properties in today's tough environment may be the straw that breaks the camel's back."
Nic studied for a BA in journalism at Cardiff University, and has an MA in magazine journalism from City University. She joined MoneyWeek in 2019.