Buying vs renting: as mortgage rates remain above 6%, which is cheaper?
In the UK, buying a home has traditionally been the preferred option over renting. But is that still true?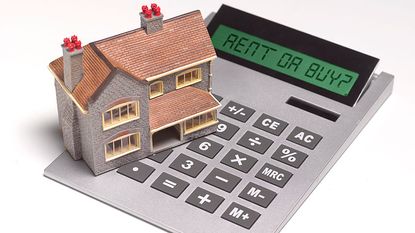 (Image credit: Model house on a calculator © Getty Images)
From slowing house price growth to high mortgage rates, many potential property purchasers may be considering if now is a good time to buy a house or if its better to rent while the cost of borrowing is still high.
Average mortgage rates have shot up in recent months as the Bank of England hiked rates to tackle soaring inflation.
Pricing may have fallen in recent months but remains higher than the rates of around 1.5% to 2% that many borrowers will have got used to as recently as 2021.
Subscribe to MoneyWeek
Subscribe to MoneyWeek today and get your first six magazine issues absolutely FREE
Get 6 issues free
Sign up to Money Morning
Don't miss the latest investment and personal finances news, market analysis, plus money-saving tips with our free twice-daily newsletter
Don't miss the latest investment and personal finances news, market analysis, plus money-saving tips with our free twice-daily newsletter
The average price for a two-year fixed rate mortgage as of late November 2023 is 6.08%, according to Moneyfacts.
This is feeding into house prices as buyer budgets become more stretched. That influences how much a property buyer can afford and will be willing to offer for a new home, especially with other bills also rising.
Renting cheaper than buying for the first time since 2010
Average property values fell 0.5% between August and September 2023 and by 0.1% annually to £291,385 in September 2023, according to the latest Land Registry data.
Meanwhile, the latest Halifax House Price Index for October recorded a shock monthly rise in average house prices by 1.1% in October but values still dropped 3.2% annually.
That may give potential homebuyers who are currently renting hope that they will eventually get on the property ladder as homes become cheaper, especially with predictions that property prices could fall by 10% or more this year.
Renting has traditionally been more expensive than buying a house when you look at monthly accommodation costs.
But rising mortgage rates mean renting has become a more viable option than buying in some parts of the country for the first time in 13 years, according to Zoopla.
The property website looked at the cost of mortgage repayments for the average local house price versus monthly rent for first-time buyers using a 15% deposit, 30-year mortgage term and 5.6% mortgage rate.
Based on the average price of a rental home at £263,000, Zoopla found that the average monthly mortgage repayment would be £1,285, but renters typically pay £1,163 – a £122 monthly saving.
The biggest savings were in London, where it can be almost £500 cheaper per month to be a tenant with average rents of £2,053 compared with mortgage rates of £2,546.
The research found it is cheaper to rent than buy across the south and east of England as well as in the capital but it becomes cheaper to be a homeowner as you go further north and into Wales and Scotland.
For example, it costs £118 more on average to rent each month rather than buy in the north east of England, rising to £128 in Scotland.
Swipe to scroll horizontally
| Region | Average property price | Average monthly rent | Monthly mortgage repayment | Difference |
| --- | --- | --- | --- | --- |
| Scotland | £127,000 | £748 | £620 | -£128 |
| North East | £109,000 | £649 | £531 | -£118 |
| North West | £151,000 | £795 | £736 | -£59 |
| Northern Ireland | £143,000 | £744 | £700 | -£44 |
| Yorkshire and the Humber | £150,000 | £758 | £731 | -£27 |
| Wales | £164,000 | £814 | £799 | -£15 |
| West Midlands | £182,000 | £852 | £890 | £38 |
| East Midlands | £178,000 | £816 | £868 | £52 |
| South West | £243,000 | £1,016 | £1,184 | £168 |
| East of England | £267,000 | £1,111 | £1,301 | £190 |
| South East | £301,000 | £1,254 | £1,469 | £215 |
| London | £522,000 | £2,053 | £2,546 | £493 |
| UK | £263,000 | £1,163 | £1,285 | £122 |
Even if rents are lower, the difference for tenants is that with other bills rising and low wage growth, renters may not have enough to save for a deposit for a mortgage and may struggle to meet strict affordability criteria.
But while buying property has always been touted as the better option over renting, it may not be the right course of action for everyone.
So, which is the better choice financially – buying or renting?
The pros and cons of renting
There are lots of decisions to make when looking at where to live and whether to rent or buy. Some of the positive aspects of renting include the following:
Flexibility – you can move after as little as six months if the tenancy or area (or a new relationship that you're 'testing) doesn't suit you
You are not responsible for paying for the general upkeep of the property or fixing things when they go wrong as that will be down to the landlord
If you rent a furnished property you don't have to pay for furniture or white goods
Getting on the rental ladder is theoretically easier than getting on the property ladder - though the increasing competitiveness of the rental market may null this argument
The rental property's value isn't your personal concern
There are no admin fees charged by landlords and letting agents
The major cons of renting include the following:
Flexibility is also a disadvantage as much as it is an advantage: The duration of a tenancy agreement is generally decided by the landlord. The decision to increase rent or to sell up is also the landlord's, leaving tenants with no option but to leave. The average length of a tenancy is two years, according to property website Rightmove. Flexibility in fact all points to a lack of stability.
You won't have the option of decorating (unless your landlord allows it)
There might be restrictions on what you can do with the property
There is little enforcement in place to protect renters from rogue landlords or unsafe properties. New legislation going through Parliament under the Renters Reform Bill should give tenants more rights by abolishing 'no-fault' section 21 evictions and letting them challenge rent rises.
You may not be allowed a pet
The pros and cons of owning your own home
The decision to rent or buy will usually come down to the costs involved. The positives of being a property owner include:
You will own the asset when the mortgage is paid off
You have more stability than a renter as you won't have to move out if a landlord decides they want to sell the property
You can do what you want to the property, within planning regulations
Some of the downsides of owning a home include:
You'll have to pay fees such as stamp duty and legal fees
You're tied into a long contract; if you're unable to pay your mortgage your house could be repossessed
You may need to buy all your own furniture and white goods
Owning a house can mean a lot of money is tied up within the property and isn't readily available for other things, such as supporting children through university or even meeting the rising costs of everyday living
There are even more costs associated with selling such as agency fees.
Is it cheaper to buy or rent?
Data historically shows it is cheaper to buy a home in the long run.
But recent rate changes have made the decision less clear cut for potential owners.
"Making the move from renting to home ownership can be difficult for many, as raising a sufficient deposit and then finding the right property can be challenging," says Kim Kinnaird, mortgages director at Halifax.
"While a predicted fall in house prices this year will be welcome news for those looking to buy their first home, it doesn't change the fact that getting on the property ladder remains expensive – a problem that is compounded when rents are high, impacting the ability to save."
Michael Webb, managing director at Mortgage Republic Limited, said: "Historical low interest rates, and government intervention in the form of help to buy and stamp duty exemptions had buying a property as the cheaper option to renting, on a monthly basis, for over a decade.
"Rapidly increased interest rates, without a correction of note in property values, has meant that typically it will now be cheaper to rent than buy."
Yet buying a house isn't generally seen as a short-term option and so you'll need to weigh up the costs over a longer period.
Mortgages are loans. It's money you owe to the bank and have to pay back, with interest.
Interest rates have been inching higher over the last year, pushing up the cost for borrowers. They were held at 5.25% in October and November, while inflation has fallen below 5%, giving hope that rates have peaked.
The Bank of England's July Financial Stability Report predicts that a typical mortgage borrower coming off a fixed-rate deal during the second half of this year will see their repayments rise by around £220 per month if their mortgage rate rises by the expected 325 basis points.
The figures are more stark when broken down further though, with more than two million set to pay between £200 and £499 extra per month by the end of 2026 and a further one million set to see at least an extra £500 in costs.
But a lack of property supply and landlords exiting the sector means rents are also on the rise.
Homelet's latest Rental Index report for October showed rents are up 9.56% annually.
This is fast outpacing earnings, which rose 7.7% between July and September 2023.
It's worth considering that rental prices are unlikely to come down any time soon.
Average advertised rents across Britain but outside London during the third quarter of 2023 were 10% higher than this time last year, according to Rightmove.
Meanwhile, Zoopla estimates rental growth will slow to 8% this year, there is still a chronic supply vs demand imbalance.
There are risks that tougher renting rules and higher buy-to-let costs could lead landlords to exit – reducing supply – or push up rents further.
However, there may be a limit to how far rents can rise.
Savills predicts that rents will increase by 9.5% this year and 6% next year due to a shortage of supply, but the agent warns that rental growth will start to slow between 2025 and 2028 - hitting 2% - as tenants reach the limit of what they can afford to pay.
Is it worth buying a house?
On the surface, the costs associated with buying a house can seem daunting, but for some, the need to own their own home is visceral and the slog of saving for a number of years to afford it is worth it, especially if you're planning to stay in the property for many years.
Home ownership also gives you a certain level of financial security. You know how much you have to pay on the mortgage and at the end of the loan term, the home is yours.
Additionally data shows currently the market is favouring buyers. Sellers are cutting £14,000 off their asking prices, and discounts to asking prices are larger than in the pre-pandemic years.
Plus, rents can always go up and if you can't pay, you could be thrown out.
Recent rises to mortgage rates have also increased the prices of buy-to-let mortgages and these costs are likely to be filtered down to tenants.
Imogen Sporle, head of regulated and term finance at Finanze, said: "Regarding the very common question I get at the moment of 'As mortgage rates are going up is it cheaper to rent than get a mortgage?', my answer to this is a hard 'no', and I think it always will be regardless of how high mortgage rates go up.
"This is because the majority of landlords have mortgages on the properties they are letting out, and although their mortgage payments are slightly lower as they often pay them on an interest-only basis, due to the lender's debt service coverage (DSC) ratio they will still have to increase the rent they charge when the mortgage rates increase."
Is renting a waste of money?
There is a prevailing view that renting is a waste of money and that it's better to be paying your own mortgage rather than hand over your hard earned money to a landlord.
But this ignores the realities of life.
Many people rent because they can't afford to buy; there are four million households in the social rented sector in England.
Some people rent because they don't know if they want to take on the responsibilities of home ownership when they're not certain about where to live – after all, it is a big commitment.
In the short-term, renting can also make more sense financially.
Marc Shoffman is an award-winning freelance journalist specialising in business, personal finance and property. His work has appeared in print and online publications ranging from FT Business to The Times, Mail on Sunday and The i newspaper. He also co-presents the In For A Penny financial planning podcast.
With contributions from