Halifax: House price slump continues as prices slide for the sixth consecutive month
UK house prices fell again in September as buyers returned, but the slowdown was not as fast as anticipated, latest Halifax data shows. Where are house prices falling the most?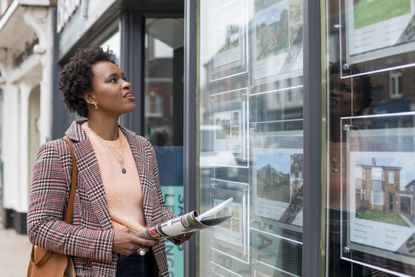 (Image credit: Getty Images)
House prices in 2023 have been sliding, and in September, the average house price fell by -0.4%, the sixth consecutive fall this year. But the pace of the monthly decline has slowed; in August, the slide was -1.8%, which was the biggest drop seen in house prices since 2009. On an annual basis, property prices dropped by -4.7%, versus -4.5% last month.
The latest Halifax house price index data means a typical home now costs £278,601 - a drop of around £1,200 from August. And while this takes us back to similar prices seen in early 2022, property prices still remain high and are in fact up 1% since December 2021, which is also when we first saw the Bank of England starting to push up interest rates. Average house prices are still more than £39,000 above pre-pandemic levels, when we saw extraordinary growth with prices going up.
Where are house prices falling the furthest?
While all UK nations and the nine English regions registered a decline in house prices on an annual basis, the South of England saw the most downward pressure on property prices, falling by -5.7% over the last year. The average house price there is now £376,450.
Subscribe to MoneyWeek
Subscribe to MoneyWeek today and get your first six magazine issues absolutely FREE
Get 6 issues free
Sign up to Money Morning
Don't miss the latest investment and personal finances news, market analysis, plus money-saving tips with our free twice-daily newsletter
Don't miss the latest investment and personal finances news, market analysis, plus money-saving tips with our free twice-daily newsletter
Northern Ireland seems to be the most resilient, with house prices falling just -0.2% compared to this time last year; the average house price is £184,108, representing a fall of less than £400.
Scotland also saw a modest annual decline of -0.8%, taking the average house price to £201,594.
And in Wales, property prices fell by -3.6% over the last year, taking the average house price to £214,585.
What is happening to house prices in London?
London house prices have seen the biggest fall of any region, where house prices have slumped by -4.8% over the last year. In cash terms, house prices have fallen by -£25,524.
Yet London continues to be the most expensive place in the UK to purchase a home where the average property costs £525,678.
Will house prices go down further?
Higher interest rates leading to higher browning costs will continue to impact the market, but experts say it is starting to become a buyers market.
Kim Kinnaird, director, Halifax Mortgages, comments: "Activity levels continue to look subdued compared to recent years, with industry data showing lower levels of new instructions to sell homes and agreed sales. Borrowing costs are the primary factor, given the impact of higher interest rates on mortgage affordability. Against this backdrop, homeowners inevitably become more realistic about their target selling price, reflecting what has increasingly become a buyer's market.
"However, with Base Rate now likely to be at or around its peak, we are seeing fixed rate mortgage deals ease back from recent highs. Wage growth also remains strong, which has helped with affordability, with the house price to income ratio now at its lowest level since June 2020 (6.2 in September vs 6.3 in August)."
But, with some experts predicting the Base Rate will remain higher for longer as the Bank of England continues to tackle high inflation, mortgage rates are likely to remain high dampening buyer demand and putting pressure on property prices in the UK.
Kalpana is an award-winning journalist with extensive experience in financial journalism. She is also the author of Invest Now: The Simple Guide to Boosting Your Finances (Heligo) and children's money book Get to Know Money (DK Books).
Her work includes writing for a number of media outlets, from national papers, magazines to books.
She has written for national papers and well-known women's lifestyle and luxury titles. She was finance editor for Cosmopolitan, Good Housekeeping, Red and Prima.
She started her career at the Financial Times group, covering pensions and investments.
As a money expert, Kalpana is a regular guest on TV and radio – appearances include BBC One's Morning Live, ITV's Eat Well, Save Well, Sky News and more. She was also the resident money expert for the BBC Money 101 podcast .
Kalpana writes a monthly money column for Ideal Home and a weekly one for Woman magazine, alongside a monthly 'Ask Kalpana' column for Woman magazine.
Kalpana also often speaks at events. She is passionate about helping people be better with their money; her particular passion is to educate more people about getting started with investing the right way and promoting financial education.