Rents hit a record high - but is the opportunity for buy-to-let investors still strong?
UK rent prices have hit a record high with the average hitting over £1,200 a month says Rightmove. Are there still opportunities in buy-to-let?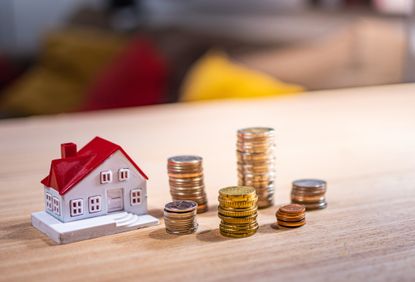 (Image credit: Getty Images)
House prices may be dropping but tenants seeking new properties are facing record rents.
New figures from property website Rightmove show the average advertised rent for a home across Britain, excluding London, reached a record high of £1,278 per month in the third quarter of this year.
It marks the 15th consecutive quarter that average advertised rents have risen to a new record.
Subscribe to MoneyWeek
Subscribe to MoneyWeek today and get your first six magazine issues absolutely FREE
Get 6 issues free
Sign up to Money Morning
Don't miss the latest investment and personal finances news, market analysis, plus money-saving tips with our free twice-daily newsletter
Don't miss the latest investment and personal finances news, market analysis, plus money-saving tips with our free twice-daily newsletter
In the third quarter of 2023, average advertised rents across Britain but outside London were 10% higher than this time last year.
Within London, the average asking rent also reached a new record of £2,627 per month, which was 12.1% higher than a year earlier.
Buy-to-let investors may see these numbers and wonder if now is a good time to invest in property. We have rounded up the best areas for buy-to-let in the UK if you are looking for the best places to invest.
How long could these rent rises last and what does it mean for landlords?
Why are rents rising?
Supply remains a major issue in the rental sector.
There is a lack of property stock and demand is being pushed up by higher mortgage rates, which means many people who may be looking to buy now face waiting longer to save and are staying in the rental market.
Many landlords are also reported to be considering exiting the sector due to high taxes and regulations, which reduces competition and pushes rents up.
Some may even be passing higher buy-to-let mortgage costs onto tenants.
The average rental property across Britain is receiving 25 inquiries from prospective tenants to letting agents, compared with eight on average in pre-pandemic 2019, according to Rightmove. It is also five more than in May of this year.
"We're receiving mounting inquiries for each property to rent from would-be tenants, with queues of tenants arriving to open-house viewings," says Ria Laitmer, a lettings manager at Clarkes agency in Dorset.
Where are the cheapest and most expensive rents?
As with everything in the property market, the data very much depends on where you live or where you are renting out a property.
Asking monthly rents have increased by the most over the past quarter in the West Midlands, up 4.6% to £1,132 per month.
Tenants in London face the largest rents at £2,627 per month, but the largest increase is Scotland where rents rose 14.5% to £1,042.
The smallest quarterly and annual increase is in Wales, where asking rents rose 1.5% and 50.9% respectively to £1,032. The cheapest area to rent is currently the North East of England where tenants are being asked to pay £856 per month on average.
Landlord yields on rental properties are currently at 6.4% across Great Britain, according to Rightmove.
There are regional differences, with landlords in the north of England and Scotland earning yields of above 7% while those in the south and Landlord are getting closer to 5% or 6%.
This is where the slowing housing market is hitting the rental sector though as price drops mean yields for landlords are not rising by as much.
The average landlord yield across the country was up just 0.4%.
What will happen to rents?
The number of available properties to rent has dropped by 35% compared with 2019, according to Rightmove, suggesting rental returns will remain high for some time.
The biggest supply and demand imbalance is for two-bedroom semi-detached houses, with smaller properties to let under more supply and demand pressure than larger properties
While demand in the rental sector remains significantly higher than pre-pandemic levels, Righmove says it has actually eased compared to last year.
Tim Bannister, Rightmove's director of property science, says there are signs that some of the pressure between supply and demand is beginning to ease, with the number of new rental properties coming to the market now at its highest level since the end of last year.
"While it is likely that there is some way to go before this filters through to rental prices, if the improving trend between supply and demand continues, we could start to see the pace of yearly rent rises slow more significantly than it has been," adds Bannister.
That could be an argument for buy-to-let investors getting involved sooner rather than later before the market dips.
Marc Shoffman is an award-winning freelance journalist specialising in business, personal finance and property. His work has appeared in print and online publications ranging from FT Business to The Times, Mail on Sunday and The i newspaper. He also co-presents the In For A Penny financial planning podcast.