Will energy prices fall in 2024? The latest expert predictions
The average household is paying around 7% less for their energy consumption, thanks to a fall in the energy price cap. But what will happen to prices next year? We look at the latest predictions for gas and electricity bills in 2024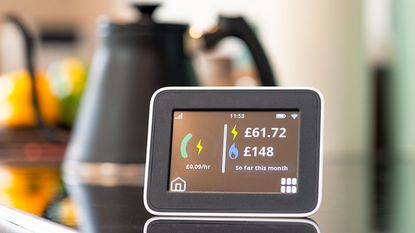 (Image credit: © Getty Images/iStockphoto)
The latest energy price cap (EPC) came into play on 1 October, meaning the average household on a variable tariff should have seen a 7% drop in their bill.
But with energy costs still significantly higher than two years ago, energy bills remain expensive and you may be wondering if energy prices will fall in 2024.
Costs fell in the summer, from an average annual energy bill of £2,500, to £2,074 from 1 July.
Subscribe to MoneyWeek
Subscribe to MoneyWeek today and get your first six magazine issues absolutely FREE
Get 6 issues free
Sign up to Money Morning
Don't miss the latest investment and personal finances news, market analysis, plus money-saving tips with our free twice-daily newsletter
Don't miss the latest investment and personal finances news, market analysis, plus money-saving tips with our free twice-daily newsletter
Last month, a typical annual bill dropped lower, to £1,923 - though the regulator Ofgem has changed its calculations for the price cap as it says households are now using less energy, so a typical annual bill now averages £1,834.
Ofgem has now announced the energy price cap for January to March. After a series of price drops this year, households will need to brace themselves for rising bills again. The cap will increase by 5%, to £1,928 a year from January, adding £94 to an average annual direct debit dual-fuel energy bill.
Of course, your actual bill is determined by what you use as the energy price cap is on the unit price and not your total bill. So your annual bill may be higher than this.
The energy price cap is the maximum price per kilowatt hour (kWH) that energy suppliers can charge for energy if you are on a standard or default tariff. It is set four times a year by Ofgem, and is based on movements in the wholesale markets.
So, what could happen to energy prices next April and beyond - will they rise again, or start to fall? And what about daily standing charges - could we see them overhauled given Ofgem has announced a review?
We look at the latest predictions for gas and electricity prices in 2024.
What will happen to energy prices in 2024? Latest predictions
Ofgem has announced the price cap for 1 January to 31 March. On New Year's Day, it will increase by 5% compared to the previous quarter.
For an average household, this equates to a rise from £1,834 to £1,928 a year, meaning annual bills will be £94 higher - or around £7.83 a month.
This is very similar to what had been expected: energy analyst Cornwall Insight had predicted that energy prices would creep up at the start of next year to £1,931 for an annual bill, due to "growing volatility in the global wholesale energy market".
Dr Craig Lowrey, principal consultant at Cornwall Insight, says a rise in gas and electricity bills will hit households hard, especially going into the winter months.
He comments: "Earlier this year, it seemed like the outlook for consumer bills was improving, with bills gradually falling after the dramatic rises post Russia's invasion of Ukraine. However, as is often the case in the energy market, new challenges have arisen, and our reliance on foreign energy has once again left the UK vulnerable to price increases caused by events around the globe."
But there could be some good news to come, as analysts are forecasting that prices will fall back in April. Cornwall Insight is predicting the energy cap will come down to £1,816 in April 2024, then drop again to £1,793 in July, and finally rise slightly to £1,833 in October.
Lowrey adds that wholesale market volatility caused by geopolitical concerns, "including disruptions to the Finnish Balticconnector [a natural gas pipeline], the Israel-Hamas conflict and industrial action at gas production facilities in Australia" are all factors behind the energy price cap rising in January.
What about standing charges?
Cornwall Insight predicts that Ofgem will increase electricity standing charges, with the April price cap seeing a rise of 8p per day, from 53p to 61p.
The hike is primarily due to "the ongoing reform of network charges, which has shifted more of the charges from per unit to per day, meaning that customers will incur such costs regardless of their actual consumption".
Lowrey adds: "Given that standing charges for gas and electricity make up about 16% of overall household bills, even those who use less energy might find themselves grappling with escalating costs."
Faced with another big rise, customers will be pleased to know that Ofgem has launched a review into daily standing charges, and is urging households, charities and businesses to give their views.
Currently, energy customers pay a fixed daily charge covering the costs of being connected to a supply. They vary depending on where the customer lives.
There has been anger about charges going up - in many areas, the charge has doubled over the past two years - and the inability to reduce these fixed fees.
Greg Jackson, founder of the provider Octopus Energy, comments: "Standing charges have become way too high and we need regulatory change so we can slash them. They disproportionately affect people on low incomes and make it hard to save money by reducing energy use."
People can submit their views on this topic via email to StandingCharges@ofgem.gov.uk by 19 January.
Should I fix my energy?
While energy bills only fell slightly last month, this has prompted some providers to launch cheaper fixed energy deals, which may be in line with or slightly lower than the current price cap.
But, it is important to note that we do not know exactly what will happen to energy prices - so by fixing, you are essentially taking a gamble. Fixing could shield you from future price rises, but so far, we only have predictions.
For more on this, and to see the latest fixed energy deals, check out Should you switch to a fixed energy tariff?.
How to keep energy bills low
To help you keep energy bills low, we have gathered some top tips in our article looking at 13 ways to reduce your energy costs. If you're interested in the best ways to improve your energy efficiency and reduce costs, we explore: radiators vs electric heaters, heated airers vs tumble dryers, and wood burning stove vs central heating.
Kalpana is an award-winning journalist with extensive experience in financial journalism. She is also the author of Invest Now: The Simple Guide to Boosting Your Finances (Heligo) and children's money book Get to Know Money (DK Books).
Her work includes writing for a number of media outlets, from national papers, magazines to books.
She has written for national papers and well-known women's lifestyle and luxury titles. She was finance editor for Cosmopolitan, Good Housekeeping, Red and Prima.
She started her career at the Financial Times group, covering pensions and investments.
As a money expert, Kalpana is a regular guest on TV and radio – appearances include BBC One's Morning Live, ITV's Eat Well, Save Well, Sky News and more. She was also the resident money expert for the BBC Money 101 podcast .
Kalpana writes a monthly money column for Ideal Home and a weekly one for Woman magazine, alongside a monthly 'Ask Kalpana' column for Woman magazine.
Kalpana also often speaks at events. She is passionate about helping people be better with their money; her particular passion is to educate more people about getting started with investing the right way and promoting financial education.
With contributions from