13 ways to save on your energy bill
As the weather gets colder and bills rise, we outline 13 ways you can save on your energy bills.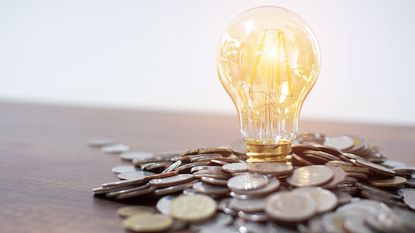 (Image credit: © Getty Images)
Households' efforts to delay turning on the heating during the winter due to rising energy prices means many of us can feel pleased to have made some savings. In some cases, the savings are significant: energy firms are holding almost £7bn in customer credit with many households now owed more than £400 in credit.
On top of that, other potential good news on the horizon includes the prediction that energy prices will fall in the second half of this year, with some experts saying we could see prices similar to what we had back in mid-2022.
But now is not the time to slack on energy-saving efforts. The cost of living crisis means households must endeavour to continue the belt-tightening as and when they can.
Subscribe to MoneyWeek
Subscribe to MoneyWeek today and get your first six magazine issues absolutely FREE
Get 6 issues free
Sign up to Money Morning
Don't miss the latest investment and personal finances news, market analysis, plus money-saving tips with our free twice-daily newsletter
Don't miss the latest investment and personal finances news, market analysis, plus money-saving tips with our free twice-daily newsletter
It should be easier as we head into warmer months but to help you keep your bills low, we've looked at whether it is cheaper to have a wood burning stove or central heating, radiator vs electric heater, or fan heater vs oil heaters.
There are lots of other other ways you can save on your energy bill too (and don't worry, you are allowed to turn the heating on) – we round up 13 handy tips to slash your costs this winter.
How to save on your energy bill now
Switch to LED bulbs
LED bulbs use less energy and will save you money in the long run. They cost just a bit more than traditional bulbs – you can get a pack of three LED bulbs from Amazon for around £10. According to the Energy Saving Trust, if the average UK household replaced all of their halogen bulbs with LEDs it would cost about £100 and save about £40 a year on bills.
Use an energy-efficient shower head
You can cut down on bills by spending less time in the shower; taking four-minute showers could save you £95 a year, according to the Energy Saving Trust.
But using an energy-efficient shower head could further reduce your energy usage. On Amazon they start at around £8 and, according to the Energy Saving Trust, this switch could shave £28 off a family of four's energy bills and around £47 off your water bill.
Wash your clothes at a lower temperature
You can save around £35 a year by running your washing machine on a 30-degree cycle, and by reducing your washing loads by just one run per week for a year.
Adjust your boiler to save on energy costs
You can slash around £25 a month off your energy bill by turning your flow temperature down by a few degrees on your boiler – we explain the two boiler tricks everyone needs to know about in our article: two boiler tricks to cut hundreds off your energy bill.
You can also cut costs by turning off your boiler's preheat function, which ensures hot water is ready to go at all times – you could shave anywhere between 5% to 10% off your energy bill by only turning it on just before you need it..
Bleed your radiators
This may sound obvious, but it's easily forgotten: making sure you bleed the radiators will keep your house warmer for longer. If there are any cold spots on the radiators while your heating is on, it means air is trapped in the system.
Turn your heating down
According to comparison website uSwitch, you could save as much as £80 a year by turning your thermostat down by just one degree. According to experts, the ideal temperature for most healthy people is around 18 degrees.
Draught-proof your home
Draught-proofing around windows and doors could save you around £60 a year, says the Energy Saving Trust. Draught-proofing your chimney could save you an extra £390 a year – this can be done with something simple as a chimney sheep, which cost around £50 on Amazon. For windows, you can buy draught tape, which can cost around £10 on average. And for doors, you can also buy door draught excluders that cost around £20.
Doing it yourself is cheaper. Getting your home professionally draught-proofed will cost around £225 for an average three-bedroom family house.
Turning off standby lights – how much can you save?
According to the Energy Saving Trust, you could save around £65 a year by turning off your appliances in standby mode, either by switching them off at the plug or unplugging them.
Remember to turn off your lights when you're not using them – this could save you £25 a year on your annual energy bill.
Investments to make to save on your energy bill
Insulate your home
Around 25% of the heat from your house escapes through the roof. You can save up to £130 a year by padding your loft to prevent warmth from escaping. You could also install double or triple glazing on your windows.This week, the government also announced an insulation grant scheme, Eco Plus, which could see some households get up to £310 a year to make energy efficiency improvements to their home.
Insulate your hot water cylinder
Insulating your hot water cylinder, if you have one, could save you £70 a year. By helping keep the water warm, you will use less energy in heating it up.
Buy a smart thermostat
Investing in a smart thermostat could help you save money over time. These let you control and programme when your heating and hot water are turned on and off, saving you having to do it manually but also ensuring you won't accidentally forget. You can also change temperatures remotely from your phone when you're not at home.
Smart thermostats range from around £135 to £200 in price, and there may be installation costs too. But, they could cut your energy costs by between 14% and 31%. "This means that for the average household they could knock about £560 off your bill in a year," says Stephen Hankinson, managing director at Electric Radiators Direct. "Factoring in the upfront cost, those who do install these may start seeing some savings after around four months."
Get a new boiler
This is definitely a more expensive option, with the cost of replacing a boiler coming in at around £4,000. But if you're able to replace a boiler that is over ten years old you could save money in the longer term.
Install thermostatic radiator valves (TRVs)
TRVs help control the temperature per radiator. If you don't already have them on the side of your radiator, installing them could save you up to £75 a year, according to the Energy Saving Trust. Controlling the heat in your main living space and lowering it in rooms you don't use as often will help you save money.
If you do turn the heating on…
Turning your heating up to the highest temperature or leaving it on low for extended periods of time will increase your energy consumption.
The best option is to turn it on when you need it and follow our other tips to maximise the heat.
• This article may contain affiliate links – when you purchase through links on our site, we may earn an affiliate commission.
Nic studied for a BA in journalism at Cardiff University, and has an MA in magazine journalism from City University. She joined MoneyWeek in 2019.