Installing solar panels – are they worth the cost?
UK homes have installed a record number of solar panels so far in 2023. We look into what you need to know before deciding whether to add them to your home.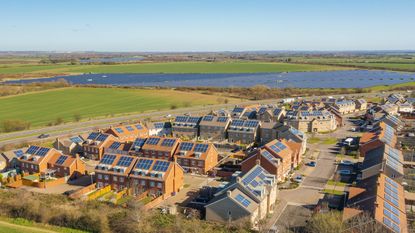 (Image credit: © Getty Images)
If you're looking for ways to make savings on your energy bills installing solar panels could be part of the solution. While wholesale energy prices are expected to fall again by the end of the year, energy bills remain far higher than they have been over the past couple of years.
Solar panels have grown in popularity over the past few years – in fact, British households have installed a record number of solar panels and heat pumps in the first half of the year. MCS Certified, the body that accredits low-carbon products, said over 120,000 certified solar panels, heat pumps and other renewable technologies were installed in UK homes in the first month of the year. Over 80% of the installations in 2023 have been driven mainly by the continued growth in solar PV installations.
"As the cost of energy continues to grow, we are seeing more people turn to renewable technology to generate their own energy and heat at home," said MCS CEO Ian Rippin.
Subscribe to MoneyWeek
Subscribe to MoneyWeek today and get your first six magazine issues absolutely FREE
Get 6 issues free
Sign up to Money Morning
Don't miss the latest investment and personal finances news, market analysis, plus money-saving tips with our free twice-daily newsletter
Don't miss the latest investment and personal finances news, market analysis, plus money-saving tips with our free twice-daily newsletter
The increase in demand for solar panels has meant prices have fallen in recent years, so now could be a good time to look into installing them in your house.
We examine how much solar panels cost, and what they could save you.
How much do solar panels cost to install?
According to the Energy Savings Trust, the average domestic solar panel system costs around £7,000 to install.
But the amount you pay will vary depending on the size of your roof and how difficult it is to access. They will also vary depending on whether you choose panels or tiles and whether you want them to sit on top of your roof or be built in.
Panels on top of the roof are the cheapest option, while tiles are the most expensive, the Energy Savings Trust says.
They recommend getting a quote from at least three installers as costs vary greatly.
How much could solar panels save you?
Not only will you save money by producing your own energy but, if you have surplus energy the smart export guarantee (SEG), launched in January 2020, sees households get paid for the solar energy they generate but don't use. You stand to make between £80 and £200, depending on the size of your system.
You can check Solar Energy UK's table for the suppliers offering the best rates to buy your energy and this tool from the Energy Saving Trust helps you calculate how much you could get in payments.
Keep in mind that how much you save on your bills will vary depending on how much energy you consume and how large of a system you install. Additionally, it varies per region and how many hours you're at home for.
According to the Energy Savings Trust, these are the savings you could be making, per year, if you sell your energy back to the grid. Savings are broken out by region:
Homeowners in South East England could save from £350 to £565 on their bills per year.
Homeowners in Wales could save between £335 to £530.
Those in Northern England could save between £320 and £520.
In Northern Ireland, you could save between £325 to £530.
In Scotland, the savings range from £300 to £595
All in all, it'll take you around 12 years to make your money back but this will vary depending on installation cost, your home's location and the size of the system you install.
What else should you consider?
If you're installing solar panels, make sure they're well positioned. They will produce energy even if it's not sunny which is ideal, given the UK weather, but make sure trees are not in the way.
South facing roofs are ideal, says the Energy Savings Trust, while North facing ones are not recommended and a system facing East or West will yield between 15 to 20% less energy than one facing directly South.
Solar panels need very little maintenance and they actually benefit from rainfall which cleans them, since they are tilted at an angle. They will last around 25 years, but some parts will likely need to be replaced during this period – this will cost you around £800.
Nic studied for a BA in journalism at Cardiff University, and has an MA in magazine journalism from City University. She joined MoneyWeek in 2019.