UK house prices see their biggest fall since 2008
Halifax's latest house price index shows UK house prices fell by 2.3% in November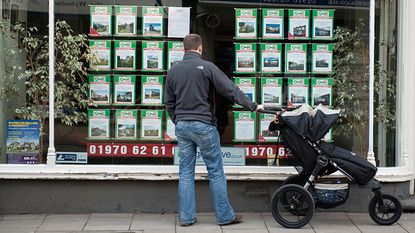 (Image credit: Man looking in an estate agent's window © Alamy)
According to Halifax's house price index, average UK house prices fell by 2.3% in November, a notable acceleration from the 0.4% reported in October. The drop in November is the largest reported since October 2008, and the third consecutive monthly fall in prices.
The annual rate of growth fell from 8.2% in October to 4.7% in November.
Following these declines, the average cost of a UK property now stands at £285,579 – down from £292,406 last month, according to the lender's figures.
Subscribe to MoneyWeek
Subscribe to MoneyWeek today and get your first six magazine issues absolutely FREE
Get 6 issues free
Sign up to Money Morning
Don't miss the latest investment and personal finances news, market analysis, plus money-saving tips with our free twice-daily newsletter
Don't miss the latest investment and personal finances news, market analysis, plus money-saving tips with our free twice-daily newsletter
Halifax's data follows the publication of Nationwide's house price index, which showed a 1.4% month-on-month fall in UK house prices in November. You can also sign up to our newsletter, where we will send you the latest updates on house prices.
Separately, the latest data from the Office for National Statistics showed house prices stalled in September. The Office for Budget Responsibility has forecast prices will fall 9% by 2024.
"While a market slowdown was expected given the known economic headwinds – and following such extensive house price inflation over the last few years – this month's fall reflects the worst of the market volatility over recent months," said Kim Kinnaird, director at Halifax Mortgages.
Why are UK house prices falling?
House prices have grown by 19% since March 2020. The last couple of years have seen an extended house price boom, fuelled in part by stamp duty cuts introduced during the pandemic, buyers choosing to relocate as they worked from home, and the imbalance between supply and demand.
However, a few things have happened over the last couple of months that have caused buyers and sellers to rethink their plans.
First, mortgage rates spiked to over 6% in the aftermath of Kwasi Kwarteng's mini-Budget, which increased borrowing rates. They peaked at 6.65% – their highest level since the 2008 financial crisis.
While rates have since dropped back to below 6% for the first time in two months, the typical two-year deal still stands at 5.99% more than double the level seen this time last year.
It's also unclear if mortgage rates have further to fall.
The Bank of England recently raised interest rates to 3% as it tries to tame inflation, which currently sits at a 41-year high of 11.1%. The central bank looks likely to raise them again when it meets on 15 December. If the cost of borrowing remains high, so will mortgage repayments.
Halifax's house price index "laid bare" the "damage inflicted on the housing market by the mini-budget", says Karen Noye, mortgage expert at Quilter. "When Liz Truss and Kwasi Kwarteng's infamous plans to get the economy motoring were announced in late September, the markets reacted violently and subsequently high long term predictions for interest rate hikes were quickly priced into mortgage products by lenders," says Noye.
"This brought an abrupt end to what has been a long era of cheap money for property purchases. Increased rates, sky high inflation and general uncertainty will quickly put lots of potential first time buyers and movers off, reducing demand and house prices with it."
On top of higher interest rates, buyers are having to contend with rocketing food and energy prices, which are eating away at consumers' spending power.
"It may still be that particularly as we experience cold weather and subsequent expensive energy bills, those on the fence about a relocation or a step onto the property ladder will choose to wait it out, further reducing prices as we go through the winter," says Noye.
Where next for UK house prices?
Despite the headwinds facing the property market, with house prices falling, some buyers might be wondering if now is a good time to buy a house.
And there's a good argument to be made that now could be the time to buy. The Bank of England is predicting inflation will begin to ease next year. If it does, the central bank might ease up on rate hikes, rates could even be cut if the economy really starts to struggle.
"If… interest rates can be dropped then house prices are unlikely to be in decline for too long," says Noye.
"There is simply not enough stock on the market and people cannot put their life on pause forever… it's only a matter of time before house prices return to their upward trajectory."
Additionally the stamp duty cuts announced by Kwarteng in his mini-Budget were extended by chancellor Jeremy Hunt in his Autumn Budget. These will now end in 2025, but could continue to uphold demand until then as buyers seek to take advantage of the discount.
However even inflation does begin to ease and the "financial pain" we are feeling "becomes less acute in coming months, we expect it to become more widespread as more favourable mortgage offers made before the mini-Budget lapse," says Tom Bill, head of UK residential research at Knight Frank.
"This should take house prices back to where they were in the summer of 2021, erasing around half of the 20%+ gain they made during the pandemic."
It's also possible the market is "going through a process of normalisation" following the steep increases we saw over the last two years, says Kinnaird.
"While some important factors like the limited supply of properties for sale will remain, the trajectory of mortgage rates, the robustness of household finances in the face of the rising cost of living, and how the economy – and more specifically the labour market – performs will be key in determining house prices changes in 2023," he adds.
Related articles
Nic studied for a BA in journalism at Cardiff University, and has an MA in magazine journalism from City University. She joined MoneyWeek in 2019.