Are house prices in London starting to fall?
The property market boom seems to be coming to an end as house price growth beings to slow, but are London prices falling?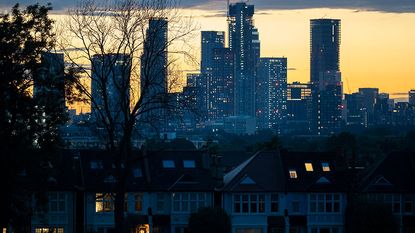 (Image credit: © Richard Baker / In Pictures via Getty Images)
House price growth is beginning to stall. The latest data from the Office for National Statistics showed prices stayed the same between August and September 2022, and while they grew 9.5% year-on-year this is a marked increase from the 13.1% and 15.2% we saw in August and July, respectively.
In addition, data from HMRC showed that while UK residential transactions in October 2022 were 29% higher than the same time last year, they were 3% lower than the month before.
HMRC also warns year-on-year comparisons should be "treated with caution" because there was significant forestalling activity" in September 2021, meaning some transactions that would have been expected October 2021 were made in September and affected data for the following month. HMRC also said transactions are at a similar level as they were before the pandemic.
Subscribe to MoneyWeek
Subscribe to MoneyWeek today and get your first six magazine issues absolutely FREE
Get 6 issues free
Sign up to Money Morning
Don't miss the latest investment and personal finances news, market analysis, plus money-saving tips with our free twice-daily newsletter
Don't miss the latest investment and personal finances news, market analysis, plus money-saving tips with our free twice-daily newsletter
All of this data was also collected before the mini-Budget chaos, which spiked borrowing rates. It also doesn't account for 6% mortgage rates, so it might be months before we know the true effect of this on the property market. In the longer term the market will also have to contend with the changes announced to stamp duty cuts by chancellor Jeremy Hunt in his autumn Budget.
However so far the data concurs – UK house price growth is slowing down, which could make buyers question whether now is the best time to buy a house.
How are house prices faring in London?
Analysis by Bloomberg News of data from UK Land Registry in the 12 months through July showed the east London borough of Barking and Dagenham is the only remaining London borough where house prices in the resale market have increased by double digits.
The 10% increase could be because of the opening of a new train station over the summer, which connects the borough to central London. The average price for an existing home in Barking and Dagenham was over £377,000, compared to £341,900 a year before.
Data from online real estate platform Rightmove showed overall average asking prices in London fell by almost 1.9%, or nearly £13,000, in October compared to the year before.
"The plethora of predictions about what might happen to prices next year comes at a time when much is still uncertain, but what is certain is that the exceptional price growth of the last two years is unsustainable against the economic headwinds and growing affordability constraints," said Tim Bannister, Rightmove's director of property science. "The frenzied market of the past two years has turned into a more normal market more abruptly and less smoothly than we were expecting."
What will happen to house prices?
The Office for Budget Responsibility (OBR) said it expects house prices to fall for the next two years, predicting a drop of 9% between now and autumn 2024.
The cost of a mortgage, however, is likely to remain high. Currently rates are just above 6% – the highest since the financial crisis. These, coupled with the recession, will push prices down. Check our guide for the best remortgaging deals for November 2022.
However the OBR predicts there will still be an increase of 10.7% in house prices this year, followed by a decrease of 1.2% in 2023 and one of 5.7% in 2024.
After this the OBR expects prices to rise again, by 1.2% in 2025, 3% in 2026 and 3.5% in 2027.
However the OBR highlighted the uncertainty of these predictions, especially after the changes to stamp duty announced in chancellor Jeremy Hunt's autumn Budget. The cuts announced by Kwasi Kwarteng when he was chancellor will come to an end on 31 March 2025.
Hunt said the reduction would remain to "support the housing market and the hundreds of thousands of jobs and businesses which rely on it" but there are still significant changes in the pipeline.
The threshold at which stamp duty is payable will double from £125,000 to £250,000. For first time buyers it will rise from £300,000 to £425,000.
The end to stamp duty cuts will undoubtedly affect the housing market. We saw a stamp duty cut throughout the pandemic, which contributed to the increase in prices over the last couple of years.
"Property buyers will have been thrown into a quandary by the announcement that the stamp duty cut will be reversed in 2025," said Sarah Coles, senior personal finance analyst at Hargreaves Lansdown, "This could be a useful short-term boost to the market. By moving from an open-ended stamp duty cut to a limited opportunity, it could hurry through more sales, and help to keep the market ticking over until March 2025.
"But this may not be the best outcome for buyers. Right now, the market is sending out every possible signal that they might want to hang fire, because we could be reaching the peak, but the desire to save tax could force them to buy sooner than they otherwise would, and expose them to the risk of property price drops.
"Meanwhile, if they decide to hold on for the bottom, they could end up rushing for the end of the stamp duty break along with so many others that they end up paying over the odds."
Nic studied for a BA in journalism at Cardiff University, and has an MA in magazine journalism from City University. She joined MoneyWeek in 2019.