Is now a good time to buy a house?
Is now a good time to buy a house? That's something many people might be asking as house prices, and mortgage rates, begin to decline.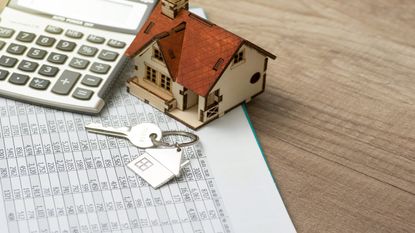 (Image credit: © Getty Images)
Is now a good time to buy a house? That's something many people might be asking as they wonder where UK house prices will go in 2023.
The latest figures show a mixed picture. Lender Halifax's latest house price index shows that house prices have slipped by £1,000 on average – a 0.3% fall. The Office for National Statistics (ONS) has backed this up, recording a 0.3% drop in house prices in February.
Meanwhile, the Royal Institution of Chartered Surveyors believes that while house prices could turn a corner in the next year, over the short term they will remain weak.
Subscribe to MoneyWeek
Subscribe to MoneyWeek today and get your first six magazine issues absolutely FREE
Get 6 issues free
Sign up to Money Morning
Don't miss the latest investment and personal finances news, market analysis, plus money-saving tips with our free twice-daily newsletter
Don't miss the latest investment and personal finances news, market analysis, plus money-saving tips with our free twice-daily newsletter
But data from other sources suggest things are moving in a different direction. Nationwide's latest house price index showed house prices rose 0.5% in April following seven months of consecutive falls.
Rightmove also reported a 0.2% increase in asking prices in April, suggesting growing demand for a limited pool of available properties.
It's important to note that each house price index is calculated differently, but they all seem to agree – the property market's pandemic boom has ended.
So is now a good time to buy a home? We assess what's happening in the market right now and show you what to look out for when it comes to deciding whether to buy a house.
Could house prices see a boost from falling interest rates?
Buyers retreated from the market last autumn when the mini-Budget pushed the cost of borrowing up to levels not seen since 2008.
Interest rates on mortgage products have since fallen, but they remain around the 5% mark – more than twice what they were early 2022.
The Bank of England hiked interest rates to 4.25% when it last met, and its widely expected rates have further to go as the bank tries to control stubborn inflation.
Higher borrowing rates undoubtedly make it more difficult for buyers to get onto the property ladder. On top of that, there's a chance the UK is entering a recession, which affects buyer confidence.
What's happening with mortgage rates?
Despite higher interest rates, mortgage rates have fallen from their 6.65% peak. Currently the average two-year fixed deal stands at 5.27%, while the average five-year deal is priced at 4.98%, according to Moneyfacts.
But rates remain significantly higher compared to the end of 2021 when the average two- and five-year fixes stood at around 2%.
That said, a number of bellwethers paint a more positive picture. The number of mortgage products on the market has risen to its highest level in over a year, boosting choice for consumers and competition amongst providers.
"Interest rate competition among lenders was mixed month-on-month, however it is widely expected that fixed mortgage rates will reduce over the next few months, but this will be determined by fluctuating swap rates and lenders appetite for business," said Rachel Springall, finance expert at Moneyfacts.
Higher rates are not the only reason buyers might be questioning if now is a good time to buy a house.
Property affordability and the cost of living crisis are both weighing on the purchasing power of buyers. High energy costs are also a factor.
If you do spot a decent mortgage rate that you can afford, it could be wise to move quickly and lock it in, as good deals don't hang around for long. The average shelf life of a mortgage product is currently just 15 days, according to Moneyfacts.
Is now a good time to buy a house for first-time buyers?
Rightmove found first time buyers have been leading the housing market's recovery to pre-pandemic sales. Indeed – first time buyer type properties, those with two bedrooms or fewer, reached a new record price of £224,963 in April, and buyer demand is 11% higher than it was in April 2019.
According to property market servicing firm Countrywide, first time buyers are now opting for smaller homes instead of holding out entirely on buying.
But the cost of buying a home is still prohibitive. First-timers need an extra £7,350 on their gross household income to buy a three-bed house, according to data from Zoopla.
Richard Donnell, executive director at Zoopla says: "We expect first-time buyers to have another strong year in 2023 having been the largest buyer group last year. They need more income to buy but are starting to look for smaller homes and get away from rapid growth in rents. "
Positively, the macroeconomic outlook does not look as gloomy as it did six months ago, and there are a number of additional schemes available to help support potential buyers.
Firstly, the government has introduced schemes to support young buyers, including the cut to stamp duty announced by former chancellor Kwasi Kwarteng in his mini-Budget.
In his Autumn Statement current chancellor Jeremy Hunt said it will be phased out from March 2025, so it's worth taking advantage of it while you can.
Sarah Coles, senior personal finance analyst at the investment platform Hargreaves Lansdown, explains: "The stamp duty cut could save a significant chunk of cash – particularly if you are a first-time buyer and the property would have been over the [previous £300,000] threshold.
Mortgage providers have taken aim at the plight of wannabe first-time buyers and have launched products designed to help them get on the ladder.
Skipton recently launched a 0% mortgage for renters, designed for those who do not have a deposit to put towards a house.
But other schemes have recently closed. The popular help-to-buy scheme shuttered in March, having offered buyers an equity loan worth up to 20%, or 40% in London, of the property's value.
In Wales, the Help to Buy deadline has been extended to March 2025, however, it's worth checking out their eligibility criteria.
So when is a good time to buy a house?
With so much uncertainty, it can be tricky to work out whether or not to buy a house.
MoneySavingExpert's Martin Lewis says that for those who have found their dream home and have triple-checked that the mortgage and bills are affordable, now could be a good time to buy a house.
For other people, buying now may not be a good idea, especially if you are doing it because you think a recession is coming or interest rates are going to rise further.
Lewis explains: "If you're doing this because 'this isn't the house I want but I feel I should do it now before everything goes wrong and it all goes belly up'... don't buy your house. We're working with so many variables, there are no firm right answers".
According to Coles, buyers have all sorts of reasons for needing to move, and in many cases, even at really uncertain times, it's not going to change their plans.
"If you're about to have a baby in a studio flat, you will still need somewhere bigger. However, if you are buying, you need to be comfortable that you won't need to move again in a hurry. If house prices were to fall, if you're planning to stay in the property for years to come, you have time for them to recover. It's only if you need to move again fairly quickly that you face difficulties of dwindling equity or even negative equity."
Noye at Quilter says predictions aren't always accurate and failure to apply your own judgement depending on your personal circumstances can lead to lost returns.
"While the outlook for the property market doesn't look too rosy, the same was said just after the Brexit vote with reports that the market may crash then and had people been put off they would have missed out on some incredible house price growth, particularly over the last two years," she says.
So trying to time the market could be a big mistake.
There's no telling what will happen to property prices over the next couple of years. Rising mortgage rates could force prices lower, especially if the economy gets weaker.
However, wages are rising, the supply of properties is limited and around a third of households own their homes outright. That's a lot of equity in the bank of mum and dad to support first-time buyers.
All in all, the answer to the question of whether or not it is a good time to buy a house really depends on your personal situation.
If you've found your dream property, have the money and are ready to go, then there's no need to hold back. But if you're unsure, there's no need to rush. It might be better to hold back and take stock of things as the year progresses.
Ruth is passionate about helping people feel more confident about their finances. She was previously editor of Times Money Mentor, and prior to that was deputy Money editor at The Sunday Times.
A multi-award winning journalist, Ruth started her career on a pensions magazine at the FT Group, and has also worked at Money Observer and Money Advice Service.
Outside of work, she is a mum to two young children, a magistrate and an NHS volunteer.