Halifax: House prices fall for the fourth month in a row
Higher interest rates have wiped nearly £1,000 off the average UK house price between June and July.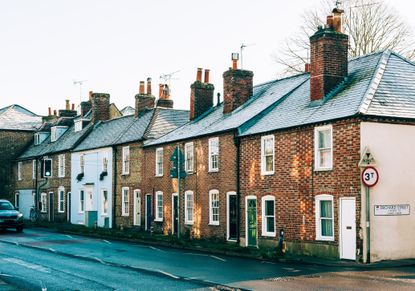 (Image credit: Getty images)
Average UK house prices fell by 0.3% in July, marking the fourth monthly decline in a row, with nearly £1,000 knocked off the average house price between June and July, according to Halifax.
This is 2.4% lower than a year ago, easing from a 2.6% fall in June.
The typical UK home now costs £285,044. That's nearly £1,000 less than July's average of £286,011 - and around £9,000 less than the peak last August, Halifax said.
Subscribe to MoneyWeek
Subscribe to MoneyWeek today and get your first six magazine issues absolutely FREE
Get 6 issues free
Sign up to Money Morning
Don't miss the latest investment and personal finances news, market analysis, plus money-saving tips with our free twice-daily newsletter
Don't miss the latest investment and personal finances news, market analysis, plus money-saving tips with our free twice-daily newsletter
It comes amid high street lenders starting to cut mortgage rates following a better-than-expected drop in inflation in June.
First-time buyer purchases hold up
Kim Kinnaird, director at Halifax Mortgages, said: "Average UK house prices edged down slightly in July, with the monthly fall of 0.3% equivalent to a drop of around £1,000 in cash terms. While this was the fourth consecutive monthly decrease, all have been smaller than (minus) 0.5%.
"In reality, prices are little changed over the last six months, with the typical property now costing £285,044, compared to £285,660 in February."
She added: "In particular, we're seeing activity amongst first-time buyers hold up relatively well, with indications some are now searching for smaller homes, to offset higher borrowing costs.
"Conversely the buy-to-let sector appears to be under some pressure, though elevated interest rates are just one factor impacting landlords' business models, together with considerations of future rental market reforms. It remains to be seen how many may choose to exit and what that could mean for the supply of properties available to buy.
House price falls to be gradual
Looking to the future, Halifax says that high borrowing costs appear to have stabilised so house price falls are likely to be gradual rather than dramatic drops.
Kinnaird adds: "Prospects for the UK housing market remain closely linked to the performance of the wider economy. Several factors are providing support, notably strong wage growth, running at around 7% annually. And, while the uptick in unemployment is likely to restrain that somewhat, it seems unlikely to reach levels that would trigger a sharp deterioration in conditions.
"Expectations of further base rate increases from the Bank of England were tempered by a better-than-expected inflation report for June. However, while there have been recent signs of borrowing costs stabilising or even falling, they will likely remain much higher than homeowners have become used to over the last decade.
"The continued affordability squeeze will mean constrained market activity persists, and we expect house prices to continue to fall into next year. Based on our current economic assumptions, we anticipate that being a gradual rather than a precipitous decline. And one that is unlikely to fully reverse the house price growth recorded over recent years, with average property prices still some £45,000 (19%) above pre-Covid levels."
Experts say market is resilient
While it's difficult to predict how deep and long-lasting the downturn in house prices will be, a number of experts say market activity is holding up.
Tom Bill, head of UK residential research at Knight Frank, said: "While we expect UK prices to fall by 5% in 2023, demand should prove more resilient than expected given the shock-absorber effect of strong wage growth, lockdown savings, the availability of longer mortgage terms, forbearance from lenders and the popularity of fixed-rate deals in recent years."
Some property professionals said activity is strong among first-time buyers in particular.
Nicky Stevenson, managing director at estate agent group Fine & Country, said: "Smaller homes in affordable locations close to major employment hotspots are the biggest draw at the moment, and these are also enticing first-time buyers to the market."
Jeremy Leaf, a north London estate agent, said: "A growing expectation that inflation and interest rates are nearing their respective peaks, combined with continuing strong employment, are all helping to underpin activity.
"Affordability is still a concern, especially for those on tighter budgets, often buying smaller properties so the market remains price sensitive."
Gareth Lewis, managing director of property lender MT Finance, said: "The continued decline in house prices is unsurprising as the market remains impacted by rate uncertainty and affordability issues.
"Buyers are continuing to either play the waiting game or become more aggressive when offering on properties. But there are positive signs – there is still the desire to buy, but with a realignment with what is realistic or achievable in value.
"The housing market is resilient, there are still not enough houses to go around so we will likely continue to see strong values, even with so much uncertainty."
Where are prices falling the most?
Average house prices are continuing to fall in most parts of the UK - except, remarkably, the West Midlands where prices have not gone up or down. Here, an average house in the area now costs £250,285.
The south east of England saw house prices experience the greatest falls with a 3.9% annual fall and an average house price of £382,489.
London is not far behind, registering an annual decrease of 3.5% with an average house price of £531,141.
Welsh house prices recorded a year-on-year fall of 3.3% with a typical house now costing £214,495.
In Scotland, prices were down 0.7% to an average of £201,501 while in Northern Ireland, they were down 0.3% with an average house price standing at £185,322.
Join us at the MoneyWeek Summit on 29.09.2023 at etc.venues St Paul's, London.
Tickets are on sale at www.moneyweeksummit.com
MoneyWeek subscribers receive a 25% discount.
Katie Binns is an award-winning journalist, and former Sunday Times writer where she spent 10 years covering news, culture, travel, personal finance and celebrity interviews. She has also written for the Times, Telegraph, i paper and Woman and Home magazine.
Her investigative work on financial abuse has examined the response of banks, the Financial Ombudsman and the child maintenance service to victims, and resulted in a number of debt and mortgage prisoners being set free.