Wood-burning stove vs central heating ‒ which is cheapest?
Demand for wood-burning stoves has surged as households try to reduce their heating costs this winter. But how does a wood burner compare with central heating? We put them to the test to find out which is cheapest.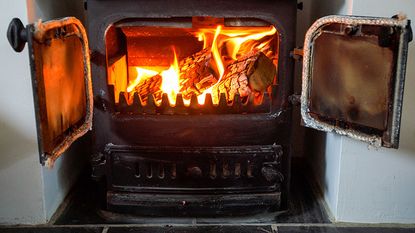 (Image credit: © Getty Images/Bloomberg Creative)
We are all trying to find ways to save on our energy bills in the face of rising energy prices, and data shows households have been increasingly turning to wood-burning stoves instead of switching on their central heating to cut costs.
Data from price comparison site PriceRunner showed sales of wood-burning stoves jumped by 700% in September 2022 compared to the year before.
The winter is well underway, and sales are expected to remain high as customers try to keep warm while being mindful of their heating bills – especially due to the latest cold snap.
Subscribe to MoneyWeek
Subscribe to MoneyWeek today and get your first six magazine issues absolutely FREE
Get 6 issues free
Sign up to Money Morning
Don't miss the latest investment and personal finances news, market analysis, plus money-saving tips with our free twice-daily newsletter
Don't miss the latest investment and personal finances news, market analysis, plus money-saving tips with our free twice-daily newsletter
Despite the government pledging to help households with their energy costs, average annual bills are still much higher than a year ago.
The government's energy price guarantee means a typical average annual bill is around £2,500 until April 2023 – although your actual bill depends on how much energy you use. Last winter, the price cap was £1,277. Next April, the cap will surge to £3,000.
So, it makes sense that alternatives to gas heating have become more attractive as people worry about their heating bills.
Currently under the EPG the typical household's annual bill is around £2,500 – but your bill will always depend on how much energy you are using. The 20% increase in April will take bills to over double the £1,277 price cap we had in winter 2021.
But there are things to consider if you're thinking about purchasing a wood burning stove. Their soaring popularity has pushed up prices – PriceRunner says the average price tag for a wood stove is now 190% higher compared to a year ago.
We've looked into how fan heaters compare to oil heaters and radiators to electric heaters . Now we ask, how do wood-burning stoves compare to central heating?
Wood-burning stove: pros and cons
According to the Energy Saving Trust, a wood-burning stove can cut a home's heating bill by 10%.
Burning seasoned logs is the cheapest domestic heating fuel after kerosene, costing homeowners 10.37p per kWh versus 12.81p per kW for mains gas and 39.21p per kW for electricity, according to clean fuel organisation Hetas – though this is provided you already have a wood-burning stove installed.
The National Grid has warned that households could lose power for up to three hours at a time this winter if gas supplies run low, so in the event of a blackout, a log-burning fire could prove very handy.
Some people also like the aesthetics and smell of a wood-burner, so that's arguably another pro. One woman recently explained to The Telegraph how she has happily lived without central heating thanks to her wood-burning stove for 10 years.
But, there are some drawbacks.
The initial expense of a wood burner can range from £500 to more than £5,000 for fancier designs. Installation costs about £2,000 on average – and it can be even more expensive if you need to add a fireplace or a flue.
One woman recently explained in the Evening Standard how she spent £4,500 alone on two wood-burning stoves for two rooms.
Other costs include chimney-sweeping (between £50 and £80 in most parts of the UK, around £90 in London) and creating a space to store wood carefully so that the logs get plenty of air. That means raising them off the ground on a pallet or keeping them in a rack or wood store outside, with a roof to keep them dry.
Meanwhile, a wood-burning stove won't heat your property in the same way as central heating. It will heat up the room where the wood burner is located, and the residual heat may spread to other rooms, but it won't consistently heat every room in the home like radiators would.
Consider the health impact of wood burners too. They produce more fine particulate matter, known as PM2.5, than all road traffic in the UK. The pollution can seriously damage people's health and cause early deaths. Even wood-burning stoves that meet new eco-design standards still emit a huge amount of harmful particles.
Some modern homes aren't designed to accommodate a wood-burning stove, even if you can afford to install one.
Meanwhile there are concerns of a "UK stove shortage", with manufacturers reporting delays due to soaring demand. Some installers say they are now fully booked until next year..
Central heating: pros and cons
The biggest advantage of central heating is that it will heat your entire home evenly and let you make full use of every room.
This all-round warmth provides immense comfort, and is not possible from other forms of heating.
Other benefits include the convenience factor: you can normally "set and forget" an automated heating system or enjoy flexibility with app-based control systems.
You can also install new components and heat sources like underfloor pipes as required.
Central heating is generally very safe; gas appliances are tested and strictly legislated to ensure they conform to safety standards.
While energy consumption rises in the winter for those using central heating, if you pay by direct debit you won't notice the higher usage. This is because energy suppliers usually spread your estimated annual cost across the year. Households having to buy wood for their burner face a hike in their expenses during cold weather; whereas many central heating customers won't have to pay a higher winter bill as they have been paying consistently throughout the year.
The drawbacks of central heating are of course the higher running cost, and the fact you'll be without heating if we experience any blackouts this winter.
Radiators also don't tend to be as visually pleasing as wood-burning stoves, which can provide a cosy-looking focal point and enhance a property's interior design.
If you have a small home, or spend most of your time in one room (for example, because you work from home), the running cost of a log burner could be much cheaper than central heating. If you're able to get cheap or free wood, this will lower your costs further.
The verdict – wood burners or central heating?
A wood-burning stove can cost around a third of the price of electric central heating to run, while it's about 13% cheaper than gas central heating, under the current energy price cap, according to the Stove Industry Alliance (SIA).
When energy prices rise next April, and as long as wood prices remain the same, the savings of having a wood burner will become even larger.
However, buying and installing a wood-burning stove represents a significant cost. If a log burner is suitable for your home, the upfront investment will take several years to pay off even if energy prices stay at record highs.
Central heating is also much safer.
We think central heating is the overall winner here.
Ruth is passionate about helping people feel more confident about their finances. She was previously editor of Times Money Mentor, and prior to that was deputy Money editor at The Sunday Times.
A multi-award winning journalist, Ruth started her career on a pensions magazine at the FT Group, and has also worked at Money Observer and Money Advice Service.
Outside of work, she is a mum to two young children, a magistrate and an NHS volunteer.