Fan heater vs oil heater – which is cheaper?
As households look to cut their energy costs, which is better: a fan heater or an oil heater? We put them to the test to see which one comes out cheaper.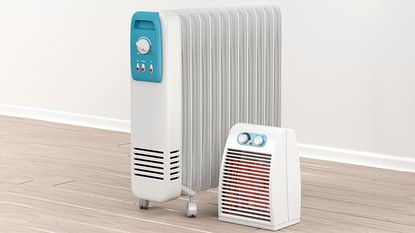 (Image credit: © Alamy)
Under the current Energy Price Guarantee, the typical UK household can expect to pay £1,923 for their energy bill. But, this is to go up by 3.5% in January, taking the average typical household bill to £1,996 – though how much you pay ultimately depends on how much you use as the cap is in the unit price.
If you're searching for ways to save on your energy bills, then you may be looking at some alternatives to central heating.
According to the charity Electrical Safety First, 42% of people are using or considering using an electric heater to heat a single room in their home, due to concerns over the cost of central heating. This represents an 8% increase, year-on-year, of the number of people planning to use an electric heater this winter.
Subscribe to MoneyWeek
Subscribe to MoneyWeek today and get your first six magazine issues absolutely FREE
Get 6 issues free
Sign up to Money Morning
Don't miss the latest investment and personal finances news, market analysis, plus money-saving tips with our free twice-daily newsletter
Don't miss the latest investment and personal finances news, market analysis, plus money-saving tips with our free twice-daily newsletter
Many customers plan to delay turning their central heating on this winter or will use it sparingly, to save money during the cost of living crisis. But as temperatures drop, many of us will think twice about switching on the heating and may wonder whether a portable heater could be a cost-effective way to heat a room and stay cosy.
We have tested out a number of ways to reduce your heating bills, comparing wood burning stoves versus central heating and radiators versus electric heaters. But if you are one of the many considering getting an electric heater, you will want to know which is best: a fan heater or an oil heater? We compare the two.
Fan heater vs oil heater: Cost to buy
How much does it cost to buy a fan heater?
You can buy a fan heater fairly cheaply. This 2000W Pro-Elec fan heater from CPC costs £10.49. Meanwhile, this Dunelm DF Fan Heater (which has 1000W and 2000W settings) costs £14.
How much does it cost to buy an oil heater?

Oil heaters tend to be more expensive than fan heaters. This 500W oil heater from Screwfix costs £21.99, which is a relatively cheap oil heater, but at 500 watts it's not that powerful. The 650W Russell Hobbs oil heater from Dunelm is slightly more powerful and has a higher price tag of £29. Or, for more power, John Lewis has a 2500W oil heater costing £90.
Fan vs oil heater: Cost to run
The cost of running an oil heater versus a fan heater varies depending on how much energy it uses.
If you compare models of the same power, fan heaters and oil heaters have similar running costs. Dunelm says both its 2000W oil heater and its 2000W fan heater cost around 54p per hour to run. Our sister website Goodto.com found that a more powerful 2500W oil heater cost 67.5p an hour to run. If used for four hours a day, it would cost £2.70 a day to run.
For less powerful heaters, the running cost is lower. The 650W oil heater from Dunelm only costs 17p per hour to run.
Pros and cons of fan heaters
To get the most out of your fan heater, there are several things to consider. First, how big is the room you're trying to heat? If you have a large room or high ceilings, it could take a while to warm the room with a fan heater.
Also, consider what insulation you have in your home. A fan heater will be a lot more effective if you have decent insulation, meaning there's less chance of heat being lost through windows or walls.
Most have a thermostatic control so you can control its temperature and an overheat protection feature as a safety precaution
Fan heaters are a convenient way to heat a room, and are easy to move from room to room
Fan heaters are widely available from a range of shops, and are generally cheaper to buy than oil heaters
Fan heaters give off short-term heat, so as soon you switch it off the heat will disappear
If you want to heat a room temporarily, then a fan heater is a good idea. But if you want to maintain the heat in the room, switching the central heating on (and keeping the thermostat turned down to low) could be a better option.
Pros and cons of oil heaters
Portable oil-filled radiators typically come with an adjustable thermostat control and a tip-over safety switch
Oil heaters also have good heat retention. So, in contrast to a fan heater, when you switch an oil heater off, it takes a while to cool the oil down. This means even when it's turned off the heater is still giving off heat, further cutting your energy costs
If you're trying to maintain the heat in a room for more than a couple of hours, it could be better to flick the central heating on
Heating a room with a radiator or fan heater usually makes the air dry. However, with an oil heater, this is less of an issue. Oil-filled radiators are designed to keep the airflow in the room stable, meaning the room won't get dry. Dry air can make certain health problems worse, or lead to health issues like dehydration or respiratory problems
Another pro is that oil heaters are silent, making them much quieter than fan heaters, which can be noisy
One of the biggest drawbacks is that oil heaters are more expensive to buy than fan heaters
Safety and electric heaters
Although electric heaters are not inherently dangerous, they can and do cause fires if they are not used sensibly.
According to Martyn Allen, technical director of the charity Electrical Safety First, "Oil-filled heaters are generally safer to use than fan heaters as there is no fan motor that may become blocked."
Regardless of which heater you have, Allen warns that "heaters should never be left switched on at night and never powered via an extension lead".
The charity gives further advice on staying safe while using a heater:
Put your heater on a level surface, well away from anything or anyone that could knock it over
Make sure the heater is away from combustible materials, such as paper, furniture or curtains
Never use it to dry your clothes
Never leave your heater unattended for long periods while switched on, or while you are asleep
Make sure you buy from manufacturers or retailers that you know and trust. Avoid second-hand heaters (but if you do, ask them what safety checks are carried out)
The verdict – fan vs oil heaters
If we look at the costs, both types of heater have similar running costs, although an oil heater is typically more expensive to buy than a fan heater (when comparing models with the same wattage).
Both types of heaters tend to have the same functionality, such as a temperature controller.
However, an oil heater may actually be cheaper to run, when you factor in the residual heat after it is turned off. Other benefits of oil heaters are that they are safer to use and quieter than fan heaters, and they don't make the air dry.
If you're prepared to pay a bit more, then we think the oil heater is the overall winner. It could be a great way to lower your energy bills (compared to turning on the central heating), as well as being a better option than a fan heater.
Related articles
Ruth is passionate about helping people feel more confident about their finances. She was previously editor of Times Money Mentor, and prior to that was deputy Money editor at The Sunday Times.
A multi-award winning journalist, Ruth started her career on a pensions magazine at the FT Group, and has also worked at Money Observer and Money Advice Service.
Outside of work, she is a mum to two young children, a magistrate and an NHS volunteer.