Radiator vs electric heater – which is cheaper?
We compare the costs, pros and cons of radiators and electric heaters and see which one will help keep your energy bill as low as possible.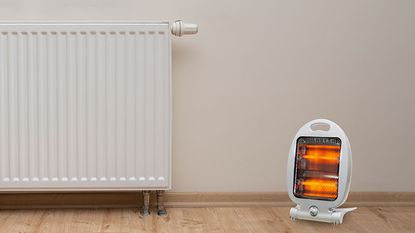 (Image credit: A radiator and an electric heater )
Under the current Energy Price Guarantee a typical household is paying around £2,500 for their energy bill. But bills are going up April 2023, and the average household can then expect to pay £3,000.
Whether bills will come down after that remains to be seen. So what can you do right now to keep costs low?
We have outlined ways to help you save on your energy bills. But more specifically as the temperatures drop you might be wondering what the cheapest way to heat your home is.
Subscribe to MoneyWeek
Subscribe to MoneyWeek today and get your first six magazine issues absolutely FREE
Get 6 issues free
Sign up to Money Morning
Don't miss the latest investment and personal finances news, market analysis, plus money-saving tips with our free twice-daily newsletter
Don't miss the latest investment and personal finances news, market analysis, plus money-saving tips with our free twice-daily newsletter
We have compared the costs of wood burning stoves versus central heating and fan heaters versus oil heaters, but what about the cost difference between electric heaters and radiators?
The cost of radiators
Around 23 million homes get their heating and hot water from gas boilers, making them the most common type of central heating system in the UK, according to the Energy Saving Trust.
Under the current Energy Price Guarantee the unit cost of gas is 10.3p per kWh. Electricity costs 34p per kWh, so gas is significantly cheaper.
Based on an average 35kW household boiler, it would cost just over £3 to keep the heating on for an hour. Customers with a smaller 12kW boiler would be paying around £1.20 for an hour, and those with a 24kW boiler £2.50. Ultimately though the cost will depend on the size of your home.
It's a common misconception that leaving your heating on low all day works out cheaper than setting it to high for shorter periods of time. The truth is your home loses heat throughout the day. How much heat it loses depends on how good your insulation is.
Turning it on as and when you need to will generally work out cheaper. If you are able to set a timer for your central heating so that it comes on regularly throughout the day and you have radiators in every room, your house will remain warm.
To cut costs you can turn the radiators off in rooms you aren't using. Only heating the rooms you need in the house could save you £115 a year, according to the Energy Savings Trust.
It's also worth setting up room thermostats if possible – these will leave the heating on until the room reaches the desired temperature. The most comfortable temperature is usually between 18 and 21 degrees, but dropping the temperature by just 1 degree could save on your energy bill.
The cost of electric heaters
The main factor against electric heating is that electricity, at 37p per kWh, costs more than gas. Additionally, the heat is lost pretty quickly after you unplug heaters – unlike radiators, which hold the heat for longer. They also don't come with timers, but you could buy a timer plug* for just £5.
Far fewer people use electric heaters to heat their homes. According to a recent survey by the Energy Savings Trust, around 7% of households in England, 5% of households in Wales and 11% of households in Scotland use electricity to heat their homes. This can be either via storage heaters, electric boilers or underfloor heating.
First – what are the pros to electric heating? It tends to be cheaper to install – this small heater from Dunelm*, for example, is only £30, and costs around 51p an hour to run. A more powerful electric heater would cost more upfront and incur higher costs per hour.
Additionally, because they are portable they can be taken from one room to another if required and you'll only be using what you need. They are easy to install – you just have to plug them in, and they don't require much maintenance .
However, make sure you stay safe. Don't leave them running when you're not at home and only buy from trusted manufacturers who meet the appropriate standards. You should not use them to dry clothes, or plug them into an extension cord as they could overload and cause a fire.
You can also register your heater with the manufacturer free of charge, and they will contact you in the event of any safety issues or recalls.
Electric heater vs radiator – which is cheaper?
If you are heating a single room, and you use a single electric heater for one hour a day this would cost you around £3.57 a week compared to around £21 for central heating. In this case, the electric heater could save you money.
However heating an entire home with an electric heater by having one in each room will be far more expensive, and you'd be better off using the central heating and turning radiators in empty rooms off at the valve.
Nic studied for a BA in journalism at Cardiff University, and has an MA in magazine journalism from City University. She joined MoneyWeek in 2019.