Heated airer vs tumble dryer – which is cheaper?
What is the most cost effective way to dry your clothes – a heated airer or a tumble dryer? We compare the costs.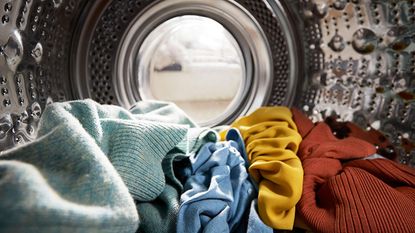 (Image credit: © Alamy)
If you've been looking at ways to cut your energy bill, then one of the things you may have thought about is whether it is cheaper to use a heater airer or a tumble dryer. Currently, with the government's Energy Price Guarantee (EPG), the average typical household's energy bill is around £2,500, but the weight of rising bills on household budgets will become increasingly noticeable as temperatures continue to drop and the heating comes on.
Energy prices seem unlikely to go down in 2023. The EPG has been extended, but the average household's energy bill is still due to go up by 20% in April, taking the typical energy bill to an average of £3,000.
In light of that, we have been highlighting different ways to save on your energy bill. We've compared different ways you could save on heating, such as whether it's cheaper to use radiators or electric heaters and fan heaters vs oil heaters, as well as the cost of wood burning stoves vs central heating.
Subscribe to MoneyWeek
Subscribe to MoneyWeek today and get your first six magazine issues absolutely FREE
Get 6 issues free
Sign up to Money Morning
Don't miss the latest investment and personal finances news, market analysis, plus money-saving tips with our free twice-daily newsletter
Don't miss the latest investment and personal finances news, market analysis, plus money-saving tips with our free twice-daily newsletter
But another way to save on energy bills is by learning to use appliances in the most efficient way, especially when it comes to big ones such as tumble dryers. Hanging clothes to dry outside stops being an option in the winter, but is a tumble dryer the cheapest way to do your laundry or should you opt for a heated airer?
How much does it cost to run a heated airer?
How much it costs to run a heated airer depends on several factors, such as how powerful it is, the cycle you put your washing machine on beforehand and the type of fabric that it's drying. Most heated airers will take between three to eight hours to dry a full load.
Houseware retailer Dunelm sells heated airers of different sizes, such as this two-tier one for £75. A two-tier heated airer costs 7p to run per hour, so if you used it for five hours you'd be looking at 35p per use. If you use it three times a week, that amounts to £1.05 a week and £4.20 a month.
A three-tier heated airer, which costs £95 at Dunelm, is unsurprisingly more expensive: it costs 11p per hour to run, 55p per five-hour use, £1.65 per week and £6.60 a month.
These calculations are based on the current 0.34p kWh unit price of electricity.
To reduce the time your heated airer is plugged in you can make sure your clothes have spun properly in the washing machine to remove excess water. You should also move the clothes around to make sure they are drying equally.
How much does it cost to run a tumble dryer?
The cost of running your tumble dryer will also depend on how powerful it is and the type of tumble dryer you own.
There are three different types of tumble dryers: heat pump, condenser and vented. Based on a full load in a 9kg tumble dryer and the 0.34p kWh unit cost of energy, this is what they would each cost to run.
A heat pump tumble dryer uses 2.16kWh of energy for a full load, which adds up to 73p per use, £2.19 per week for three uses and £8.76 a month.
A condenser tumble dryer uses 5.2kWh of energy for a full load, which costs £1.77 per use, £5.31 a week for three uses and £15.93 a month.
Finally a vented tumble dryer uses 5.34kWh of energy, which costs £1.82 per use, £5.46 a week and £21.84 a month.
Heat pump tumble dryers cost less to run, however the costs do vary. An 8kg Bush heat pump tumble dryer costs £300 at Argos while an 8kg one from Bosch costs £800, also at Argos.
The Bush one has an energy efficiency rating of A+, while Bosch's has an A+++ rating. Buying a tumble dryer with the latter rating could save you around £980 over its lifetime, according to Energy Saving Trust, so it's worth considering this when purchasing.
Vented tumble dryers are the cheapest upfront but the most expensive to run, and you need to place it somewhere where there is plenty of ventilation and run a duct outside because it uses outside air to dry clothes.
Finally a condenser tumble dryer also uses more energy than a heat pump one, and its main function is to take the moisture out of the laundry and then re-circulate the air to dry the clothes.
Heated airer vs tumble dryer – which is cheaper?
Heated airers take longer to dry clothes, however running a two-tier rack for eight hours a day to dry a couple of loads will cost less than using a tumble dryer. Heated airers also have a lower upfront cost – you can purchase one for under £100,
However if you use a heat pump tumble dryer, which only costs 74p per use, you could save yourself some money. This is also a good option if you don't have space for a heated airer in your house.
If you want to stick with your tumble dryer, you can cut the costs of drying your clothes by selecting a high spin cycle to reduce the amount of water left in your clothes.
And, if you have an Economy 7 meter, you could run it at off-peak times to save money as this meter charges a cheaper night time rate. However it is a fire risk, so don't leave it on unattended.
Nic studied for a BA in journalism at Cardiff University, and has an MA in magazine journalism from City University. She joined MoneyWeek in 2019.