UK inflation back to 10.1%
UK inflation creeps back to its 40-year high from the summer, driven by rising food costs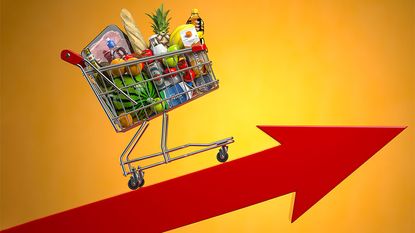 (Image credit: © Getty Images/iStockphoto)
UK inflation is back to its July high of 10.1% in the 12 months to September, up from the slight drop in the previous month when it was 9.9%.
The rise, primarily driven by rising food costs, with food and non-alcoholic drink prices up 14.6% in the 12 months to September – up from 13.1% in August, according to the Office for National Statistics (ONS). This is the largest annual rise since 1980. Other prices rises include:
Housing and utilities costs – up by 20.2% in the year to September 2022.
Clothing and footwear – up 8.5% in the year to September
Furniture and household goods – up 10.7% in the year to September
Restaurants and hotels – up 9.7% in the year to September
Falls in petrol, airline ticket prices, and second-hand car prices have gone some way to keep inflation from being higher.
Subscribe to MoneyWeek
Subscribe to MoneyWeek today and get your first six magazine issues absolutely FREE
Get 6 issues free
Sign up to Money Morning
Don't miss the latest investment and personal finances news, market analysis, plus money-saving tips with our free twice-daily newsletter
Don't miss the latest investment and personal finances news, market analysis, plus money-saving tips with our free twice-daily newsletter
These are the areas where we saw a drop:
Transport – down from 12% to 10.6% in the year to September
Communication – down from 2.8% to 2.4% in the 12 months to September
Education – down from 4.5% to 4.3% in the 12 months to September
However, at 10.1%, inflation remains well above the government's target of 2% and will add further pressure to the cost of living.
What does high inflation mean for you?
If you have cash savings, then the fact is, inflation will eat into your savings unless you are earning an interest rate well above 10.1%; while interest rates in saving accounts have crept up, they do not beat inflation. However, cash savings remain important for short term savings and emergency cash – so, now is the time to snap up the best savings accounts, as some providers offer 5%.
For investors, high inflation is something the markets have been dealing with for most of 2022, and experts do not expect a sharp reaction to today's figures.
Jatin Ondhia, CEO of investment platform Shojin, commented: "Ultimately, investors must take the time to reassess their inflation toolbox and consider which assets are likely to help cushion their portfolios against further disruption. Maintaining a well-diversified portfolio and ensuring investments remain aligned with long-term goals will be key in navigating the challenges."
As for your day-to-day costs, experts say typical food costs could go up by £1,378 – the average family is now spending £132 a week on its weekly shop, totalling £6,864 a year – according to frozen food business Kirsty's.
For pensioners, this reading is also important as it is used to benchmark the rise in the state pension. But the government has warned that it may U-turn the pensions triple lock, which means the state pension may not rise in line with inflation.
Will interest rates go up?
With inflation well above the government's target of 2% and expected to top 11% in the coming months, there is every chance interest rates will go up. There is mounting pressure on the Bank of England to raise interest rates when it meets early next month, with experts suggesting we could see a rise of at least 1% in the next MPC meeting.
Find your personal rate of inflation
The Consumer Price Index is used to measure the national rate of inflation, but your personal rate may depend on how you spend your money.
You can use the inflation calculator on the ONS website to work out your personal inflation.
Kalpana is an award-winning journalist with extensive experience in financial journalism. She is also the author of Invest Now: The Simple Guide to Boosting Your Finances (Heligo) and children's money book Get to Know Money (DK Books).
Her work includes writing for a number of media outlets, from national papers, magazines to books.
She has written for national papers and well-known women's lifestyle and luxury titles. She was finance editor for Cosmopolitan, Good Housekeeping, Red and Prima.
She started her career at the Financial Times group, covering pensions and investments.
As a money expert, Kalpana is a regular guest on TV and radio – appearances include BBC One's Morning Live, ITV's Eat Well, Save Well, Sky News and more. She was also the resident money expert for the BBC Money 101 podcast .
Kalpana writes a monthly money column for Ideal Home and a weekly one for Woman magazine, alongside a monthly 'Ask Kalpana' column for Woman magazine.
Kalpana also often speaks at events. She is passionate about helping people be better with their money; her particular passion is to educate more people about getting started with investing the right way and promoting financial education.