Why we are in a cost of living crisis today
With inflation in double figures, the cost of living crisis isn't going away. Saloni Sardana explains what is behind it.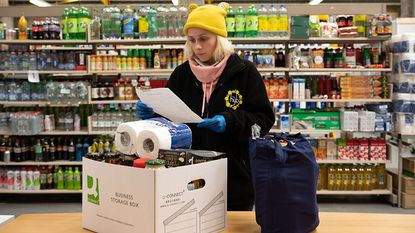 (Image credit: © Matthew Horwood/Getty Images)
Those who believed that the cost of living can't get any worse have had a nasty shock.
UK inflation finally hit double digits, with CPI inflation for July reaching 10.1%, up from 9.4% in June. That is the highest level since February 1982.
The UK has been facing a full blown cost-of-living crisis for months and the future is looking bleak after the Bank of England warned earlier this month that inflation could peak at 13% this year, with a recession on the cards too.
Subscribe to MoneyWeek
Subscribe to MoneyWeek today and get your first six magazine issues absolutely FREE
Get 6 issues free
Sign up to Money Morning
Don't miss the latest investment and personal finances news, market analysis, plus money-saving tips with our free twice-daily newsletter
Don't miss the latest investment and personal finances news, market analysis, plus money-saving tips with our free twice-daily newsletter
But how did we get here, and why are we in a cost-of-living crisis today?
Covid-19 lockdown effect
It all started with the pandemic, with lockdowns introduced around the world. That caused a raft of supply chain issues, many of which the world is still grappling with. After Covid restrictions were eased, demand roared back, causing a shortage of everything from lorry drivers to food.
While Covid is no longer causing whole economies to close down, China's zero covid policy means global supply chains are still being affected.
Food is the biggest driver of inflation this month
The ONS says the price of food and non-alcoholic beverages saw some of the biggest rises in July's double digit inflation figures.
The price of food and non-alcoholic beverages rose by 2.3% between June and July 2022, and by 12.7% for the year, the highest increase since May 2001.
The price of staple foods such as dairy, meat, vegetables and pasta have also risen drastically, which has sent restaurant and takeaway costs soaring too.
"It reflects not only global supply problems, but also the massive pressure on farmers who are struggling with staff shortages and rising input costs across the board. Prices are also hit by rising energy and transport expenses at every stage in the process," says Sarah Coles, personal finance analyst at Hargreaves Lansdown.
Russia's war with Ukraine
Russia's war with Ukraine has only worsened food inflation. Both countries are major wheat producers, producing a combined output of 30% of global wheat exports. Both countries are also significant sunflower oil exporters.
The war has destroyed a lot of Ukraine's export capabilities as well as its agricultural production. Before the war, Ukraine's soil, known as chernozem, was so fertile that Ukraine was known as the "breadbasket of Europe".
Energy price cap is soaring
Energy prices are probably the biggest concern in the UK right now as a higher energy price cap is in focus.
The energy price cap, the maximum price per kilowatt hour (kWH) energy providers can charge for gas and electricity, is expected to hit £4,266 next April 2023. The cap is currently set at £1,971. And, according to a grimmer forecast by energy consultancy Auxilione, the energy price cap could even hit as high as £5,500 from April next year.
Energy prices have been rising because of the Covid-19 pandemic effect and also because of Russia's war with Ukraine.
Russia is a major player in world energy markets. It provided more than 40% of Europe's gas and the EU used to import 29% of its oil from Russia.
Energy prices started causing alarm last year after European gas prices started climbing. Benchmark EU gas prices at the Dutch TTF Hub, Europe's most liquid market, have risen around 350% in the last year.
Just days before Russia invaded Ukraine, Germany halted the Nord Stream 2 pipeline. It would have allowed double the volume of Russian gas to be transported to Europe. In July, Russia cut volumes to 20% of capacity on the Nord Stream 1 pipeline, which Germany said was in retaliation for Western sanctions against Russia.
According to Reuters, European gas prices are expected to stay high even though gas storage sites are expected to be almost at capacity in the coming months. "Although European countries are on track to refill gas storage sites to a minimum level of 80% by Oct. 1, an extra cold winter could deplete those reserves quickly."
Other issues such as lack of investment in renewable energy, falling European gas production as well as low wind output in the UK have also contributed to record breaking energy prices over the past year.
Petrol prices have gone through the roof
Britons are also being hit by rising petrol and diesel prices in recent months. The cost of filling the typical car's 55-litre tank with petrol is now around £95. Earlier in July, the cost had shot up to £105, according to motor association RAC.
The price of petrol has been rising because of higher oil prices as petrol is closely related to the wholesale cost of oil.
Oil prices crashed in the pandemic and even briefly turned negative, but, like other energy commodities, demand has shot up since restrictions have been eased.
One final factor is the strong US dollar. With oil traded in dollars a high dollar and weak pound has made it even more expensive for Britons to buy fuel.
Here is what you can do about rising petrol prices.
Saloni is a web writer for MoneyWeek focusing on personal finance and global financial markets. Her work has appeared in FTAdviser (part of the Financial Times), Business Insider and City A.M, among other publications. She holds a masters in international journalism from City, University of London.
Follow her on Twitter at @sardana_saloni