Act fast: HSBC to pull its 5.7% one-year bond
Savers have until Wednesday to apply for HSBC's one-year fixed-rate bond. The withdrawal of the account follows NS&I's decision to pull its market-leading one-year bonds earlier this month. We explain why you need to act fast to secure the best rates.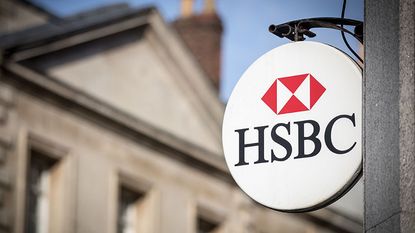 (Image credit: © Matt Cardy/Getty Images)
HSBC's 5.7% one-year fixed bond rate mentioned in this article is now off the market. See our guide to best savings accounts for the latest offers on cash savings
If you're looking for the best savings accounts, you may need to hurry to secure a top rate as some banks are starting to pull their best deals.
We've already seen some top deals close, such as NS&I, which withdrew sales of its one-year fixed bond paying 6.2% after just 5 weeks of the bonds being on sale.
Subscribe to MoneyWeek
Subscribe to MoneyWeek today and get your first six magazine issues absolutely FREE
Get 6 issues free
Sign up to Money Morning
Don't miss the latest investment and personal finances news, market analysis, plus money-saving tips with our free twice-daily newsletter
Don't miss the latest investment and personal finances news, market analysis, plus money-saving tips with our free twice-daily newsletter
And now, high-street giant HSBC has said it will be pulling its one-year fixed-rate savings account this Wednesday, 18 October. Earlier this month, the bank increased the rate from 5.05% to 5.7%, making it a competitive option for savers. But the special rate was a time-limited offer, and customers will need to act quickly before it disappears this week.
Banks and building societies, including high-street lenders like HSBC and Lloyds, have been raising their savings rates over the past few months.
But with the Bank of England rate frozen and predictions that interest rates could fall next year, some of the top accounts are now being withdrawn, while other saving rates are being cut.
For example, NS&I withdrew its market-leading 6.2% one-year savings bonds on 6 October. Almost a quarter of a million savers managed to grab the top rate before the government-backed savings organisation closed the door on the accounts.
Meanwhile, Santander pulled its best-buy 5.2% easy-access account last month - the deal was due to end on 17 September, but actually finished on 12 September.
We look at how the HSBC account works, and how it compares to other savings accounts.
How does the HSBC one-year account work?
The HSBC Fixed Rate Saver is available to those with a minimum deposit of £2,000. The maximum you can save in the account is £1,000,000.
You need to be an HSBC customer to qualify, and have a current account or savings account (excluding regular savings accounts and ISAs) with the bank.
Interestingly, children can hold the account, as well as adults. Savers aged 7 and over are eligible; those aged between 7 and 15 will need their application signed by a parent or guardian.
The interest rate is fixed for the duration of the account, and is paid either monthly or annually. The increased rate of 5.7% will apply until 11:59pm on Wednesday, 18 October.
Withdrawals are not allowed. However, if you want to access your money before the year is up, and you have less than £50,000 in the account, you can close it early for a fee of 90 days' interest.
Is a 5.7% interest rate any good?
A 5.7% rate for a one-year savings bond from one of the UK's biggest high-street banks is a pretty good deal. However, there are plenty of challenger banks offering better rates, with a handful offering above 6%.
The Ahli United Bank UK 1 Year Fixed Savings Account* pays 6.1%, via the marketplace savings provider Raisin UK.
*When you sign up via this link, we may earn an affiliate commission from this deal.
Meanwhile, Habib Bank Zurich HBZ Fixed Rate eDeposit pays 6.03%, LHV Bank 1 Year Fixed Term Deposit (via Raisin) pays 6%, and Cynergy Bank 1 Year Fixed Saver has a rate of 5.95%.
Those with a very large amount of money to squirrel away may wish to consider Ford Money's 1 Year Fixed Saver, paying 5.95%, as you can deposit up to £2 million in this account.
For the best one-year savings accounts on the market right now, check out our handy round-up.
While the HSBC account may not be able to compete with some of the lofty rates on offer from challenger banks, it is arguably still an attractive offer if you're an HSBC customer and you want to open an account quickly and simply, and manage your savings (and your current account, if applicable) in one place.
In addition, the HSBC account can be opened and managed either online or in branch, so if you're someone who prefers to do their banking in-person, this could be a good option for you. If you're looking for a decent one-year savings account for a child (aged 7 or over), this could also be a contender.
Ruth is passionate about helping people feel more confident about their finances. She was previously editor of Times Money Mentor, and prior to that was deputy Money editor at The Sunday Times.
A multi-award winning journalist, Ruth started her career on a pensions magazine at the FT Group, and has also worked at Money Observer and Money Advice Service.
Outside of work, she is a mum to two young children, a magistrate and an NHS volunteer.