Charles Stanley Direct launches cash savings - is it any good?
Charles Stanley Direct has launched a savings platform to give savers access to the best deals on the market. We look at how it compares to other services.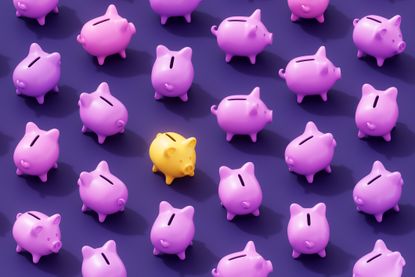 (Image credit: Getty Images)
Charles Stanley Direct is the latest investment firm to launch a 'one-stop-shop' savings platform, allowing savers to effortlessly take advantage of the most competitive savings rates on the market with one online account.
This could be an ideal option for time-poor savers who want to keep on top of the market. Indeed, while savings rates are at a 15-year high the best deals don't stick around for long.
As MoneyWeek has reported, the best savings rates only stick around for a limited time so you have to be quick. Santander's top easy access saver was pulled a week early, NS&I's top one-year fixed ended after just a month and HSBC's one year fixed bond was pulled after five weeks of being on the market.
Subscribe to MoneyWeek
Subscribe to MoneyWeek today and get your first six magazine issues absolutely FREE
Get 6 issues free
Sign up to Money Morning
Don't miss the latest investment and personal finances news, market analysis, plus money-saving tips with our free twice-daily newsletter
Don't miss the latest investment and personal finances news, market analysis, plus money-saving tips with our free twice-daily newsletter
John Porteous, Managing Director of Charles Stanley Direct, says: "The best way for cash savers to capitalise on today's higher rates is to use a savings platform to secure highly competitive interest and move easily between offers and account types from different banks as rates change and needs evolve."
We take a look at how the new savings platform from Charles Stanley Direct works.
What is Charles Stanley's Cash Savings platform?
The savings platform, Cash Savings claims to be a 'one-stop-shop' for savers to stay on tops of competitive savings rates with one online account.
However, the rates available to savers aren't based on whole of market. This means you're not guaranteed to get the best rate out there. Instead, rates are based on which savings providers and building societies work with Charles Stanley.
This is a pretty typical approach, used by other providers that also offer similar savings aggregator accounts.
Data from Which? shows Hargreaves Lansdown Active Savings offers rates from 14 savings providers, Interactive Investor Cash Savings offers rates from more than 25 savings providers and Aviva Save has rates available from 15 providers.
Charles Stanley told MoneyWeek there are presently 34 cash savings products from 8 different institutions on the platform currently and the number is likely to expand over time.
You can check our best buy guides on easy access savings and one-year fixed savings to see the best rates on the market right now.
How does the cash savings platform work?
The savings platform is open to new and existing Charles Stanley customers.
You will be required to open your account via the Charles Stanley Direct Investment Service app. Here, you can create and set up your Cash Savings account.
You'll be asked to deposit your funds into a 'holding account.' Then, you will have the option of putting those funds into either a fixed savings account, easy-access saver or a notice savings account.
You can start saving with as little as £1, but, and here's the catch, that won't give you access to all accounts. Some accounts will have higher minimum deposit levels, which are set by the underlying provider.
Once the account is open, you will have the flexibility to view the different rates available and switch to a higher-paying saver.
There is no fee to hold the account with Charles Stanley, but Bondsmith, the platform host will take a 0.1% share on any interest earned on your savings.
Plus, any interest earned is paid gross, so you may need to pay tax on interest earned. To make things simple, Charles Stanley gives you one consolidated tax certificate for all cash savings at the end of the tax year, which you can use when you complete your Self-Assessment Tax Return. You can find the certificate on your online statement.
Up to £85,000 of your funds are protected by the Financial Services Compensation Scheme (FSCS).
But what rate is Charles Stanley offering and how does it compare to the rest of the savings market?
How does Charles Stanley's saving platform compare to the rest of the market?
The most important thing to note here is that Charles Stanley's offering is not whole of market - meaning the top rates are only available to you if a bank is on its platform. This also means you could actually get a better rate elsewhere.
These are currently the rates Charles Stanley is offering:
Although these rates feature on our best buy tables, they are not the best savings rates on offer. At the time of writing (3 November), these are the top savings rates on the market.
So, Charles Stanley's top easy access rate is 0.7% lower than the best rate on the market, and its one-year fixed undercuts the top rate on the market by 0.1%.
This can be expected, as the platform will only offer rates from savings providers that Charles Stanley is partnered with. If you are thinking of opening a Cash Savings account, it's always worth comparing its rates with the top rates on the market.
Plus, if you're worried about paying tax on interest earned if you're savings goals are quite big, you could look at an alternative- a cash ISA which will give you a £20,000 tax wrapper.
Find out where it's better to put your money - in a cash ISA or savings account.
Vaishali graduated in journalism from Leeds University and she has experience working with the likes of Leicester Mercury, Inews and The Week. She also comes from a marketing background, where she has done copywriting and content creation for businesses.
Currently writing about all things personal finance, Vaishali is passionate about finding the best deals around, whether it's the best credit cards or the cheapest personal loans, as well as sharing top money hacks to help people save and better manage their money.