NS&I withdraws market-leading 6.2% one year fixed bond - what are the alternatives?
National Savings & Investments (NS&I) has now dropped its one year fixed bond paying a table topping 6.2% interest rate a month after launch. Here's where to find the next best alternative for one year fixed savings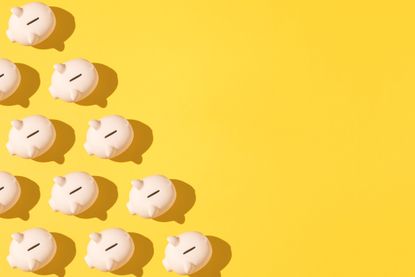 (Image credit: Getty Images)
The rates mentioned in this article are no longer available. See our top savings accounts article for the latest offers.
For those looking to make the most of their cash savings, saving into NS&I's one-year Guaranteed Growth Bonds and Income Bonds made perfect sense with its market-leading 6.2% interest.
Almost a quarter of a million savers bagged the top rate since they launched on 30 August 2023.
Subscribe to MoneyWeek
Subscribe to MoneyWeek today and get your first six magazine issues absolutely FREE
Get 6 issues free
Sign up to Money Morning
Don't miss the latest investment and personal finances news, market analysis, plus money-saving tips with our free twice-daily newsletter
Don't miss the latest investment and personal finances news, market analysis, plus money-saving tips with our free twice-daily newsletter
NS&I is also popular for products like Premium Bonds, where two people get the chance to win a million pound jackpot each month alongside other prizes.
The 6.2% rate on was the highest rate the bond products have offered since they hit the market in 2008.
But, NS&I's goal is to essentially help raise money for the government and in the current financial year, its target is £7.5bn. It does this by drawing in savers with attractive offers in return.
In withdrawing them from general sale, NS&I said it remains on track to meet its net financing target for 2023/22.
NS&I chief executive, Dax Harkins, said: "This summer's new one-year fixed-rate Bonds have been a great success. I am pleased we were able to keep them on sale for over five weeks, enabling more than 225,000 savers to benefit from the highest interest rates we have ever offered on these products."
With the bonds no longer on sale, savers will have to look elsewhere to get the best rates on fixed savings accounts.
If you missed out on NS&I 6.2% rate, then here's where to find the alternatives to make the most of your cash holdings.
Alternatives to NS&I's 6.2% rate
If you are happy to lock your cash away for at least a year, then you can still earn more than 6% interest on fixed savings - but you may have to look outside of the high street to get the best rate.
While it does not beat the 6.2% that was available with NS&I, you can earn 6.12% with Al Rayan Bank, which is available by marketplace savings provider Raisin. You need a minimum of £5,000 to open this account.
The next best is via Beehive Money, providing 6.10% interest. The minimum deposit is £500.
If you do not want to stash your cash away for a year, some easy access accounts now also pay more than 5%. See our article on the best easy access accounts for the latest deals.
Kalpana is an award-winning journalist with extensive experience in financial journalism. She is also the author of Invest Now: The Simple Guide to Boosting Your Finances (Heligo) and children's money book Get to Know Money (DK Books).
Her work includes writing for a number of media outlets, from national papers, magazines to books.
She has written for national papers and well-known women's lifestyle and luxury titles. She was finance editor for Cosmopolitan, Good Housekeeping, Red and Prima.
She started her career at the Financial Times group, covering pensions and investments.
As a money expert, Kalpana is a regular guest on TV and radio – appearances include BBC One's Morning Live, ITV's Eat Well, Save Well, Sky News and more. She was also the resident money expert for the BBC Money 101 podcast .
Kalpana writes a monthly money column for Ideal Home and a weekly one for Woman magazine, alongside a monthly 'Ask Kalpana' column for Woman magazine.
Kalpana also often speaks at events. She is passionate about helping people be better with their money; her particular passion is to educate more people about getting started with investing the right way and promoting financial education.