Why you should act now to secure the best fixed savings rates as lenders start to pull their top deals
Fixed rate deals have started to drop, with some providers pulling them altogether. We look at why you may need to act now to secure the best rates as interest rates remain frozen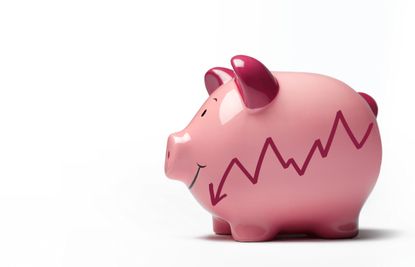 (Image credit: Peter Dazeley)
Interest rates on savings accounts are now some of the best we have seen on the market in 15 years, but have they reached their peak for now?
As anticipated, the Bank of England kept interest rates on pause at 5.25% and it could mean rates on savings accounts have also reached their peak for now.
MoneyWeek research shows a number of providers have been dropping their or just pulling them altogether in the last week.
Subscribe to MoneyWeek
Subscribe to MoneyWeek today and get your first six magazine issues absolutely FREE
Get 6 issues free
Sign up to Money Morning
Don't miss the latest investment and personal finances news, market analysis, plus money-saving tips with our free twice-daily newsletter
Don't miss the latest investment and personal finances news, market analysis, plus money-saving tips with our free twice-daily newsletter
MoneyWeek has been tracking the best savings rates, and has found in the last week at least six one-year fixed savings products have dropped rates.
We've already seen NS&I withdraw its marketing leading one-year fixed saver after being on the market for only five weeks. Plus, HSBC also recently pulled its one-year fixed bond.
James Hyde, spokesperson at Moneyfacts, said: "The Financial Conduct Authority intervention around consumer duty should lead to more movement and competition in the market, but it will still be down to customers to keep an eye out for the best options."
Here's what's happening in the savings market right now and why you need to act fast to bag the best savings deals.
Fixed savings rates falling
According to Moneyfacts, the average one-year fixed savings account pays just over 5% for the first time since 2008.
The best one-year fixed savings rates reached new heights of 6.2% by NS&I at the end of August, but this rate was pulled at the beginning of October.
Currently, Bank of India is the top one-year fixed product offering 6.05% - down from 6.11% this week. Here are the other providers who have dropped their rates on one-year fixed savings accounts in just the past week.
Swipe to scroll horizontally
The biggest one is from Ziraat Bank, lowering its rate by 0.35%. Zenith Bank pulled its one-year fixed savings product altogether last week, which was offering a competitive rate of 5.9% AER.
Are easy-access savings rates better than fixed savings?
One-year fixed savings are still offering better rates than easy access savings accounts, but if you're looking for flexibility, easy-access savers still remain competitive.
Paragon Bank recently launched a table-topping easy access savings account, offering 5.25% AER- beating Santander's 5.2% easy access saver which got pulled a week early due to high demand in September.
Paragon's easy-access account isn't completely flexible though, as it only permits up to two withdrawals per year. For freedom with withdrawals, you can bag a top rate of 5.2% with Beehive Money or Ulster Bank.
Will my savings go further in an ISA?
ISAs haven't been so popular over the last few years due to their poor rates, but competition has started to pick up again, with new products emerging on our best-buy cash ISA tables.
In the past couple of weeks, Zopa launched its top easy-access cash ISA, offering 5.08% AER. Plus, Virgin Money made the best buy table with its 5.06% Defined Access Cash E-ISA.
Easy access Cash ISAs fall very slightly behind a normal easy access account, but with an ISAs £20,000 tax wrapper, it could mean you keep more of your savings instead of giving it away to the taxman.
One to three-year fixed rate ISAs also remain competitive, offering up to 5.85% with Virgin Money.
Read more on where is a better home for your money- a savings account or an ISA.
Vaishali graduated in journalism from Leeds University and she has experience working with the likes of Leicester Mercury, Inews and The Week. She also comes from a marketing background, where she has done copywriting and content creation for businesses.
Currently writing about all things personal finance, Vaishali is passionate about finding the best deals around, whether it's the best credit cards or the cheapest personal loans, as well as sharing top money hacks to help people save and better manage their money.