NS&I boosts interest rate on Green Savings Bonds to 5.7%
The boost is a significant hike from when NS&I first launched the product in October 2021.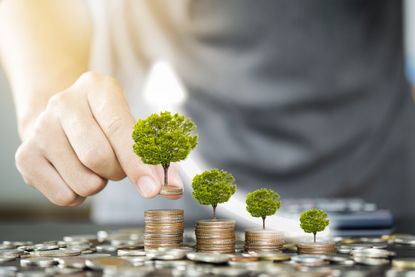 (Image credit: Getty Images)
Savers can now get a return of 5.7% if they're willing to lock their money up for three years with National Savings and Investments (NS&I) thanks to the Bank of England's (BoE) string of rate hikes.
The state-backed provided has launched a new three-year issue of its Green Savings Bonds with a rate of 5.7%, up from 4.2% offered in February. It was just 0.65% at launch in October 2021.
Subscribe to MoneyWeek
Subscribe to MoneyWeek today and get your first six magazine issues absolutely FREE
Get 6 issues free
Sign up to Money Morning
Don't miss the latest investment and personal finances news, market analysis, plus money-saving tips with our free twice-daily newsletter
Don't miss the latest investment and personal finances news, market analysis, plus money-saving tips with our free twice-daily newsletter
Dax Harkins, NS&I chief executive, says: 'I'm really pleased that we can offer a new Issue of our Green Savings Bonds at a higher rate from today.
"This is a great opportunity for savers who want to see a guaranteed return on their investment while also making a difference with their savings by helping to make the world greener, cleaner and more sustainable."
How much can you save in NS&I Green Savings Bonds?
The minimum investment is £100, with a maximum investment of £100,000.
There is a 30-day cooling-off period if you change your mind, but after that, you won't be able to access your money until maturity.
Interest is calculated daily and added yearly on the investment's anniversary date, but paid at the end of term.
You can purchase the bond online at nsandi.
Is NS&I's Green Savings Bond right for me?
"The rate on the bond now is a far cry from the 0.65% at its launch almost two years ago – partly reflecting the steep rise in interest rates in the savings market since then and partly as a result of slow initial take-up of NS&I's newest product," says Laura Suter, head of personal finance at AJ Bell.
"Someone who put £5,000 into the bonds at launch will be earning just £32.50 a year in interest, compared to the £285 a year that a new customer will be getting today on the same amount. If they had invested £20,000 that difference in interest jumps to more than £1,000 a year," she adds.
Despite the boost, the interest rate is still below the market-leading three-year bond of 6.05%
"On £10,000 of savings that means savers are sacrificing around £35 of interest a year to go green. The new interest rate puts the account just ahead of green-focused Gatehouse Bank's three-year Woodland Saver, which pays 5.5% and plants a tree for every account opened," Sutter adds.
The money invested in these bonds goes towards funding various projects aimed at promoting a greener and more sustainable future. These projects include initiatives to make the transport sector more environmentally friendly, the adoption of renewable energy sources over fossil fuels, pollution prevention, energy efficiency, protection of natural resources, and adaptation to a changing climate.
The first issue of Green Savings Bonds went on sale on 22 October 2021. Since then more than £915m has been invested in them. It is part of the UK Government Green Financing Framework announced by then Chancellor Rishi Sunak to help drive progress to net zero and fund key green projects across the country.
"Green Bonds haven't flourished quite the way that the government may have wanted. It's going to be crossing its fingers that this is the enrichment it needs to get the product to blossom," says Mark Hicks, head of savings at Hargreaves Lansdown.
"It's a decent rate, but for those keen to seek out the most competitive deals on the market, it falls short. It's marginally less competitive than the previous issue – which was 0.25 percentage points lower than the top rate when it was launched. This time it's very slightly further behind the leader. It means you can do better elsewhere," he adds.
Also, unlike some NS&I products, these green bonds are not tax-free. NS&I says: "The interest you earn on Green Savings Bonds will count towards your taxable income in the tax year your bond matures."
Can you beat NS&I's interest rate?
For those that want a better return outside the green bond space, banks and building societies have been raising their savings rates as the base rate continues to rise.
For instance, Santander has just hiked the interest paid on its Edge Saver account, meaning it now pays 7%.
The best one-year fixed savings accounts offer rates of up to 4.18%, so they might be a better option if you don't want to part with your money long-term
MoneyWeek provides a full round-up of all the providers, big and small, that have recently upped their savings rates and how they compare to the rest of the market.
Pedro Gonçalves is a finance reporter with experience covering investment, banks, fintech and wealth management. He has previously worked for Yahoo Finance UK, Investment Week, and national news publications in Portugal.