NS&I cuts interest rate on Green Savings Bonds - where can you get a better deal?
The state-backed bank has slashed the interest rate on its Green Savings Bonds from 5.7% to 3.95%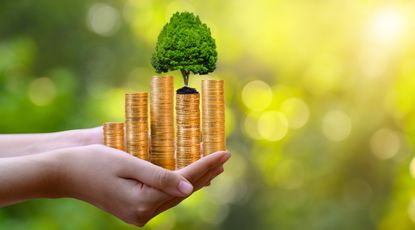 (Image credit: Getty Images/sarayut Thaneerat)
National Savings and Investments (NS&I) has cut the rate on its popular Green Savings Bonds amid expectations that interest rates have peaked.
The state-backed bank has released a new issue of its three-year Green Savings Bond at 3.95%, down from 5.7%.
The rate had only just been raised in August from 4.2%.
Subscribe to MoneyWeek
Subscribe to MoneyWeek today and get your first six magazine issues absolutely FREE
Get 6 issues free
Sign up to Money Morning
Don't miss the latest investment and personal finances news, market analysis, plus money-saving tips with our free twice-daily newsletter
Don't miss the latest investment and personal finances news, market analysis, plus money-saving tips with our free twice-daily newsletter
It comes as the Bank of England held interest rates for the second consecutive month, prompting speculating that the cost of borrowing could remain steady for now.
That could mean the higher interest rates that savers have been enjoying in recent weeks could start to dissipate.
HOW MUCH CAN YOU SAVE IN NS&I GREEN BONDS?
NS&I's Green Savings Bonds were launched in 2021 to help savers fund green government projects across the UK.
The minimum investment in Green Savings Bonds is £100, with a maximum limit of £100,000 per person for each issue.
Investors need to be aged 16 or over to purchase the bonds and the full amount deposited will be held for three years and cannot be withdrawn during this time.
This means you need to be happy to have your money locked up for an extended period.
Interest is calculated daily and added yearly on the investment's anniversary date, but paid at the end of term.
You can purchase the bond online at nsandi.
IS THE NEW NS&I GREEN BONDS RATE ANY GOOD?
The rate paid on NS&I's Green Bonds at launch was a paltry 0.65% but it has improved recently in line with other savings deals, reaching 5.7% in August.
The 5.7% rate was competitive, up from the 4.2% offered in February, and sat among the best buys for a three-year savings bond.
But the new rate of 3.95% moves NS&I down the savings tables.
For someone with £10,000 saved, that's a loss of £577 in interest across the three years.
In comparison, savers can earn 5.9% with JN Bank over three years with a minimum investment of £1,000 or 5.61% with Zopa.
Similar to the NS&I product, no withdrawals or early access is allowed but you need to be age 18 or over to open an account.
There are benefits to sticking with NS&I though.
It is backed by the Treasury so all your savings are protected, compared with other banks where up to £85,000 is covered by the Financial Services Compensation Scheme.
Some savers may also be happy to receive a lower rate in return for backing green projects.
However, there are other green savings accounts such as Triodos Bank, which offers a 3.45% easy access account or an Ethical Savings Bond paying 4.25% for one year and 4.5% for two.
"After a fairly dismal summer for inflows, we know that NS&I's guaranteed bonds attracted a huge amount of savers' money – meaning the provider has already hit its funding target for the year," says Laura Suter, head of personal finance at AJ Bell.
"In turn, that means its other savings products will become less attractive, as it doesn't need to use high rates to lure more savers in.
"The rate is below some of the other environmentally-focused accounts on the market, many of which don't require a three-year tie-up to beat the rate.
"Anyone hunting around for a green savings option needs to scrutinise the competition carefully, to ensure that what they are doing with their money tallies with their own beliefs."
Marc Shoffman is an award-winning freelance journalist specialising in business, personal finance and property. His work has appeared in print and online publications ranging from FT Business to The Times, Mail on Sunday and The i newspaper. He also co-presents the In For A Penny financial planning podcast.