Ethical savings accounts: make your cash green
NS&I's Green Savings Bond helps fund environmentally sound projects, but there are better eco-friendly options for your money, says Ruth Jackson-Kirby.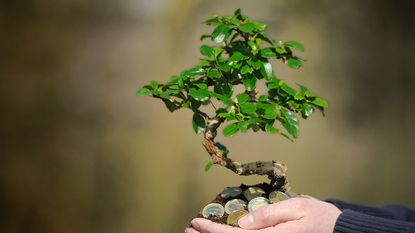 (Image credit: © Getty Images/iStockphoto)
Ethical investing is becoming more popular as savers want to know their investments aren't harming the planet. If you're concerned about this, it's also important to look into what the cash in your bank account is funding.
When you deposit cash with a bank, it doesn't sit around in a vault waiting for you to come back and withdraw it. Banks use their cash deposits to fund lending. This could be mortgages or car loans, but also larger corporate loans that could be funding industries that are damaging the planet, such as airlines or oil companies.
You can avoid this by putting your cash into an ethical bank account. These are banks, or in some cases just accounts, where your money is used to fund companies and projects that aim to improve the planet and society.
Subscribe to MoneyWeek
Subscribe to MoneyWeek today and get your first six magazine issues absolutely FREE
Get 6 issues free
Sign up to Money Morning
Don't miss the latest investment and personal finances news, market analysis, plus money-saving tips with our free twice-daily newsletter
Don't miss the latest investment and personal finances news, market analysis, plus money-saving tips with our free twice-daily newsletter
The new kid on the block
One such example is the National Savings & Investments (NS&I) Green Savings Bond. NS&I is backed by the Treasury and this account has been launched to help the government fund its efforts to hit net-zero carbon emissions by 2050. The idea is we all pour our money into the Green Savings Bond and for the government to use that cash to fund projects such as offshore wind farms, carbon capture projects and making old buildings more energy efficient.
While the account has noble intentions the initial launch was a let down. Back in October the three-year fixed rate account was paying 0.65%. It has been refreshed and the rate has been doubled to 1.3%. NS&I has said the rise simply reflected interest rate movements within the market, but experts aren't convinced. "What's more likely is that the initial launch, which at the time offered the same interest rate as an easy-access current account, went down like a lead balloon and NS&I had no choice but to raise the rate to draw in more money and reach its funding targets," Laura Suter, head of personal finance at AJ Bell, told the Financial Times.
Shop around to secure the best rates
That said, if you are looking for an ethical savings account, then you can still do better than the Green Savings Bond. NS&I pays 1.3% over three years but Tandem Bank's three-year fixed saver pays 1.9%. The challenger bank turned environmentally friendly last year and now uses deposits to fund green lending, although it is still a bit vague about exactly how it is using your money to improve the planet.
You could get an even better rate with Al Rayan Bank's 36-month fixed term deposit with an expected rate of 2.01%. This is sharia banking, which means your money cannot be used to fund businesses forbidden under Islamic law. That includes alcohol, tobacco and gambling so it is an ethical option, but not specifically green (ie, sharia loans are not necessarily used to improve the planet – they could still fund oil and gas projects, for example).
Options for the shorter term
With all these accounts you are locking your money away for three years, in which time interest rates could rise, leaving you behind. Just look at those who invested in the first NS&I Green Bond back in October. A few months later the interest rate doubled but they are stuck earning 0.65% for another two and a half years.
If you want a green savings account but don't want to be locked into a long-term rate then another option is RCI Bank's 14-day notice E-Volve Savings Account. This account pays 0.7% and your money is used to fund electric vehicles and charging facilities. You can beat this with non-green accounts with longer notice periods, but it is a competitive rate for such a short notice period. However, Tandem pays 0.77% on an instant-access green savings account, which is almost at the top of the tables for any instant-access account. It is only beaten by Cynergy Bank's 0.84% (which is just for one year, after which it reverts to 0.3%).
Ethical and green cash accounts tend to offer slightly less competitive rates than traditional accounts, but the gap is closing. If these accounts prove popular it will hopefully encourage the wider banking industry to start offering similar products.
Ruth Jackson-Kirby is a freelance personal finance journalist with 17 years' experience, writing about everything from savings and credit cards to pensions, property and pet insurance.
Ruth started her career at MoneyWeek after graduating with an MA from the University of St Andrews, and she continues to contribute regular articles to our personal finance section. After leaving MoneyWeek she went on to become deputy editor of Moneywise before becoming a freelance journalist.
Ruth writes regularly for national publications including The Sunday Times, The Times, The Mail on Sunday and Good Housekeeping among many other titles both online and offline.