Act now as savings rates beat inflation for the first time since 2021
The drop in inflation to 4.6% means your savings can now grow at a faster rate than that of goods and services. But will these inflation-busting rates stick around?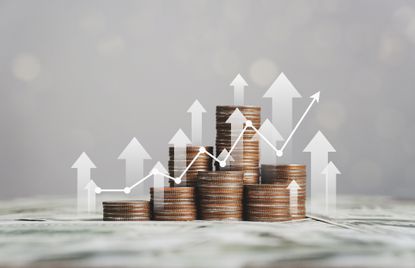 (Image credit: Sakorn Sukkasemsakorn)
While the best savings deals have reached a 15-year high and we are now seeing inflation-busting rates, you will need to act fast to bag the top rates as MoneyWeek data shows savings deals might have reached their peak.
Inflation has fallen sharply to 4.6%, meaning hundreds of savings accounts now beat the cost of living for the first time in two years.
However, the best deals might not last for long. The Bank of England's decision to freeze interest rates for the second time at 5.25% earlier this month has caused a number of savings providers to reduce or withdraw their top rates - including some of the best easy-access accounts and one-year fixed deals.
Subscribe to MoneyWeek
Subscribe to MoneyWeek today and get your first six magazine issues absolutely FREE
Get 6 issues free
Sign up to Money Morning
Don't miss the latest investment and personal finances news, market analysis, plus money-saving tips with our free twice-daily newsletter
Don't miss the latest investment and personal finances news, market analysis, plus money-saving tips with our free twice-daily newsletter
Find out which savings accounts beat inflation, and whether savings rates will continue to fall.
Which savings accounts beat inflation?
According to Office for National Statistics data, the Consumer Prices Index (CPI) measure of inflation fell to 4.6% in the 12 months to October - the lowest level in two years and a sharp drop from the 6.7% figure recorded in September.
The big reduction is owed largely to falling energy costs, even though prices are still significantly higher than pre-pandemic levels.
As a result, hundreds of savings accounts now offer inflation-busting rates. According to Moneyfacts, there are 56 easy-access accounts, 86 notice accounts, 46 variable-rate ISAs, 215 fixed-rate ISAs and 489 fixed-rate bonds that beat inflation.
Rachel Springall, finance expert at Moneyfacts, said: "It has taken over two years, but finally inflation has fallen to a level where there are now some standard savings accounts that can outpace its eroding prowess.
"The incentive to switch remains for those savers with flexible pots, as many of the top-rate deals that pay 5% or more for new customers do not come from the biggest high-street bank brands."
Currently, the top easy-access savings account offers 5.22%, from Metro Bank. The provider also offers a 5.91% market-leading one-year fixed bond.
This means that after inflation, savers would earn a real return of 0.62% in Metro Bank's easy-access account, and 1.31% in the one-year account.
The Isa market has been picking up recently, offering competitive rates of around 5.5% for a one-year fixed Isa. Plus, with rumours of new Isa reforms to be announced in the Autumn Statement, Isas could become more attractive to savers.
The top easy-access cash Isa, from Zopa, pays 5.08% tax-free interest to savers. After inflation, this amounts to 0.48%.
Why savers should move quickly to snap up the best deals
However, while savers may be celebrating the return of inflation-busting interest rates, they should act quickly as some of the top deals could have a short lifespan.
Springall explains: "The savings market has felt a few rate cuts since last month's inflation announcement, with fixed-rate bonds under the spotlight. Savers will no longer find a bond that pays more than 6%, but it is worth noting that challenger banks are still holding the top spots despite shuffling positions.
"These institutions can launch enticing offers to attract deposits for their future lending, but they also act quickly to pull offers when they become fully subscribed. Consumers will need to act quickly to grab the top deals on offer and consider the more unfamiliar brands when comparing deals."
Will savings rates fall?
A string of base rate hikes by the BoE earlier this year was an attempt to ease inflation. It meant fixed savings rates soared above 6%.
But now the government has reached its target to halve inflation and the BoE has held the base rate at 5.25% at two consecutive meetings, this could be a sign that interest rates will soon start to fall - pushing savings rates down too.
Adam Thrower, head of savings at Shawbrook Bank, says savers should view a fall in inflation as a warning sign. "While it might not happen immediately, if inflation keeps falling interest rates could reduce as quickly as they've increased - so people should get a move on, review their savings asap, and switch to a better paying account while they can."
MoneyWeek data shows that on 14 September, our one-year fixed-rate best-buy guide consisted of multiple savings rates of 6% or above, with NS&I topping the table with its 6.2% rate. This was followed by Union Bank of India with 6.11% and Ahli United Bank UK with 6.1%.
But now there are no savings providers offering a rate of 6% or more on a one-year bond.
In fact, one-year rates haven't risen since 9 October, and this month they've been on the decline.
Plus, we recently saw top easy-access rates fall amid another interest rate freeze, including Paragon Bank trimming its market-leading 5.25% rate to 5.16% (currently 5.05%), and Beehive Money cutting its 5.2% rate to 5.15%.
Sarah Coles, head of personal finance at the wealth manager Hargreaves Lansdown, comments: "We're past the peak for savings, with the most competitive fixed rates across all periods now dropping below 6%. We're not expecting dramatic overnight falls, but we are expecting a gradual reduction, so if you were considering a fixed-rate account, it's worth taking advantage of the best rates while you can."
Vaishali graduated in journalism from Leeds University and she has experience working with the likes of Leicester Mercury, Inews and The Week. She also comes from a marketing background, where she has done copywriting and content creation for businesses.
Currently writing about all things personal finance, Vaishali is passionate about finding the best deals around, whether it's the best credit cards or the cheapest personal loans, as well as sharing top money hacks to help people save and better manage their money.