Inflation falls sharply - the lowest level since 2021
New figures show inflation slowed faster than expected in October, suggesting an end to base rate rises for some time. What does the drop mean and what is driving the fall?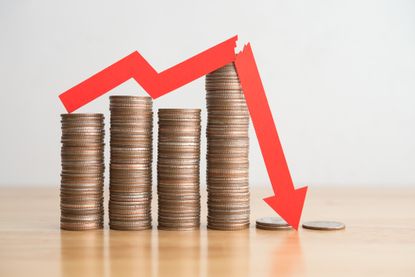 (Image credit: Pla2na)
Inflation has dropped to its lowest level in two years, the Office for National Statistics has revealed.
The ONS found that in the 12 months to October, the consumer prices index rose by 4.6%. That's down from 6.7% in September, and is the lowest level seen since November 2021.
The drop is significant as it means that the government has met its target of halving inflation this year, though the level of inflation remains substantially higher than the Bank of England's 2% target.
Subscribe to MoneyWeek
Subscribe to MoneyWeek today and get your first six magazine issues absolutely FREE
Get 6 issues free
Sign up to Money Morning
Don't miss the latest investment and personal finances news, market analysis, plus money-saving tips with our free twice-daily newsletter
Don't miss the latest investment and personal finances news, market analysis, plus money-saving tips with our free twice-daily newsletter
It will also encourage the belief that the Bank of England base rate has peaked, and no further increases to interest rates are necessary. The central bank has repeatedly hiked rates to its current point of 5.25% in a bid to quell inflation, though it has held the rate at this level for the last two meetings.
That will be welcomed by mortgage holders and those looking to buy a property, who have seen their costs escalate, but may serve as a warning to savers to move quickly in order to secure the best savings rates available.
Why has inflation fallen?
Energy costs were a big contributor to the fall in inflation registered by the ONS.
It noted that gas costs were down 31% in the year to October, while electricity costs dropped by 15.6%. In both cases these are the lowest rates since records began in 1989, and are in stark contrast from the jumps of 1.7% and 6.7% recorded in September.
Despite this, the ONS was at pains to highlight that energy costs remain extremely high compared to average costs in the years before the pandemic.
Food was also an important factor in the fall in inflation. While food costs rose by 0.1% between September and October, this still marks a significant improvement from the 2% rise between the two months a year ago.
As a result, food price inflation now stands at 10.1%, down from 12.2% in September and 19.2% back in March, which was the highest rate seen since the mid 1970s.
The biggest factors in the food price shift were milk, cheese, eggs and vegetables. As with energy, while inflation is falling, the reality is that our costs are still substantially higher than we have been used to in recent years. The ONS highlighted that the price of food in October was around 30% higher than the same month in 2021, for example.
What does this mean for interest rates?
The persistently high rate of inflation has been a big concern for the Bank of England, and the driver behind its decisions to increase base rate.
Back at the start of the year, base rate stood at 3.5%, but it has been increased several times since then to 5.25%, specifically with the intention of holding down inflation.
However, the Bank of England's Monetary Policy Committee has held base rate at the last couple of meetings, in the hope that they had done enough to bring inflation down, and this latest fall would suggest they are right.
Rob Morgan, chief investment analyst at Charles Stanley Direct, said that the latest figures showed that "things are moving in the right direction", but cautioned that the Bank would need to maintain "restrictive interest rates for some time".
He added: "It looks very likely that the current base rate of 5.25% represents the high-water mark for interest rates and market attention is focused on when the BoE will start to cut. The 2% target for inflation is not likely to come into view until the end of 2024 at the earliest, and it will take a period of higher rates to achieve this."
What does this mean for borrowers and savers?
The troubles of the housing market of late have been largely down to inflation. As the Bank of England has hiked base rate, so too have mortgage lenders increased the rates on their mortgage products.
This has meant that would-be buyers have put their plans on hold, leading to lower transaction levels and falling house prices.
That situation is already showing signs of changing however, with the latest inflation figures a further boost.
Alice Haine, personal finance analyst at BestInvest, noted that the number of mortgage products available has been creeping up, with more deals available for those with 5% or 10% deposits than at any time since the mini-Budget, while interest rates on those loans are dropping.
She added: "This bodes well for new buyers looking to get a foot on the property ladder, who may find the combination of easing house prices, positive wage growth and improving mortgage rates improves the affordability crunch and makes it easier to secure a mortgage."
Savers however may want to move fast if they want to secure the very best rates on their money, given this is likely the highest we will see base rate for some time.
Haine continued: "As the economic outlook changes, the shelf life on the best deals is expiring fast, so those that still want bumper returns on cash should shop around now before the top rates disappear completely."
John Fitzsimons has been writing about finance since 2007, and is a former editor of Mortgage Solutions and loveMONEY. Since going freelance in 2016 he has written for publications including The Sunday Times, The Mirror, The Sun, The Daily Mail and Forbes, and is committed to helping readers make more informed decisions about their money.