Metro Bank boosts top easy access and one year fixed savings to hit best buy tables
Metro Bank has jumped into best buy tables offering a market-leading rate on both easy access and one year fixed savings accounts.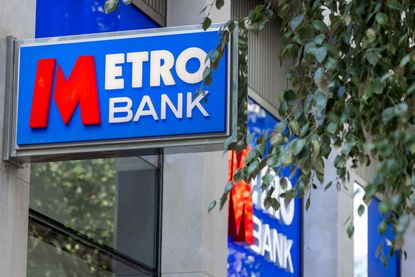 (Image credit: Bloomberg / Contributor)
Troubled Metro Bank is attempting a comeback with two top savings accounts after it boosted the rates on both fixed and easy access deals.
The bank recently secured its future following a £925m rescue package to help it climb out of its £600m debt hole.
But what is Metro Banking offering to savers, who can get it, and how do the rates compare to the rest of the market? We have all the details.
Subscribe to MoneyWeek
Subscribe to MoneyWeek today and get your first six magazine issues absolutely FREE
Get 6 issues free
Sign up to Money Morning
Don't miss the latest investment and personal finances news, market analysis, plus money-saving tips with our free twice-daily newsletter
Don't miss the latest investment and personal finances news, market analysis, plus money-saving tips with our free twice-daily newsletter
What is Metro Bank offering for cash savings?
Metro Bank now has the new best buy for top easy access and one year fixed savings.
Metro Bank's top easy access accounts
The Instant Access Savings account pays 5.22% AER - jumped up from 1.65% AER. This is a limited edition rate so you will have to be quick to grab the top rate, as the bank states the product is subject to availability.
To be eligible for the rate, you must deposit at least £500 in the saver within 28 days of opening your account. Balances between £1 and £499 will receive a lower rate of 1.65% AER (variable).
The 5.22% AER rate is variable for 12 months, which means the rate you earn could change, but it will not drop below the standard variable rate of 1.65% AER.
You have the freedom to withdraw your money when you like, but note there is a £5,000 daily limit when paying cash into your personal savings account.
Interest is paid monthly, and you can open the account either online or in one of their 67 branches across England and Wales.
Metro Bank's top one year fixed account
The bank now offers 5.91% AER on one-year fixed accounts from 10 November. Before this, the rate was 5.21% AER on its one-year fixed saver.
Metro Bank will automatically open a Funding Account in your name when you open a one-year fixed saver online, and the money you deposit will first go into this funding account. This will then get transferred to your fixed savings account once you have deposited a minimum of £500.
If you do not deposit any money into your funding account within 30 days of opening the saver, your funding and one-year fixed account won't be activated.
You will also need to hold either a Metro instant access account or a Metro current account, so your interest can be paid into there.
You can choose to have interest paid monthly or annually to your saver, and you can also open this account online or in branch.
Is my money safe with Metro Bank?
While the bank has been in troubled waters, any money you deposit with Metro Bank is protected by the Financial Services Compensation Scheme (FSCS) for up to £85,000 should the bank go bust.
Kalpana Fitzpatrick, senior digital editor of MoneyWeek, says: "While up to £85,000 of your cash is protected by the FSCS, you should avoid putting in more in any given bank. The FSCS protection is per banking group, per person - so it comes back to the good old saying, which is not to put all your eggs in one basket."
What other savings rates are available on the market?
Since the Bank of England froze the base rate at 5.25% for the second consecutive month, MoneyWeek has seen the best savings rates fall over the past couple of weeks, with one-year fixed savings dropping below the 6% mark.
Easy access accounts still remain around 5%. Here are the top rates on the market right now:
Ulster Bank, part of the Natwest Group is offering 5.2% AER. Open the account with £5,000.
Cynergy Bank is offering 5.15% AER. Open the account with just £1.
Beehive Money is offering 5.15% AER with its Limited Issue Easy Access account. Open with £1,000.
If you're prepared to fix your money, here's what's on the market for one year fixed savers.
JN Bank is offering 5.9% AER. Open the saver with £100.
Union Bank of India dropped its rate from 6.05% to 5.9%. Open the account with £1,000.
Al Rayan Bank is offering 5.85%. Open this Sharia-compliant bank with £5,000.
Vaishali graduated in journalism from Leeds University and she has experience working with the likes of Leicester Mercury, Inews and The Week. She also comes from a marketing background, where she has done copywriting and content creation for businesses.
Currently writing about all things personal finance, Vaishali is passionate about finding the best deals around, whether it's the best credit cards or the cheapest personal loans, as well as sharing top money hacks to help people save and better manage their money.