November NS&I Premium Bonds winners - check now to see what you won
If you have money saved in NS&I Premium Bonds you can now check to see whether you have won a prize in the November prize draw. Here's how to check your Premium Bonds.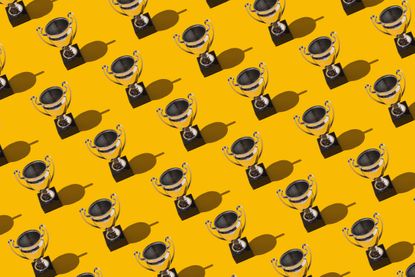 (Image credit: Getty Images)
Holders of NS&I Premium Bonds can check now to see whether they have won a prize in the November prize draw.
The government-backed savings provider has repeatedly increased the number of prizes on offer in recent months, so even if you don't manage to land the £1m top prize, there are still lots of smaller prizes available for savers in every draw.
In August NS&I increased the Premium Bonds prize rate to 4.65% to 4%. The prize rate is essentially a steer on what sort of return you would get from Premium Bonds if you have average luck, rather than any guarantee, but with the higher sums now in the overall prize fund the odds of winning money have improved from 22,000 to 21,000 to one.
Subscribe to MoneyWeek
Subscribe to MoneyWeek today and get your first six magazine issues absolutely FREE
Get 6 issues free
Sign up to Money Morning
Don't miss the latest investment and personal finances news, market analysis, plus money-saving tips with our free twice-daily newsletter
Don't miss the latest investment and personal finances news, market analysis, plus money-saving tips with our free twice-daily newsletter
Two bondholders will get a visit from Agent Million on account of landing the top prize, but there are millions of prizes of other sizes that could be heading your way. In the November NS&I Premium Bond prize draw there were more than 900 prizes of £10,000, over 56,000 £500 prizes and around 2.3 million £100 and £50 prizes.
Here's how to check your Premium Bonds for the November draw.
HOW TO CHECK FOR NOVEMBER'S NS&I PREMIUM BONDS DRAW?
You can check from now to see if you have won a prize in the November Premium Bonds prize draw.
There are a couple of different ways of checking, from using the prize checker page online to logging into the NS&I prize checker app.
Checking is easy to do, you'll just need the bond number to hand. These checks allow you to go back to draws which have occurred over the last six months.
Another option is to set up your Amazon Alexa smart speaker with the prize checker skill, which you can do through the Alexa app, and enter your NS&I number. From that point onwards your Alexa will keep you updated on any winnings.
A total of 5,795,962 prizes will be paid out in Premium Bond prizes in November, worth a total of £471,646,425. There were 121,715,206,105 Bond numbers eligible for the draw.
Here are the details of the NS&I Premium Bond prize draw for November:
Swipe to scroll horizontally
| | |
| --- | --- |
| Value of prize | Number of prizes |
| £1,000,000 | 2 |
| £100,000 | 90 |
| £50,000 | 181 |
| £25,000 | 362 |
| £10,000 | 903 |
| £5,000 | 1,807 |
| £1,000 | 18,865 |
| £500 | 56,595 |
| £100 | 2,343,900 |
| £50 | 2,343,900 |
| £25 | 1,029,357 |
| Total value of prizes: £471,646,425 | Total: 5,795,962 |
HOW WILL MY PREMIUM BOND PRIZE BE PAID TO ME?
Winners will see their prize paid into their designated bank account, though you can choose to have the money reinvested into more Premium Bonds. You can set up automatic payments on the NS&I website.
Opting for the reinvestment route boosts your chances of winning in future draws, since you have more eligible bonds. It also means you do not risk having unclaimed prizes sitting around.
HOW TO CHECK FOR UNCLAIMED PREMIUM BOND PRIZES?
Every year, millions of Premium Bond prizes go unclaimed. If you have not checked whether you've won money for some time, then there are a few different ways of finding out whether you have any cash waiting to be claimed.
If you're registered for online or phone services, you can call NS&I for free on 08085 007 007.
If you aren't registered, you can write to NS&I and ask if you have any unclaimed prizes.
To help the process, it's a good idea to include the following information:
Premium Bonds holder's number
Your current name
Any previous names
Your current address
Any previous addresses where Bonds may have been registered
Your signature
You can then send your letter to: NS&I, Sunderland, SR43 2SB.
If you have any outstanding prizes, then they will not be sent directly to your bank account. Instead they will be posted to you at your home address.
John Fitzsimons has been writing about finance since 2007, and is a former editor of Mortgage Solutions and loveMONEY. Since going freelance in 2016 he has written for publications including The Sunday Times, The Mirror, The Sun, The Daily Mail and Forbes, and is committed to helping readers make more informed decisions about their money.