Bank of England holds interest rates at 5.25%
The Bank has kept rates at 5.25%, ending its run of 14 consecutive increases. We look at what it means for your money - and what the Bank's next move could be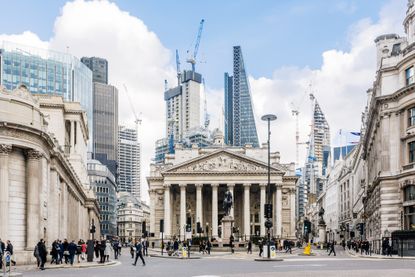 (Image credit: Getty Images)
The Bank of England has held the base rate at 5.25%, ending its run of 14 consecutive hikes that began in December 2021.
Investors had been split over whether the Monetary Policy Committee (MPC) would increase rates, or keep them at 5.25%, after data this week showed a surprise slowdown in price rises.
Inflation was revealed to have fallen from 6.8% to 6.7% in the year to August.
Subscribe to MoneyWeek
Subscribe to MoneyWeek today and get your first six magazine issues absolutely FREE
Get 6 issues free
Sign up to Money Morning
Don't miss the latest investment and personal finances news, market analysis, plus money-saving tips with our free twice-daily newsletter
Don't miss the latest investment and personal finances news, market analysis, plus money-saving tips with our free twice-daily newsletter
The MPC also seemed divided over whether to pause the rate hikes. The MPC voted by a majority of 5–4 to maintain the base rate at 5.25%. Four members preferred to increase the rate by 0.25 percentage points, to 5.5%.
The committee also voted unanimously to reduce the stock of UK government bond purchases held for monetary policy purposes, and financed by the issuance of central bank reserves, by £100 billion over the next 12 months, to a total of £658 billion.
The notes of the MPC meeting said: "CPI inflation is expected to fall significantly further in the near term, reflecting lower annual energy inflation, despite the renewed upward pressure from oil prices, and further declines in food and core goods price inflation."
It went on to say that "given the significant increase in Bank rate since the start of this tightening cycle, the current monetary policy stance is restrictive", but warned that "further tightening in monetary policy would be required if there were evidence of more persistent inflationary pressures".
Homeowners will be breathing a sigh of relief that the relentless interest rate rises have, at least for now, finished.
Mortgage rates had soared to reflect the rising base rate, although some lenders have started to cut rates in recent weeks.
The average two-year mortgage rate is currently 6.58%, according to the analyst Moneyfacts. The average five-year fix is 6.07%.
WHAT IS THE OUTLOOK FOR INTEREST RATES?
Some economists are predicting that we have now reached the top of the rate rise cycle.
Paul Dales, chief UK economist at Capital Economics, comments: "The surprise decision by the Bank of England to leave interest rates unchanged at 5.25% today probably means that rates are already at their peak."
Others believe the Bank still has work to do to get inflation back down nearer its 2% target, which could mean further rate rises.
However, most of the talk is now around when interest rates will start to be cut. Economic forecasting group EY Item Club expects interest rates to fall in the second half of next year. Others think the central bank will hold rates at 5.25% throughout 2024.
Dales adds: "We think rates will stay at this peak of 5.25% for longer than the Fed, the ECB and investors expect, but that when rates are cut in late 2024 they will be reduced further and faster than widely expected."
Rob Clarry, investment strategist at wealth manager Evelyn Partners, comments: "In the absence of further shocks, it looks like the BoE is now at, or very close to, the end of its hiking cycle. Attention will now turn to rate cuts, although markets are only pricing one 25-basis points cut by the middle of 2024. This is consistent with our expectation that the Bank will keep policy tight through 2024 as they continue to fight inflation."
There are two more interest rate announcements to come this year: 2 November and 14 December.
WHAT DOES A RATE FREEZE MEAN FOR HOMEOWNERS?
First-time buyers, homeowners on variable or tracker mortgage deals, and those about to remortgage will be cheering the news that interest rates have not been hiked today.
Having said that, mortgage rates remain high. Compared with December 2021, those on a tracker mortgage are paying £540 more a month, or £299 more a month on a standard variable rate (SVR).
SVRs are the most expensive mortgages; homeowners who do not take out a new deal at the end of their tracker or fixed mortgage automatically go onto the lender's SVR. According to research by the credit broker TotallyMoney, Virgin Money's SVR is an eye-watering 9.49%. Metro Bank charges 8.75% while Barclays has an SVR of 8.74%.
About 679,000 residential mortgage customers are on their lender's SVR.
The majority of mortgage holders are on fixed deals, and many of these will have cheap rates of less than 3%. Millions of fixed deals are due to expire this year and next, which could trigger a large hike in payments when those homeowners come to remortgage, given that average mortgage rates are now north of 6%.
Danni Hewson, head of financial analysis at the investment platform AJ Bell, notes: "It's important to remember the impact of these rate hikes is a slow burn. What has been done over the past 14 meetings is only just being felt by many businesses and homeowners, with half a million of the latter dreading the anticipated Christmas present of increased mortgage payments at the most expensive time of the year."
WHAT DOES THE RATE FREEZE MEAN FOR SAVERS?
Savers have had a good run, thanks to almost two years of base rate hikes.
Several easy-access savings accounts are paying above 5%, while you can get more than 6% on a one-year fixed account and 8% on the best regular saver account.
However, to get the best rate, you need to be proactive and move your money. Also watch out for any terms and conditions, for example, some of the best supposedly "easy-access" savings accounts restrict withdrawals to two a year, or one a month, while others stipulate that you have to have a current account to qualify for the savings account.
Sarah Coles, head of personal finance at Hargreaves Lansdown, comments: "This is likely to be the top of the savings market, at least for now. Now that rate rises have paused, banks won't be pricing in higher rates during the fixed period, so rates will settle, and are likely to fall.
"If you've been waiting to fix near the top, it's worth getting your skates on. The very best deals may not be around for much longer. If you haven't switched your easy access rate for some time, it's also worth making a move while there are some really attractive rates on the market."
For the top savings rates right now, check out our round-ups of the best cash ISAs, best easy-access accounts, best fixed rates and best regular saver accounts.
Ruth is passionate about helping people feel more confident about their finances. She was previously editor of Times Money Mentor, and prior to that was deputy Money editor at The Sunday Times.
A multi-award winning journalist, Ruth started her career on a pensions magazine at the FT Group, and has also worked at Money Observer and Money Advice Service.
Outside of work, she is a mum to two young children, a magistrate and an NHS volunteer.