Energy meter reading: submit your reading to avoid getting overcharged
Households are encouraged to take an energy meter reading as soon as possible after the price cap change on Saturday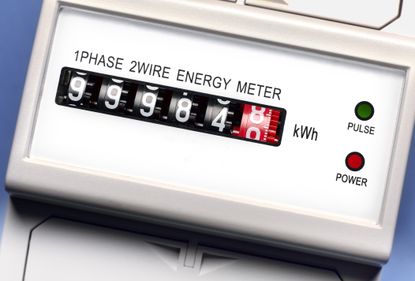 (Image credit: Getty images)
With the latest energy price cap now in effect, households should look to submit a meter reading as soon as possible if they haven't already to ensure they are billed correctly.
Households were encouraged to submit a reading by midnight on Friday 30 June, and failing that to take a reading early on Saturday 1 July - but there is still time if you have not yet taken yours.
Energy bills fell from Saturday 1 July after Ofgem announced in May that energy costs would fall by around 17%, taking the average typical bill to around £2,074 between July and October.
Subscribe to MoneyWeek
Subscribe to MoneyWeek today and get your first six magazine issues absolutely FREE
Get 6 issues free
Sign up to Money Morning
Don't miss the latest investment and personal finances news, market analysis, plus money-saving tips with our free twice-daily newsletter
Don't miss the latest investment and personal finances news, market analysis, plus money-saving tips with our free twice-daily newsletter
The energy price cap fell from its previous level of £3,280 and will replace the government's default energy price guarantee, which limited the average typical household energy bill to around £2,500 a year since 1 October 2022.
Now that Ofgem's energy price cap has fallen below the government's default rate, households should submit a meter reading to ensure they do not end up paying a higher rate from 1 July.
Why do I need to take a meter reading?
From 1 July, anyone not on a fixed tariff will pay the new rate under the energy price cap.
Taking a meter reading ensures that your next bill reflects the new rate.
An updated meter reading ensures also stops your supplier from determining a bill price that isn't actually in line with your usage.
If your energy usage is lower than your supplier's estimate you can ask it to lower your monthly direct debit to a more appropriate amount. Energy companies already owe almost £7bn to 16 million households in customer credit after increasing customers' direct debits in reaction to energy price rises - that's overall £5bn higher than last year.
Most customers can submit meter readings by phone or online via their supplier's website or app. Some suppliers even have online chat or text services.
Gareth Kloet, energy spokesperson for Go.Compare energy, said: "By taking a meter reading on 30 June, before the price drop comes into force, it will mean that your energy company cannot charge you at the higher rate for any units that have been used after that date.
"And in general, it's worth providing your supplier with regular readings so that they can work out your bills accurately, otherwise they will estimate your usage which means you could be paying more than you need to," he added.
What should I do if my supplier's website crashes?
Last year ahead of changes on 1 April customers reported issues sending meter readings online to supplier websites including British Gas, EDF, E.On, SSE, So Energy and Octopus Energy - many suppliers' websites and apps seemed unable to cope with the surge in demand as households scrambled to submit readings on 31 March.
In these cases customers were allowed to submit readings up to 30 days later so that suppliers could backdate the meter reading.
As a back-up, take a photo of your meter reading on your phone – this way you have proof of the date the readings were taken. And you could also email it to yourself – which again gives you a timestamp should you need to raise a complaint with your supplier further down the line.
Who doesn't need to submit a meter reading?
Not every household needs to submit a meter reading before midnight on 30 July.
These households include those who are on a fixed-rate tariff or have a smart meter, which automatically sends readings to your supplier, or a prepayment meter.
Katie Binns is an award-winning journalist, and former Sunday Times writer where she spent 10 years covering news, culture, travel, personal finance and celebrity interviews. She has also written for the Times, Telegraph, i paper and Woman and Home magazine.
Her investigative work on financial abuse has examined the response of banks, the Financial Ombudsman and the child maintenance service to victims, and resulted in a number of debt and mortgage prisoners being set free.