How to gift money to children this Christmas
From funds, premium bonds to a share in their favourite brands – here's how to gift money to children to Christmas.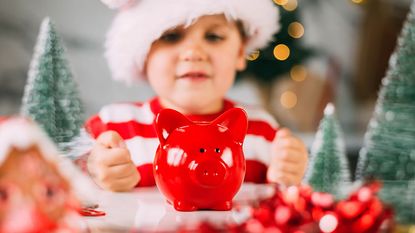 (Image credit: © Getty Images/iStockphoto)
If you're running out of ideas on what to give the kids this Christmas, then could you swap Lego for stocks, fluffy unicorns for junior Isas or a squishmallow for a pension? Here's how to give a financial gift to children this festive season (they will thank you for it one day).
Swap top Christmas toys for investments with Junior ISAs
If you're considering Lego again, then this year's top catch is the Harry Potter Hogwarts Castle set, which will set you back around £410 this year. Now, while it may give your child or grandchild hours or days of fun, investing that amount each year could give a child a pot worth £11,000 by their 18th birthday – assuming you started from birth and achieved 4% growth, according to calculations from investment platform AJ Bell.
But of course, you may not be looking to spend hundreds on a gift. But even cheaper gifts, like an £80 Toniebox or Gabby's Purrfect Dollhouse, could see your child accumulate a sum of £2,133 by the age of 18 if the money is invested instead. A £95 Hot Wheels Ultimate Garage will lead to a pot worth more than £2,500 by the age of 18.
Subscribe to MoneyWeek
Subscribe to MoneyWeek today and get your first six magazine issues absolutely FREE
Get 6 issues free
Sign up to Money Morning
Don't miss the latest investment and personal finances news, market analysis, plus money-saving tips with our free twice-daily newsletter
Don't miss the latest investment and personal finances news, market analysis, plus money-saving tips with our free twice-daily newsletter
"If you feel like too much of a Scrooge ditching presents altogether, you could just cut back how much you gift and invest the difference" Laura Suter, head of personal finance at AJ Bell, commented.
"Even if you make a £100 contribution to your kid's Junior Isa for their first five years, and then switch to getting them a present, they would have a pot worth £940 when they're 18."
Junior Isas currently allow you to stash away £9,000 per tax year for your child and anyone can contribute to it, though the account is controlled by the parent or guardian.
It is also worth noting that the money will belong to the child and it is theirs to do as they please when they are 18. So, while you might hope they use the funds for education or to set up a business, they may decide to blow the lot on a once-in-a-lifetime holiday.
According to AJ Bell, three funds to consider for your child's Junior Isa are:
Fidelity Index World – A low-cost passive fund that tracks the global stock market and only costs 0.12% a year.
Personal Assets – A "safer" option for those who want a lower-risk investment fund. This investment trust aims to protect and grow investors' capital (in that order). Today its managers own a lot of gold and inflation-linked bonds, as well as equities. It costs 0.67%.
Abrdn Global Smaller Companies – If you're comfortable with more risk, this fund invests in smaller companies around the globe. This means it might be a bit more volatile, but smaller companies have been proven to outperform over longer terms. It is run by renowned investor Harry Nimmo and costs 0.95%.
You could even add stocks of their favourite brands, like McDonalds or Apple, for example.
Pensions for kids
Pensions are also a tax-efficient way to save for children and you can start to save for a child's retirement fund with a Junior Sipp (self-invested personal pension) from birth.
You can pay up to £2,880 each tax year and the government adds up to £720 (20% tax relief) on top.
Both parents and grandparents can pay into a Junior Sipp. According to Hargreaves Lansdown, if you pay in £150 (including basic-rate tax relief) a month from birth and you had a return of 5% per year, the pot would be worth almost £47,000 by the time your child is 18.
If your child decides not to add to it when they are 18, the pension could still be worth over £290,000 by the time they are 65. The only downside here is you may not get a "thank you" for many years.
Premium Bonds for children – could they be mini millionaires?
NS&I Premium Bonds are a popular choice when giving financial gifts and could give your kids a chance to win a £1 million jackpot draw every month.
You can buy Premium bonds from £25 for anyone, but the parent or legal guardian will have control of the bonds if you're buying for children, until they are 16.
Though Premium Bonds do not earn interest, the kids will enjoy checking for a prize each month, which could encourage them to save.
Pocket money apps
If you really just want to give them some cash, then rather than slipping it into an envelope, you could give them a pre–paid card and boost their pocket money via these apps.
GoHenry for example is aimed at children aged six to 18. The prepaid card works like a debit card, but you can see how they spend their money and it's easy to top-up.
A pre-paid card is also a great educational tool to help them learn about how money works.
The cards can be personalised with their name and favourite images, ranging from unicorns to football players.
The card will cost you £2.99 a month, but it's free for the first month.
Note – make sure you order this in time for Christmas and keep in mind there may be delays due to Royal Mail strikes.
Other prepaid cards to consider are RoosterMoney (£24.99 a year) and Nimbl (£2.49 a month), which work in a similar way.
Kalpana is an award-winning journalist with extensive experience in financial journalism. She is also the author of Invest Now: The Simple Guide to Boosting Your Finances (Heligo) and children's money book Get to Know Money (DK Books).
Her work includes writing for a number of media outlets, from national papers, magazines to books.
She has written for national papers and well-known women's lifestyle and luxury titles. She was finance editor for Cosmopolitan, Good Housekeeping, Red and Prima.
She started her career at the Financial Times group, covering pensions and investments.
As a money expert, Kalpana is a regular guest on TV and radio – appearances include BBC One's Morning Live, ITV's Eat Well, Save Well, Sky News and more. She was also the resident money expert for the BBC Money 101 podcast .
Kalpana writes a monthly money column for Ideal Home and a weekly one for Woman magazine, alongside a monthly 'Ask Kalpana' column for Woman magazine.
Kalpana also often speaks at events. She is passionate about helping people be better with their money; her particular passion is to educate more people about getting started with investing the right way and promoting financial education.