Best junior stocks and shares ISA platforms
A junior stocks and shares ISA is a great way to save for your child tax-efficiently. But it can be confusing trying to decide which investment platform to use. We reveal some of the best junior stocks and shares ISAs.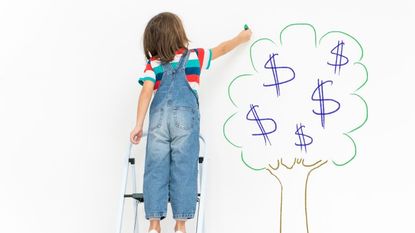 (Image credit: © Getty images)
Junior ISAs can be a great way to save and invest for your child's future.
Parents, relatives and friends can contribute a total of £9,000 into the account each tax year, and any investment gains are tax-free.
Junior ISAs have grown in popularity since launching in 2011. Like adult ISAs, there are two types of Junior ISA: cash ISAs, and stocks and shares ISAs. Almost £5bn is held in junior stocks and shares ISAs, while just over £4bn is held in junior cash ISAs, according to HMRC.
Subscribe to MoneyWeek
Subscribe to MoneyWeek today and get your first six magazine issues absolutely FREE
Get 6 issues free
Sign up to Money Morning
Don't miss the latest investment and personal finances news, market analysis, plus money-saving tips with our free twice-daily newsletter
Don't miss the latest investment and personal finances news, market analysis, plus money-saving tips with our free twice-daily newsletter
However, cash junior ISAs are more popular, with 737,000 cash junior ISAs paid into during 2021-22, according to the latest figures. In contrast, only 475,000 stocks and shares junior ISAs had money paid into them.
Despite junior cash ISAs being a more popular choice among parents, a junior stocks and shares ISA is often a better choice, especially if the child is young.
This is because shares almost always beat cash over long time periods. You can open a Junior ISA for a baby, and the money can't be withdrawn until the child turns 18 – giving you quite a long timeframe. So you should have time for your child's savings to ride out any market downturns.
But, it can feel overwhelming trying to work out which junior stocks and shares ISA to open. There are lots of investment platforms to choose from, all with their own pros and cons. Some are particularly cheap, while others may offer better investment choice, or more sustainable or ethical funds.
We round up the best junior stocks and shares platforms to help you choose a product that is easy to use and should build up a decent nest egg for your child to spend or save when they reach their 18th birthday.
Best Junior ISAs for low fees
As most investors know, the one thing you do have control over when it comes to investing is the amount you spend in fees. Future investment returns are anyone's guess, but you can reduce the impact of fees eating into your returns by simply choosing a product with low charges.
The cheapest Junior ISA will depend on how you want to use it: how much money are you planning to pay in? Do you want to buy funds or shares, and how often do you want to trade them?
To give a flavour of how the costs stack up, we asked Justin Modray, founder of Candid Money and Compare Fund Platforms, to crunch the numbers for a £5,000 Junior ISA containing five funds. Here's how the annual costs compare for six low-cost Junior ISAs (excluding fees for the underlying funds):
Swipe to scroll horizontally
| Platform | Annual cost | Notes |
| --- | --- | --- |
| Fidelity | £0.00 | No Junior ISA annual platform fee. £1.50 for deals as part of a regular savings or withdrawal plan, or for reinvestment of income or a dividend; £7.50 for each deal placed online; phone trades are £30 each. |
| Hargreaves Lansdown | £0.00 | No junior ISA platform fee or online dealing charges. For share trades over the phone or by post there is a 1% fee (minimum £20, maximum £50), plus foreign exchange conversion fees for overseas shares. |
| Charles Stanley Direct | £17.50 | 0.35% annual platform fee, no fund dealing fees. £10 charge per investment to transfer out "in-specie" elsewhere |
| AJ Bell | £20.00 | 0.25% annual platform charge, £1.50 per fund deal, £9.95 per share deal (including investment trusts and ETFs) |
| Bestinvest | £20.00 | 0.4% annual platform charge, no fund dealing fees. Annual platform fee falls to 0.2% if using a "ready-made portfolio". Share dealing is £4.95 a trade. |
| Willis Owen | £20.00 | 0.4% annual platform charge (falling to 0.15% for large portfolios of £250,000+), no fund dealing fees, £7.50 per share deal (including investment trusts and ETFs) |
Fidelity and Hargreaves Lansdown are the cheapest, with no annual platform fee (you will need to pay fees on the underlying investments, as you would with most providers). Watch out for fees if buying or selling investments over the phone or by post.
Hargreaves Lansdown previously charged an annual fee for its Junior ISA, but slashed it to zero in March 2023, in a bid to draw in younger investors.
Modray adds that AJ Bell has a competitive platform fee (0.25%), although the £1.50 fund dealing fee may deter more active investors.
According to Modray, the key for parents when choosing a Junior ISA platform is low platform charges along with decent investment choice. It's also worth checking there are no fees to move the account elsewhere in future, for example Charles Stanley Direct charges £10 per investment to transfer the ISA "as is" (compared to liquidating the investments and transferring the ISA as cash).
Award-winning Junior ISAs
While fees are important, you also need to be comfortable with other aspects, such as customer service, and ease of use for parents or friends and family who may not be expert investors.
Bear in mind that, while a parent or guardian must open the Junior ISA, anyone can pay money into it – just make sure you don't breach the £9,000 annual allowance.
We looked at Boring Money's Junior ISA Best Buys, which highlight the best stocks and shares Junior ISAs for non-expert people saving for kids. There are nine winners for 2023:
AJ Bell
Bestinvest
Fidelity
Hargreaves Lansdown
Interactive Investor
Moneyfarm
Nutmeg
Vanguard
Wealthify
Boring Money notes that Vanguard is low cost (a potential downside is it only offers funds, not shares), and that Interactive Investor is good value for large portfolios.
Nutmeg and Moneyfarm were commended for being "really easy to use", while with Wealthify you can invest with just £1.
Boring Money likes Hargreaves Lansdown's excellent customer service, and the free financial coaching on offer from Bestinvest. AJ Bell and Fidelity were commended for their online investment content and research tools.
A few Junior ISA rules
If you've set up a Junior ISA and want to switch to a competitor – perhaps to reduce the fees, or get a better user experience or investment range – go for it!
Parents are allowed to move the Junior ISA to a different provider, just watch out for any exit fees (there could be a charge to transfer a stocks and shares account "in-specie", in which case consider converting to cash first).
You can also move a child trust fund into a Junior ISA, which could significantly cut your fees and increase your investment choice, as CTFs are now considered old, legacy products.
As mentioned, the annual allowance is £9,000, and you can split this across a cash Junior ISA and stocks and shares Junior ISA. So, you could contribute £2,000 to a cash Junior ISA, while up to £7,000 is paid into a stocks and shares account.
Bear in mind that a child can only hold one cash Junior ISA and one stocks and shares Junior ISA.
The £9,000 limit is on top of the £20,000 allowance that adults have for their ISAs.
The cash inside the Junior ISA belongs to the child and cannot be withdrawn until they turn 18, although teenagers can take control of the account from age 16.
Ruth is passionate about helping people feel more confident about their finances. She was previously editor of Times Money Mentor, and prior to that was deputy Money editor at The Sunday Times.
A multi-award winning journalist, Ruth started her career on a pensions magazine at the FT Group, and has also worked at Money Observer and Money Advice Service.
Outside of work, she is a mum to two young children, a magistrate and an NHS volunteer.