The Barbie boom: could your old Barbie doll make you money?
The new Barbie film is boosting interest in collectable dolls - how much are Barbie dolls selling for?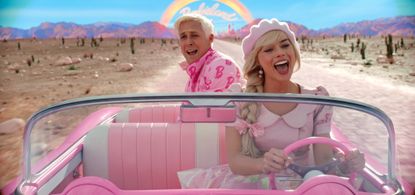 (Image credit: ©2023 Warner Bros. Entertainment Inc)
The live-action film Barbie, starring Margot Robbie as the eponymous fashion doll, is set for release on 21 July. And, as you might expect, it is a riot of pink.
So much so, in fact, that when coupled with pandemic-related supply disruption, paint maker Rosco couldn't supply enough of its fluorescent pink to the film's set designers.
But aside from cornering the market in that particular hue, the film's release has provided another opportunity for those looking to turn a profit by raising interest in the collectable dolls.
Subscribe to MoneyWeek
Subscribe to MoneyWeek today and get your first six magazine issues absolutely FREE
Get 6 issues free
Sign up to Money Morning
Don't miss the latest investment and personal finances news, market analysis, plus money-saving tips with our free twice-daily newsletter
Don't miss the latest investment and personal finances news, market analysis, plus money-saving tips with our free twice-daily newsletter
BonusFinder, an online gambling aggregator, analysed which Barbies have appreciated the most and from which decades, using data from BarbieDB.
Unsurprisingly, the first-ever Barbie is the most desirable. Priced at $3 in 1959 ($32 in today's money), the resale value of the Barbie #1 doll, with its black and white striped swimsuit and bright red lipstick, is now $27,450.
What is surprising is that the next two most valuable Barbies hail from half a century later, even if they are worth much less money. Dahlia Barbie, from 2006, decked out in a strapless gown, white satin gloves and a Swarovski crystal brooch, is worth $2,423. And retro-inspired Golden Gala Barbie, from 2009, today fetches $1,451. She wears a golden gown with a skirt shaped like a mermaid's tail.
Barbie boom: fuelled by nostalgia
Leaving aside the 1950s, which are skewed by Barbie's debut right at the end of the decade, the 29 models of Barbie released during the 1960s have an average maximum resale value of $428.97, making it the most lucrative decade for collectable Barbies today. Thereafter, values decline to $218.47 for the 1970s and $211.50 for the 1980s – decades in which Barbie dolls enjoyed a revival in popularity among children.
And those children are, of course, now all grown up, and are brimming with the nostalgia that fuels the collectable toys market. In late April, for example, a collection of Star Wars action figures went under the hammer at Vectis Auctions in Stockton-on-Tees, fetching £322,000 in total. The top lot was an Anakin Skywalker figure as seen in the 1983 sequel Return of the Jedi. It sold for £11,400, but several figures sold in the thousands of pounds and well above their pre-sale estimates.
Keeping dolls and figurines within their original boxes, unopened, and away from sunlight helps to preserve their values. Plastic shell covers also protect the cardboard from dust and humidity. Limited-or special-edition dolls tend to command higher resale prices, as Simon Farnworth, who runs online shop Simon's Collectibles, tells The Sun. "These dolls often feature unique designs, are collaborations with celebrities, or commemorate significant events," he says. A gold label Ziggy Stardust-themed David Bowie Barbie, which cost £50 in 2019, sells for £300 just four years later.
Fashion brands Christian Dior, Versace, or Vera Wang have all collaborated at one time or another and remain popular specimens. In 2010, a one-off Barbie, created by Stefano Canturi, wearing a choker featuring a one-carat pink diamond, set an auction record when it sold for $302,500 in New York with Christie's.
Tupac's bling leads hip-hop auction
Hip hop turns 50 years old this year. The sound that has become one of the world's biggest-selling music genres was born out of parties in the South Bronx area of New York City in the early 1970s, and is often dated very specifically to a party in August 1973 at which DJ Kool Herc invented the break-beat style of deejaying to extend the instrumental part of a song.
Auction house Sotheby's is getting into the swing this month, by teaming up with entertainment company Mass Appeal to present its third dedicated hip-hop sale on 25 July. Before then a range of genre-defining original art, historic studio equipment, trainers and jackets, flyers and posters and rare artefacts will be on public display at Sotheby's in New York, highlighting the role played by artists such as Tupac Shakur, Wu-Tang Clan and Ice-T.
Leading the auction is Tupac Shakur's iconic gold, diamond and ruby "Crown" sovereign ring (pictured above), which the rapper designed himself. In 1996, Tupac was effectively "retooling his image as he transitioned into an executive role", according to the auction house. To celebrate the beginning of a new chapter in his life, "Tupac got new bling".
The rapper had developed a fascination with Machiavelli during an earlier stint in prison, even going as far as to call himself "Makaveli". The ring Tupac designed therefore drew heavily on the idea of medieval kingship – a gold crown studded with a ruby (long a symbol of royalty) and two diamonds. Putting on the ring was, in the words of his godmother, Yaasmyn Fula, "an act of self-coronation".
The ring was engraved "Pac & Dada 1996", in reference to his recent engagement to Kidada Jones (daughter of Quincy Jones) and Tupac wore it at his last public appearance at the MTV Video Music Awards that September. He was shot dead days later in a still unsolved murder. The ring is valued at $200,000-$300,000.
Chris Carter spent three glorious years reading English literature on the beautiful Welsh coast at Aberystwyth University. Graduating in 2005, he left for the University of York to specialise in Renaissance literature for his MA, before returning to his native Twickenham, in southwest London. He joined a Richmond-based recruitment company, where he worked with several clients, including the Queen's bank, Coutts, as well as the super luxury, Dorchester-owned Coworth Park country house hotel, near Ascot in Berkshire.
Then, in 2011, Chris joined MoneyWeek. Initially working as part of the website production team, Chris soon rose to the lofty heights of wealth editor, overseeing MoneyWeek's Spending It lifestyle section. Chris travels the globe in pursuit of his work, soaking up the local culture and sampling the very finest in cuisine, hotels and resorts for the magazine's discerning readership. He also enjoys writing his fortnightly page on collectables, delving into the fascinating world of auctions and art, classic cars, coins, watches, wine and whisky investing.
You can follow Chris on Instagram.