Car hire and the strangeness of the post-pandemic economy
A global shortage of hire cars and unusually high hotel occupancy rates sum up the post-pandemic global economy in a nutshell, says Merryn Somerset Webb, with enhanced demand meeting restricted supply.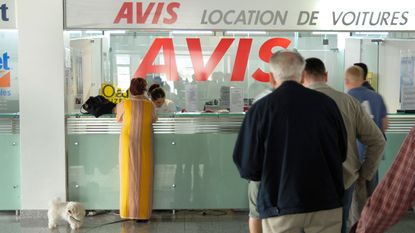 (Image credit: © Getty Images)
I wonder if you have finished making your summer holiday plans yet? If you have not you might want to get going – particularly if you think you might need a hire car. In the summer of 2019 you would have been able to rent a normal family car for around £310 a week. Try and get your hands on the same this year (good luck to you) and it will cost you more like £652. Over double. Why?
The answer is more interesting than you think – this is the post-pandemic global economy in a nutshell. When the lockdowns began, the car-hire business pretty much shut down globally – and car-hire firms, keen to raise cash and cut costs, sold down their fleets (often at very low prices). At the time, they presumably assumed that when demand returned, there would be no supply problem – and they would rebuild those fleets cheaply (car manufacturers have a history of giving the rental agencies huge discounts anyway).
Whoops. When 2021 dawned, cars were not just not remotely cheap, they were almost impossible to come by. Thanks to the fact that computer-chip manufacturers had either suffered rolling shut downs or switched production from car chips to chips for products everyone wanted during lockdowns (phones and laptops), there were precious few semiconductors available for car manufacture – a situation made significantly worse by the war in Ukraine (Ukraine produces neon, which is vital for chip production). The upshot? Industry associations reckon that 2.2 million fewer cars have hit the road worldwide this year than would have with no chip shortage (800,000 of those in Europe). There just aren't enough cars.
Subscribe to MoneyWeek
Subscribe to MoneyWeek today and get your first six magazine issues absolutely FREE
Get 6 issues free
Sign up to Money Morning
Don't miss the latest investment and personal finances news, market analysis, plus money-saving tips with our free twice-daily newsletter
Don't miss the latest investment and personal finances news, market analysis, plus money-saving tips with our free twice-daily newsletter
Enhanced demand meets restricted supply
Still, this isn't just about the supply shortage. It is about the fact that when demand came back, it really came back. Global hotel occupancy rates were above pre-pandemic levels in April and May this year (63% in May 2022 versus 60% in May 2019) and look like they will stay that way all summer (this is also a reminder of just how odd this economic downturn is – you don't normally get excess demand for leisure services with a recession looming). Car-hire demand is at least as high as in 2019 (maybe higher, as some of the Covid-wary will still prefer private cars to public transport) and around 33% higher than summer 2021 already, according to Amadeus Hospitality (around half of cars are booked only a week in advance).
So there you have it. Enhanced demand meets restricted supply, and prices go nuts (even before you start trying to pay for fuel. This will sort itself out – as we know, the solution to high prices is always high prices (which prompt rises in supply). But it won't do so in time for your summer holidays.
On the plus side, there is a silver lining here. Most of us hate renting cars (the endless insurance and fuel scams, the queues, the laughably inefficient logistics). Now we might not have to. At £600 a week, it is almost always going to be cheaper to arrange taxi transfers from airport or station to hotel and back – and to anywhere else you might want to go in between. Cheaper, easier (no queues, maybe fewer scams) and more fun too (more rosé). In this week's magazine we look at how thrift is one answer to beating inflation. I'm not sure taking taxis instead of renting a car quite fits in with the spirit of that idea, but it is at least a start. I'm a convert.
Merryn Somerset Webb started her career in Tokyo at public broadcaster NHK before becoming a Japanese equity broker at what was then Warburgs. She went on to work at SBC and UBS without moving from her desk in Kamiyacho (it was the age of mergers).
After five years in Japan she returned to work in the UK at Paribas. This soon became BNP Paribas. Again, no desk move was required. On leaving the City, Merryn helped The Week magazine with its City pages before becoming the launch editor of MoneyWeek in 2000 and taking on columns first in the Sunday Times and then in 2009 in the Financial Times
Twenty years on, MoneyWeek is the best-selling financial magazine in the UK. Merryn was its Editor in Chief until 2022. She is now a senior columnist at Bloomberg and host of the Merryn Talks Money podcast - but still writes for Moneyweek monthly.
Merryn is also is a non executive director of two investment trusts – BlackRock Throgmorton, and the Murray Income Investment Trust.