A recession is coming, here is how to prepare your finances
The Bank of England has warned we're probably already in a recession, and it's due to be one of the longest in recent memory. Here's what to expect, and how to prepare your finances.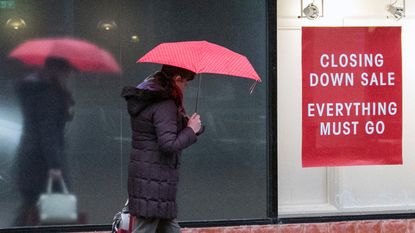 (Image credit: © Alamy)
UK inflation hit a 41-year high of 11.1% last November, driven largely by rising energy prices despite the Energy Price Guarantee. The Bank of England (BoE) is forecasting one of the longest recessions in history and has admitted that increasing interest rates could worsen the situation.
But inflation is running at over five times the bank's 2% target, which means the BoE is likely to continue increasing the base rate over the next few months.
The last time the Monetary Policy Committee met, in early November, it increased the base rate from 2.25% to 3%, and it's widely expected there will be an increase of between 0.5% and 0.75% when it meets again on Thursday.
Subscribe to MoneyWeek
Subscribe to MoneyWeek today and get your first six magazine issues absolutely FREE
Get 6 issues free
Sign up to Money Morning
Don't miss the latest investment and personal finances news, market analysis, plus money-saving tips with our free twice-daily newsletter
Don't miss the latest investment and personal finances news, market analysis, plus money-saving tips with our free twice-daily newsletter
The rate increases are an attempt by the Bank to slow down inflation, as they encourage people to save and make it more expensive to borrow, discouraging spending.
With economic headwinds building and a recession on the horizon, there are several actions you can take to make sure you're in the best position financially to weather the storm.
What is a recession?
A recession is when two consecutive quarters of negative GDP growth is recorded. This happened during the depths of the pandemic, but it was rather short-lived compared to similar events such as 2008's Great Financial Crisis.
GDP in the UK grew by 0.5% in October, but shrank 0.3% for the third quarter as a whole.
Despite the growth seen in October, analysts pointed out the figures were bound to look favourable given September's depressed activity caused by the extra bank holiday due to the Queen's funeral.
While GDP is still growing in the UK, its growth is slower than the pace at which prices and incomes are rising.
So what would a recession mean for your money?
Expect job losses and lower wages
The Bank of England is predicting that unemployment will rise each year until 2025.
The Office for National Statistics' latest data on the labour market showed the rate of unemployment ticked up from 3.6% to 3.7% for the three months to October from the previous quarter.
The number of vacancies also fell by 65,000, their fifth quarterly consecutive fall.
While they still remain at historically high levels, the decrease in vacancies coupled with the slight increase in the unemployment rate could be a sign of a weakening jobs market.
But it's worth noting the number of people looking for employment also rose, with the economic inactivity rate decreasing by 0.2%. It was largely driven by those aged 50 to 65 as they seek to return to work to deal with the rising cost of living.
But with a recession on the cards, it's possible unemployment will shoot up as companies try to cut their costs. Unemployment hit 10% during the 2008 financial crisis.
Prepare for higher mortgage rates
Mortgage rates peaked at 6.65% following Kwasi Kwarteng's mini-budget announcement, which increased borrowing costs.
While the rates have now fallen to 5.99% and 5.78% for two-year and five-year fixed-rate mortgages respectively, they remain significantly higher than they were a year ago.
Mortgage rates could continue to rise as the BoE increases rates again.
People with mortgages – especially those on variable-rate mortgages – are likely to face a sharp rise in repayments, assuming the central bank continues to raise interest rates.
There are 1.8 million fixed-rate mortgage deals scheduled to end in 2023. These homeowners will have to refinance at a much higher rate.
UK Finance is predicting overall mortgage lending will fall by 15%, returning to pre-pandemic levels, due to the rising cost of living and rising interest rates placing pressures on affordability.
Credit crunch and an inverted yield curve
A credit crunch is a situation when there is a sudden drastic fall in the availability of money or credit from lenders, greatly reducing the availability of borrowing options for people. This is what happened during the Great Financial Crisis, lowering peoples' ability to buy goods, and further slowing the economy.
A credit crunch usually signals the beginning of a recession, so it is more likely to be a cause rather than an outcome, but a credit crunch has ramifications for peoples' disposable incomes.
Bloomberg reckons that the yield curve is inverting, something that will further lead to a halt in lending.
"I see the Treasury yield curve inverting as much as a half-percentage point. Eventually, we will face a sudden halt of credit to the weakest borrowers. Sectors to watch include leveraged loans, emerging markets, and European debt," says Bloomberg's Edward Harrison.
How to prepare your finances for a recession
The good news is that there are steps that almost anybody can take to mitigate the impact of a recession on their finances.
Review your monthly expenses
The obvious thing to do is to review your monthly expenses and see which can most easily be cut from your monthly spending, says House.
"Check bank statements and get out a highlighter pen to evaluate your monthly purchases and outgoings to see what can be cut."
Cut your subscriptions
According to House, cutting out your subscriptions can yield substantial savings. This is because the average UK household spends £552 on subscriptions every year.
"This equates to roughly £46 a month haemorrhaging from accounts from subscription boxes, highlighting the age-old phrase 'time saved, is money spent'."
Protect your mortgage
Those who lose their incomes or face a slump in the value of their homes will find it harder to remortgage, says This is Money.
One solution could be to fix your mortgage now, so you have the peace of mind of knowing exactly how much you are spending.
"If you are in any doubt about the security of your job should the economy take a turn for the worse, fix your mortgage so you can budget safe in the knowledge that your repayments won't go up," says Jamie Lennox, director of the mortgage broker Dimora Mortgages.
Cut your petrol bill
As petrol prices have shot up, it is important to keep your fuel costs down.
Cut your energy bills
The Energy Price Guarantee will cap consumers' bills until 2024, but bills will still be going up by £500 from April 2023, so it's important to find ways to save on your energy bills.
Setting up a direct debit is a useful strategy in reducing your energy bill as it lowers the cost by roughly 7%, and also means you won't miss a payment. Installing a smart meter can also help you manage your energy costs.
You can also reduce the temperature at which you shower and make sure unused appliances aren't switched on.
It's also worth looking into which appliances are most cost-efficient for cooking and drying your clothes, as well as the cheapest way to heat your home. We have compared different appliances and heating methods.
Nic studied for a BA in journalism at Cardiff University, and has an MA in magazine journalism from City University. She joined MoneyWeek in 2019.