Air fryer vs microwave – which is cheaper to run?
We compare the costs of an air fryer vs a microwave to see which one is more cost effective.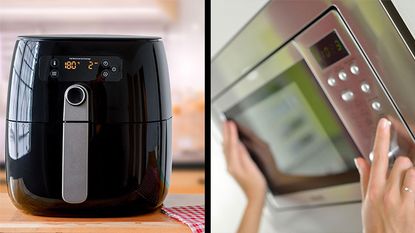 (Image credit: © Alamy)
We're all trying to cut our energy costs in the face of rising energy bills. One way to do this could be by testing out different methods of cooking, especially when it comes to bigger appliances. And right now, air fryers are all the rage – but can they help slash your energy costs?
We've looked into several ways you can save on your energy bill, such as whether its cheaper to heat your home with a wood burning stove or with central heating or with a radiator or electric heater, as well as whether its more cost effective to use a heater airer or a tumble dryer.
Now we ask, is it cheaper to run a microwave or an air fryer?
Subscribe to MoneyWeek
Subscribe to MoneyWeek today and get your first six magazine issues absolutely FREE
Get 6 issues free
Sign up to Money Morning
Don't miss the latest investment and personal finances news, market analysis, plus money-saving tips with our free twice-daily newsletter
Don't miss the latest investment and personal finances news, market analysis, plus money-saving tips with our free twice-daily newsletter
How much does it cost to run an air fryer?
The cost of running your air fryer will depend on how powerful it is, the model, and how long you use it for.
The average air fryer uses between 800 to 2,000 watts (W) of power. If you used an 800W air fryer for 30 minutes it would cost you 13.6p per day, £4.13 a month, and £49.44 per year, according to experts at uSwitch.
A 1400W air fryer would cost you around 23.8p to run if you used it for 30 minutes. This adds up to £7.24 per month, and £86.88 a year. However because it's more powerful it could require less time and energy to cook food than the less powerful one.
To keep the costs down further, make sure you're only keeping them switched on as long as they are in use. Air fryers have grown in popularity recently, so there's an option for every budget. This one from Tower is just £50, and has three litre cooking capacity. On the opposite end of the scale this one by Ninja has a 9.5 litre capacity, but costs £229.
How much does it cost to run a microwave?
According to uSwitch, it costs about 8p a day to run a 700W microwave if used for 20 minutes a day. This works out to £3.43 per month and £29.16 per year if used every day.
However the cost will vary according to how powerful your microwave is. A powerful one of 1200W will cost around 13.3p per use, or £4.04 per month, and £48.38 per year to run.
A mid-range one of 900W would cost 10.2p per use, £3.10 per month, and £37.20 per year. So it does work out cheaper to use a microwave. They're also quick to heat up food, easy to clean, and offer different cooking settings.
The verdict
The microwave is cheaper to run – so if you are only looking to use an appliance solely based on costs, then a microwave will help keep those energy bills as low as possible for cooking.
Some people have both because of the different uses that they have – so you may decide to opt for the air-fryer for some uses. Ultimately it will depend on what you like to cook, what's more convenient to you, and how long you use the appliances for.
• This article may contain affiliate links – when you purchase through links on our site, we may earn a commission.
Nic studied for a BA in journalism at Cardiff University, and has an MA in magazine journalism from City University. She joined MoneyWeek in 2019.