Credit card providers slash 0% balance transfer deals
Customers face a double whammy of rising interest rates and shorter 0% balance transfer periods. We look at what's going on in the credit card market and why you'll need to act fast to get the top 0% balance transfer deal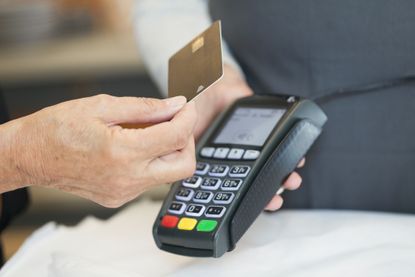 (Image credit: Getty Images)
Interest-free balance transfer deals on credit cards are getting worse, with the average 0% period dropping from 21 months to 17 months over the past year.
Meanwhile, the longest 0% balance transfer period on offer is shrinking. Last October, the best deal was 34 months, but this has now fallen to 29 months, according to research by the consumer group Fairer Finance.
In the last year, Sainsbury's, MBNA, NatWest, RBS, Halifax and Tesco have all reduced their longest offers. Since August 2022, RBS and NatWest have cut the longest 0% period on their credit cards from 30 months to 23 months, while Tesco has reduced it from 27 to 22 months. Last week, Barclaycard cut its market-leading 30-month deal to 29 months.
Subscribe to MoneyWeek
Subscribe to MoneyWeek today and get your first six magazine issues absolutely FREE
Get 6 issues free
Sign up to Money Morning
Don't miss the latest investment and personal finances news, market analysis, plus money-saving tips with our free twice-daily newsletter
Don't miss the latest investment and personal finances news, market analysis, plus money-saving tips with our free twice-daily newsletter
Oliver Crawford from Fairer Finance says the trend is potentially being fuelled due to high interest rates and because lenders are increasingly worried borrowers might default, as a result of mounting pressures on their personal finances.
He notes: "It's definitely worrying that 0% balance transfer deals are getting worse at a time when interest rates and the cost of living have been rising."
At the same time, representative APRs on 0% balance transfer cards have risen over the past 12 months. Last September, the average APR was 24.06%, according to Fairer Finance. Today, the average is 26.06%.
It means credit card customers are facing a double whammy of shorter interest-free periods and higher APRs when they come to the end of the 0% period.
"We always encourage borrowers to repay their transferred debt entirely during the 0% period, otherwise they'll face a much higher APR, usually over 20%," comments Crawford.
The longest balance transfer deal is currently the Barclaycard Platinum 29-Month Balance Transfer Visa. At the end of the 29 months, the interest rate jumps to 24.9% APR. The deal also comes with a chunky 3.45% balance transfer fee, which is higher than most; balance transfer fees are often less than 3%.
Fairer Finance is calling on credit card providers to improve their communications so customers understand exactly how balance transfer cards work, and don't get caught out by small print. For example, by making it as clear as possible that customers can potentially lose their 0% period entirely if they miss a repayment.
According to the consumer group, providers should also do more to explain that 0% balance transfer cards generally aren't suitable for making purchases or cash withdrawals, because that spending will usually accrue interest until the entire balance transfer is cleared.
Crawford adds: "There's certainly more providers can do to inform customers, particularly in light of Consumer Duty requirements, about the benefits and downsides of 0% balance transfer cards, since it isn't always clear when you're applying that you might lose your 0% promotional rate if you miss a repayment, or that these cards often aren't appropriate for spending or withdrawals."
Should I use a 0% balance transfer credit card?
An interest-free balance transfer card can be a useful way to slash the cost of existing credit card debt. It can save you hundreds of pounds in interest payments - but you must try and repay all the money you owe before the 0% period finishes, or you'll get stung by a high interest rate.
You should also watch out for the balance transfer fee, and any other charges and small print. And always avoid spending on it, or withdrawing cash. (If you're looking for an interest-free credit card for spending, check out our round-up of the best 0% credit card deals for purchases.)
But as interest rates rise - the Bank of England is expected to hike rates again later this month - there is a chance some deals may not hang around for long. In fact, providers may cut their 0% offer periods again, and APRs could rise further.
So, if you're looking for a balance transfer card, it could be wise to snap one up sooner, rather than later.
Alice Haine, personal finance analyst at Bestinvest, the investment platform and coaching service, comments: "Outstanding balances on credit card accounts grew 8.8% over the 12 months to May, according to UK Finance, so clearing expensive unsecured debt requires a savvy approach to keep repayment costs to a minimum.
"Borrowers with credit card debts they are struggling to repay could consider signing up for a 0% balance transfer card to avoid hefty interest charges. Acting quickly will be key as some of the best deals could be pulled as banks come under increasing pressure from high interest rates."
Where can I find the best rates right now?
You can bag up to 29 months 0% interest with the Barclaycard. Here are the best balance transfer cards on the market right now.
Swipe to scroll horizontally
It's important to know that you may not get the headline rate, as this will depend on your credit rating. To see what you could get, use an eligibility checker, like the one on our sister site GoCompare to see what balance transfer card you can get.
If you're looking for a no-fee balance transfer credit card, check our 0% balance transfer cards best buy guide to see the top rates on the market.
Ruth is passionate about helping people feel more confident about their finances. She was previously editor of Times Money Mentor, and prior to that was deputy Money editor at The Sunday Times.
A multi-award winning journalist, Ruth started her career on a pensions magazine at the FT Group, and has also worked at Money Observer and Money Advice Service.
Outside of work, she is a mum to two young children, a magistrate and an NHS volunteer.