Barclays launches £175 switching deal - plus earn 5.12% interest on cash
Barclays launches £175 switch bonus, which also gives you access to 5.12% easy access savings. We have all the details.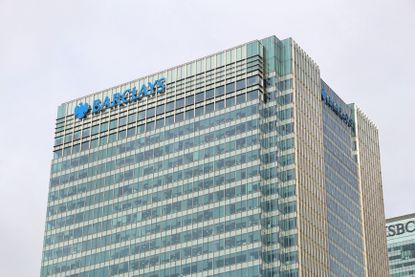 (Image credit: Getty Images)
This deal is no longer available. Please see our best offers for switching banks guide for up-to-date deals.
Bank switching services have been coming in waves this year, with some banks paying up to £205 for moving your everyday banking to them.
If you are looking to switch your current account, then this is a great way to bag some 'free' cash - though you will often have to close your existing current account and use the bank switching service to get the bonus.
Subscribe to MoneyWeek
Subscribe to MoneyWeek today and get your first six magazine issues absolutely FREE
Get 6 issues free
Sign up to Money Morning
Don't miss the latest investment and personal finances news, market analysis, plus money-saving tips with our free twice-daily newsletter
Don't miss the latest investment and personal finances news, market analysis, plus money-saving tips with our free twice-daily newsletter
This week, high street giant Barclays has jumped in on the act, hoping to draw new customers in with a £175 switch bonus when they move their current account to Barclays. The account also gives you access to one of the best savings rates on easy access savings.
The incentive follows Barclays results last week, which revealed UK deposits in current accounts at the bank dropped 6%. But can the bank bring in new customers with its new switching bonus alongside a generous 5.12% savings rate for easy access?
How to get the £175 Barclays bonus
To get the bonus, you will have to close your existing current account and switch to Barclays using the Current Account Switch Service. The service is free and promises to shift your direct debits and other payments for you within 7 days.
To qualify for the cash bonus, you must:
Open an account via the Barclays app (open a new account or join Premier Banking)
Bring across at least two direct debits
Join the Blue Rewards Scheme - you must deposit at least £800 a month to qualify for this
Sign up to online/mobile banking at £5 a month - but you get this back via cashback if you have a minimum of two direct debits
The account you open must be an individual one, not a joint one
You must start the switch by 30 November and complete it within 30 days
You must not have any other Barclays accounts, or have ever held one. If you are switching to the Premier Account, you need to pay in an annual income of at least £75,000 or have at least £100,000 in savings or investments with Barclays.
The switch bonus will be paid within 28 days as long as you meet the criteria.
How can I earn 5.12% on my cash savings?
The 5.12% AER savings rate is for an easy access account and you only get it via the Blue Rewards Scheme, available to current account holders.
But, the rate is only available on balances of up to £5,000 - anything more and you'll simply earn 1.15%.
How does the rate compare to other savings?
The rate is not far behind the next best rate for easy access, which is via Natwest owned Ulster Bank, paying 5.2% interest.
You can also earn up to 15% cashback with Barclays Blue Rewards with some retailers when you link your debit card.
Kalpana is an award-winning journalist with extensive experience in financial journalism. She is also the author of Invest Now: The Simple Guide to Boosting Your Finances (Heligo) and children's money book Get to Know Money (DK Books).
Her work includes writing for a number of media outlets, from national papers, magazines to books.
She has written for national papers and well-known women's lifestyle and luxury titles. She was finance editor for Cosmopolitan, Good Housekeeping, Red and Prima.
She started her career at the Financial Times group, covering pensions and investments.
As a money expert, Kalpana is a regular guest on TV and radio – appearances include BBC One's Morning Live, ITV's Eat Well, Save Well, Sky News and more. She was also the resident money expert for the BBC Money 101 podcast .
Kalpana writes a monthly money column for Ideal Home and a weekly one for Woman magazine, alongside a monthly 'Ask Kalpana' column for Woman magazine.
Kalpana also often speaks at events. She is passionate about helping people be better with their money; her particular passion is to educate more people about getting started with investing the right way and promoting financial education.