NatWest exec quits over Farage debanking row
Alison Rose has walked away from NatWest while the government has told banks to better balance customer freedoms with their need to manage reputation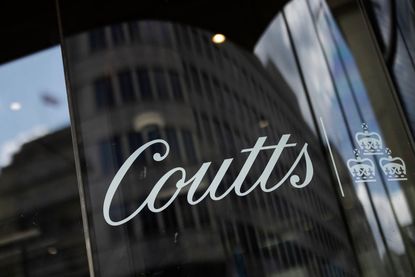 (Image credit: Getty Images)
The chief executive of high-street bank Natwest Alison Rose has stepped down after revealing she was the source behind an untrue story about former UKIP leader Nigel Farage.
She admitted to incorrectly telling the BBC that Farage's account at exclusive lender and NatWest subsidiary Coutts had been closed purely due to commercial reasons - a story the broadcaster was forced to amend and has apologised for.
Internal documents obtained by Farage show his political views were part of the equation when the bank weighed up on whether to retain him as a customer, contrary to what Dame Rose said.
Subscribe to MoneyWeek
Subscribe to MoneyWeek today and get your first six magazine issues absolutely FREE
Get 6 issues free
Sign up to Money Morning
Don't miss the latest investment and personal finances news, market analysis, plus money-saving tips with our free twice-daily newsletter
Don't miss the latest investment and personal finances news, market analysis, plus money-saving tips with our free twice-daily newsletter
In a statement, NatWest Group chairman, Sir Howard Davies said: "The board and Alison Rose have agreed, by mutual consent, that she will step down as CEO of the NatWest Group. It is a sad moment."
In a separate statement, Rose said: "I remain immensely proud of the progress the bank has made in supporting people, families and business across the UK, and building the foundations for sustainable growth."
Rose, who had served as chief executive of the group for four years, previously apologised to Farage after it emerged the bank had described the seven-time MP candidate as "xenophobic and racist"
In the letter, she said: "freedom of expression and access to banking are fundamental to our society and it is absolutely not our policy to exit a customer on the basis of legally held political and personal views".
Now, the government has waded in promising to protect "freedom of expression" to alleviate fears that banks are terminating accounts because they disagree with someone's political beliefs.
New rules to boost transparency
Under the new requirements, banks will be forced to increase the notice period to 90 days – giving customers more time to challenge a decision through the Financial Ombudsman Service, or find a replacement bank.
Banks will also be required to spell out why they are terminating a bank account – boosting transparency for customers and aiding their efforts to overturn decisions.
The government said the changes can only be made due to new powers in the Financial Services and Markets Act 2023 - policy introduced following Brexit.
Economic secretary to the Treasury, Andrew Griffith, said: "Freedom of speech is a cornerstone of our democracy, and it must be respected by all institutions.
"Banks occupy a privileged place in society, and it is right that we fairly balance the rights of banks to act in their commercial interest, with the right for everyone to express themselves freely.
"These changes will boost the rights of customers - providing real transparency, time to appeal and making it a much fairer playing field."
What is debanking?
While the dispute between Farage and Coutts has caught the attention of the public, bubbling beneath the surface is an important story on the extent to which banks can refuse business with people or businesses that may bring reputational risks.
The proposed changes follow a call for evidence launched in January.
Dubbed "de-banking", the phenomenon has risen to the fore in recent years. In 2021, PayPal blocked a fundraising site after it raised money for people who attended the January 6 attack on the Capitol in Washington D.C, sparking outrage.
The UK government said changes were needed to ensure customers knew why any action is being taken against them while providing banks the right to manage their commercial risk.
FCA chair, Ashley Alder, said: "For banks as well as other commercial enterprises, it's fundamentally up to them to choose who they do business with."
The new regulations will be powered by the Financial Services and Markets Act 2023, as part of the Government's programme in building a Smarter Regulatory Framework for UK financial services.
This runs alongside separate plans to clarify in legislation the requirements for Politically Exposed Persons (PEPs), and a review into whether these are being applied proportionately by financial institutions.
These steps were commissioned by Parliament last month as part of the Financial Services and Markets Act 2023, and the FCA will set out how they intend to conduct the review by the end of September.
Join us at the MoneyWeek Summit on 29.09.2023 at etc.venues St Paul's, London.
Tickets are on sale at www.moneyweeksummit.com
MoneyWeek subscribers receive a 25% discount.
Tom is a journalist and writer with an interest in sustainability, economic policy and pensions, looking into how personal finances can be used to make a positive impact.

He graduated from Goldsmiths, University of London, with a BA in journalism before moving to a financial content agency.
His work has appeared in titles Investment Week and Money Marketing, as well as social media copy for Reuters and Bloomberg in addition to corporate content for financial giants including Mercer, State Street Global Advisors and the PLSA. He has also written for the Financial Times Group.
When not working out of the Future's Cardiff office, Tom can be found exploring the hills and coasts of South Wales but is sometimes east of the border supporting Bristol Rovers.