Zoopla: house prices stalled at the end of 2022
The property market looks primed for a slow burn start, and buyers are turning towards flats instead of homes as they prioritise affordability, latest data from Zoopla reveals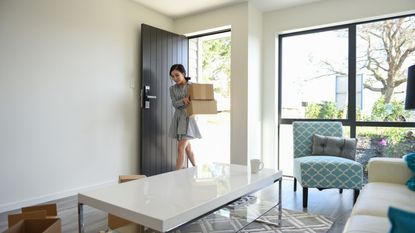 (Image credit: © Getty images)
The outlook for house prices in 2023 looks even more uncertain given the latest data from online estate agent Zoopla, which shows house price growth ground to a standstill in the final quarter of 2022.
According to Zoopla's latest house price index, there was a 50% drop in buyer demand, meaning house price inflation slowed to 6.5% by the end of 2022 from 8.3% at the end of 2021 as higher borrowing costs made prospective homeowners ask themselves if now was a good time to buy a house.
Many buyers delayed their plans in the aftermath of the mini-Budget, after which the Bank of England (BoE) began to aggressively increase interest rates.
Subscribe to MoneyWeek
Subscribe to MoneyWeek today and get your first six magazine issues absolutely FREE
Get 6 issues free
Sign up to Money Morning
Don't miss the latest investment and personal finances news, market analysis, plus money-saving tips with our free twice-daily newsletter
Don't miss the latest investment and personal finances news, market analysis, plus money-saving tips with our free twice-daily newsletter
In December the BoE hiked rates 0.5% to 3.5% – their highest since 2008 and it's likely that interest rates will likely rise again when the Bank of England meets later this week.
Most house price indexes have pointed towards a slowdown in the property market. According to Halifax house prices fell for four months straight to January.
Nationwide also recorded four consecutive months of price falls, recording annual house price growth had fallen from 4.4% in November to 2.8% in December.
Demand for flats increases
A noticeable trend in Zoopla's latest house price index was the increasing demand for flat and properties.
Zoopla reported a clear trend for the first few weeks of 2023, with buyers across the country leaning towards flats instead of houses.
"We have seen a clear shift in demand towards flats, with a decline in buyers looking for 3-bed houses," the report said.
Around 27% of new buyers are looking for one- and two-bed flats, up 22% from a year ago. Three-bed houses remain the most in-demand homes across the UK with 39% of new buyers looking for them - although this is a drop from 43.7% in January 2022.
"This is all part of the shift back towards cities and better value-for-money homes in accessible and more affordable suburbs," Zoopla said. "It also reflects the fact that a proportion of existing homeowners may be holding back until the outlook becomes clearer"
"Buyers are trimming their expectations, and turning their attention to flats. Demand for flats has grown in every region, and especially in commuter towns like Slough and Watford," says Sarah Coles, senior personal finance analyst at Hargreaves Lansdown.
"They're far cheaper on average - the average 2-bed flat outside London is almost £100,000 cheaper than the average 3-bed home. They're also more cost effective to run – and to heat."
The cost of heating a home remains a concern as it seems unlikely energy prices will fall in 2023. What's for certain is that energy prices are expected to go up in April under the new Energy Price Guarantee.
What's next for house prices in 2023?
"The start of 2023 will be more of a slow burn than in recent years," says Zoopla. "A portion of households hoping to move in the coming year will be waiting to see whether house prices start to fall more quickly in Q1, as well as how much further mortgage rates are likely to fall back."
Lloyds expects house prices to fall 8% this year, while Nationwide and Halifax expect them to drop 5%.
There is hope mortgage rates will continue to fall throughout the year. In September two- and five-year mortgage rates rose to over 6%. They have since fallen back, with the average deals sitting at around 5%.
While some brokers are predicting mortgage rates will fall by as much as 25% by the end of 2023, the outlook isn't so rosy for house prices, which could still fall 30% this year, prompting concerns about a repeat of the 2008 crisis.
"It's hopeful that things will improve from the spring," says Coles. "[Zoopla] expects falling mortgage rates to bring buyers back, especially if they stay between 4% and 5% in 2023.
"It's also hoping we've staved off a technical recession for now, and that more economic optimism will mean house price falls stick to low single digits in the first half of this year."
But fears of a recession remain. The most recent Building Societies' Association Property Tracker in December found only one in seven people thought now was a good time to buy, "which doesn't sound like a market on the brink of a boom", says Coles.
Forecasts are expecting the recession could be twice as bad as previously expected. Check our article on how to prepare your finances for a recession to help you avoid the worst of it.
"There remains a real risk that even without a technical recession in the first half of the year, economic woes could lead to job cuts, which would mean even more reluctance among buyers," says Coles.
UK Finance expects mortgage lending to fall 15% to pre-pandemic levels and property transactions to fall by 21% this year as homeowners are facing much higher rates than they were in 2021 when the average rate was around 2%.
"It's early days to get a clear read on the market outlook for 2023," says Zoopla. "The economic outlook has improved slightly in recent weeks but the squeeze on household disposable incomes is very real with a direct impact on sales activity."
Household incomes are under pressure from double-digit inflation. And though the rate of inflation has fallen over the last two months, it remains far higher than the BoE's target of 2%.
"In the short term we expect further, low single-digit price falls in H1 2023 but the housing market is in better shape to deal with the headwinds than in previous economic cycles," says Zoopla.
What does this all mean for sellers?
"Anyone serious about selling in 2023 needs to make sure their home is competitively priced and in line with what buyers are prepared to spend in the local market," says Zoopla.
Demand for homes has rebounded in the first few weeks of 2023, but remains well below the levels we say between 2020 and 2022.
Most areas in the UK recorded price falls in the last quarter of 2022 as buyers negotiated harder on price. Discounts to asking prices to achieve a sale widened at the end of 2022, but it's currently sitting between 3% and 4% and it's not expected to worsen.
However if it was to widen, "sellers will feel under increasing pressure to reduce asking prices putting further downward pressure on headline prices," says Zoopla.
"Additional modest price reductions are likely over Q1 2023 as sellers continue to adjust asking prices in line with what buyers are prepared to pay."
"Wait-and-see buyers will force sellers to wake up, smell the coffee, and cut their prices," says Coles. "It's going to take a few weeks of quiet desperation and a dearth of viewings before they're prepared to accept reality, so Zoopla is expecting more price cuts for properties that are already on the market in the first three months of the year – and into the spring."
Nic studied for a BA in journalism at Cardiff University, and has an MA in magazine journalism from City University. She joined MoneyWeek in 2019.